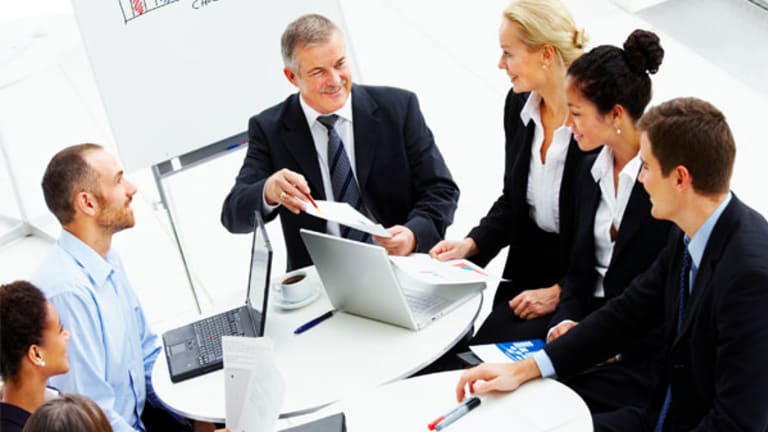 NEW YORK (TheStreet) -- AOL is looking for a fresh start but seems to be short of new ideas as it prepares for the coming spin off from Time Warner (TWX) on Dec. 9.
It's a sign of how far AOL has fallen that after buying Time Warner for more than $100 billion in AOL stock in 2000, Time Warner is now divesting AOL at a ratio of 1 AOL share for every 11 Time Warner shares. That's 1/11th of the $38 billion market value for both companies today.
Already a shadow of its former self, it will be an even smaller AOL that tries to re-establish its lost footing in the Web world. Today we learned that
AOL plans to cut a third of its staff
, eliminating about 2,300 of its 6,900 employees to save $300 million.
Yet, amid all the market pessimism, I found an optimistic voice emerging on the Web today. David Callaway, the editor in chief of
News Corp.'s
(NWS) - Get News Corporation Class B Report
MarketWatch
, wrote a column today entitled:
AOL returns as Steve Case scores again
.
Callaway sees a parallel between the potential for a second act by AOL and the recent post-Time Warner win for AOL Co-founder Steve Case, who sold his
Revolution Money
startup to
American Express
(AXP) - Get American Express Company Report
for $300 million this week.
I appreciate the contrarian insight Callaway brings to his analysis and his nostalgic hope for a come-from-behind revival for this once-great Internet pioneer. But let's face it, AOL is no
Apple
(AAPL) - Get Apple Inc. (AAPL) Report
and there's no cult-like visionary returning to save the company like Steve Jobs. I can't see Case coming back to AOL and I don't know what he could do even if he did.
Looking ahead to the new AOL, I'm not sure what differentiates the company other than its brand recognition and a legacy following that is constantly being eroded by a steady stream of new competitors entering the already overcrowded Web space.
The traditional AOL fee-based model has largely been scrapped in favor of free services, causing subscription revenue to drop to barely over $1 billion for the first nine months of 2009 from almost $7.4 billion in 2004.
So pretty much all that remains is an advertising- supported content model - just like a hundred million or more other sites on the Web.
While AOL brags that it is "the largest advertising network in terms of online consumer reach in the United States as of September 2009," advertising revenue was down about 20% at just shy of $1.3 billion in the first nine months of this year. That's not the growth story that a freshly re-minted stock needs to survive.
The solo strategy for AOL, as outlined in a recent
SEC
filing, is to prioritize the "consumer experience" in order to attract more advertisers. How original!
Drilling a little deeper into the strategy, AOL says it will focus on exclusive content, local content and mapping. It also plans to expand its email and instant messaging services to new digital devices and build up its advertising services to other publishers. Oh, and it will innovate.
How is any of that different than what AOL has struggling to do for years?
In email and mapping, AOL is on the defensive against a more aggressively innovative
Google
(GOOG) - Get Alphabet Inc. Class C Report
.
As for exclusive content and local content, maybe the struggling newspaper industry provides some opportunity, but that's going to be an expensive gamble.
Exclusive content doesn't come cheap. That's why
Yahoo
(YHOO)
continues to operate as an aggregator and portal, getting other content producers to pay it for the exposure (full disclosure:
TheStreet
is one of those content partners with Yahoo).
I'm looking for something fresh from AOL to believe in a come-back story.
So far, I've been disappointed.
--Written by Glenn Hall in New York.
Follow TheStreet.com on
Twitter
and become a fan on
Facebook.
Persuant to TheStreet's editorial policy, no reporters or editors hold positions in any individual stocks.