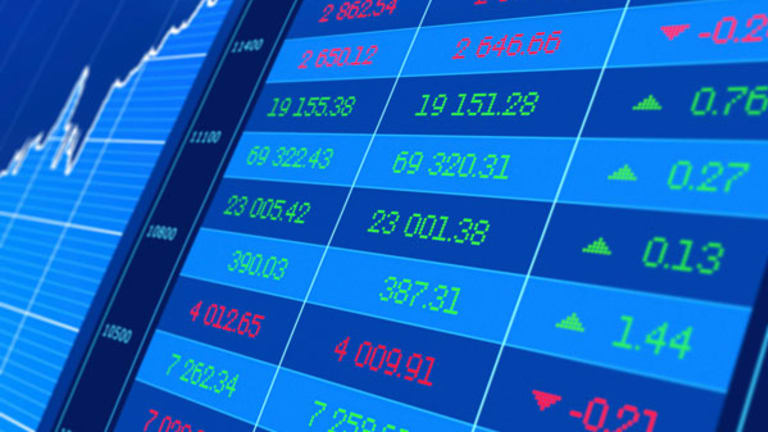 Neutral Tandem, CenterPoint, AstraZeneca, Intuit: 3 Dividend Pros to Buy, 1 to Sell
Dividend stocks offer a great alternative to other low-yield investing options.
Dividend stocks offer a great alternative to other low-yield investing options.
NEW YORK (TheStreet) -- I have done the math so many times I've lost count. I experimented with high and low price-to-earnings multiples, growing revenue and earnings and examined every financial metric under the sun. The commonality exhibited in stocks that consistently outperform the market and build wealth are dividend stocks with a history of increasing their payments.
Intuitively, it makes perfect sense. Companies that are able to raise their dividend have management teams executing well and increasing revenue and profit. Each earning's release is free marketing for the stock. Investors read about and take notice of any given company's success and become interested.
The shares receive a second and free marketing boost from news organizations announcing the dividend increases. Investors have thousands of stocks to choose from, gaining their recognition is no easy task. Of course, all the marketing in the world is worthless bestowing on a weak stock, but that's part of the point.
Companies raising their dividend payments are strong and they get noticed. It's no small wonder that they make shareholders rich. With other investment yields at all-time lows, it doesn't take much these days to get noticed.
I constantly search for companies that you can reasonably count on for further growth and increases in the dividends you will receive. I then break them into groups of strong stocks currently on sale. These are the stars I'm looking at now.
Neutral Tandem (IQNT) , doing business as Inteliquent, provides interconnection and interoperability solutions worldwide. It offers voice, IP transit, and Ethernet telecommunications services primarily on a wholesale basis. Based in Chicago, the company trades an average of 500,000 shares a day and has a market cap of $475 million.
Dividend Yield:1.75%
Price To Book:3.8
Forward Estimated Earnings Payout Percentage:23%
After making a new multi-year high this month, the shares have retraced and at support, appearing ready to resume appreciating. From 2013 lows below $1, Inteliquient's shares have returned a 14 bagger for believers.
There's still reason to believe. The forward price-to-earnings is discounted based on expected growth. For example, the four analysts following the company expects $1.03 in 2014 and $1.08 per share profit on average, making the forward P/E is 13.5 and trailing P/E only 8.3.
Meanwhile, after a dip in earnings, the company is back on track and earnings are increasing, while the market plays catch up to fully discount its growth. Inteliquient's dividend history is shorter than I typically prefer, but the company is cash-rich and without long-term debt. During the last earnings conference call, Chief Financial Officer Kurt Abkemeier pointed out the latest dividend increase and stated the company expects to revisit another dividend increase in the future.
Remember, as investors we want to find growing companies that we can reasonably expect to raise their dividend. Adding icing on the cake, Inteliquient has issued one-time large dividends twice in the last two years.
CenterPoint (CNP) - Get Report operates as a public utility holding company. It engages in the transmission and distribution of electricity to retail electric providers (REPs), municipalities, electric cooperatives and other distribution companies serving approximately two million metered customers in Texas. Based in Houston, the company has a $10.3 billion market cap and trades an average of 4.5 million shares a day.
Dividend Yield: 4%
Price To Book: 2.3
Forward Estimated Earnings Payout Percentage: 72%
A dividend payout ratio over 50% receives extra scrutiny because of increased risk of a dividend drop. I reviewed the dividend distributions since 2007 and the result is a movement in only one direction. Dividend payments have consistently gone up every year in the last seven years.
Also, the ability of public utilities to continue steady dividends is unparalleled in any other industry. Buying utilities for dividends may be old-school investing, but making money never goes out of style.
Five out of 12 analysts now rate CenterPoint a buy, seven rate it a hold and none recommend selling. CenterPoint has an average analyst target price of $26.11.
AstraZeneca (AZN) - Get Report develops and markets medicines for cardiovascular and metabolic disease; oncology; respiratory, inflammation and autoimmunity; and infection, neuroscience and gastrointestinal disease. Based in London, the company has a market cap of $90 billion and trades an average of 5 million shares a day.
Dividend Yield: 5.3%
Price To Book: 4.2
Forward Estimated Earnings Payout Percentage: 85%
After Pfizer (PFE) - Get Reportwalked away from a $120 billion takeover, you might think it was time to remove this one from my radar. Nothing could be further from the truth. The same motivation for Pfizer's interest in the company (think tax planning) remains in play for others that may have a sharper pencil and bid higher.
Merger and acquisition interest will keep the shares in play, leaving little reason for the stock to decline at a rate faster than a combination of the dividends and potential option premium.
Investors should consider collecting option premium because of the recent high volatility in the stock. Investors exploiting extreme price movements can lower downside risk and add to their potential profit.
There are two ways I like playing AstraZeneca in one of two ways.
Covered calls: A covered call is selling a call option that you own the underlying stock in. You get to collect the dividend, and if the calls go in-the-money you have a choice of buying the calls back or letting the shares get called away. For buy and hold investors this is usually the favorite choice.
A covered call has less risk than owning the stock alone, and if the shares are trading for less than the strike price of the option at expiration the entire option premium is profit. Normally, high-yield stocks don't make good bedfellows for covered calls because dividend payments are a factor in pricing option premium. AstraZeneca's price volatility makes it a good candidate.
Another way to play the stock has the same initial risk and reward profile but is more advantageous, in my opinion. Writing a cash secured put with the capital you would otherwise use to sell a covered call is superior for two reasons. Since the dividend is priced in at the time of option sale, if the dividend gets cut the put buyer, not the writer, takes the hit. Second, it's one transaction and one commission compared to two with a covered call.
Intuit (INTU) - Get Report provides business and financial management solutions for small businesses, consumers, accounting professionals and financial institutions primarily in the United States, Canada, the United Kingdom, India and Singapore. The company trades an average of 1.6 million shares per day with a market cap of $23 billion.
Dividend Yield: 1%
Price To Book: 7
Forward Estimated Earnings Payout Percentage: 25%
I think Intuit is overbought and should be sold at this level until a new base of support is found. On May 27 I wrote a Real Money Pro trade idea to take advantage of Intuits overbought status based on my technical analysis of the weekly and daily charts. One of the suggestions was to sell an $80 strike price call expiring in July for $1.95 or more to earn the option premium.
I followed suit and sold the same call. One day later, as I write this, the mid-point price is $1.55, an unrealized gain of 40 cents. I also wrote an article further explaining why investors shouldn't chase it, Southwest Airlines (LUV) - Get Report and KAR Auction Services (KAR) - Get Report higher. All three are decent companies but understanding that there's a reason Wall Street coined the term "overheated" can help your portfolio avoid buying at the same time smart money is selling.
Another important lesson is that if you're a long-term investor who recognizes one of your holdings is pushing the envelope of reasonable valuation. Selling to book your profit isn't your only alternative.
You can also sell a covered call and bank the option premium if the price retraces while staying in a position to collect dividends at your original cost basis.
At the time of publication, Weinstein was short INTU.
This article represents the opinion of a contributor and not necessarily that of TheStreet or its editorial staff.