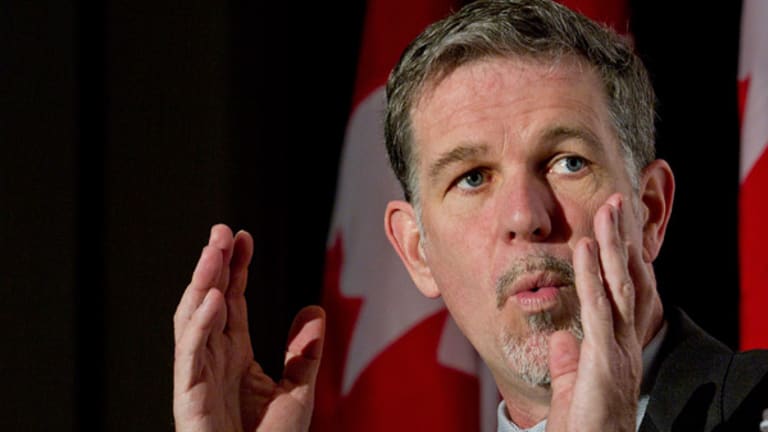 Netflix Will Hit $300, Go Out of Business or Both
Expect Reed Hastings to pull out the smoke and mirrors in 2013, starting with Wednesday's earnings report.
NEW YORK (TheStreet) -- The other day -- probably because of the recent Apple (AAPL) - Get Apple Inc. Report hysteria and Facebook's (FB) - Get Meta Platforms Inc. Class A Report 'big' announcement -- some important Netflix (NFLX) - Get Netflix, Inc. Report news flew under the radar.
The always-excellent Peter "Don't call me Franz" Kafka over at
reported that Netflix signed a deal to stream some
Time Warner
(TWX)
content, particularly stuff from the Turner division's
Cartoon Network
,
Adult Swim
and
TNT's
"Dallas."
In his coverage of NFLX/TWX, Kafka appears amused by the way Time Warner CEO Jeff Bewkes treats Netflix CEO Reed Hastings like his (what do they call it on the streets?):
Bewkes has made it quite clear that he's happy to use Netflix as a syndication outlet for stuff he's already gotten maximum value from. If Reed Hastings thinks he can make money with Bewkes's leftovers, he is happy to sell them.
Kafka outlines the drill well.
Focus your eyes on my second most recent take
.
Here's where we're headed with Netflix, particularly if the company reports a not-so-bad to strongish quarter next Wednesday. Even though it pulled back Wednesday, it will likely regain the $100 level. From there -- even with an earnings hit -- we're headed deeper into the triple digits. Like retouch the stock's all-time high triple digits. That was $304-and-some-change at the height of 2011's absurdity.
According to its
Q3 Letter to Shareholders
, Netflix expects Q4 global net income to come in between ($13M) and $2M. That's a wide range. And, unless Netflix turns a profit and surprises, expect Reed Hastings to fire up the smoke and mirrors.
He'll find something to divert attention from his company's longstanding structural problems -- an unaffordable content acquisition and international expansion strategy. Hastings will focus on subscriber growth -- if it's good or he can spin it =- and/or the number of hours Netflix customers streamed content.
If it wasn't for their competition in the streaming space, Hastings would probably compare Netflix to
Amazon.com
(AMZN) - Get Amazon.com, Inc. Report
:
We're spending now to seize this massive opportunity upon and ahead of us
.
Of course, he will not discuss the point Kafka and others bring up: Netflix does not operate from a position of strength. Not even close. Amazon's opportunity lies in e-commerce. It's the clear and relatively comfortable leader there. It dictates the pace of the space. While Netflix leads online streaming, it has a shaky hold on the title.
It operates at the mercy of people like Jeff Bewkes. Netflix will get fleeced by Bewkes much more frequently than it will
land sweet first-run major motion picture agreements with giants such as Disney (DIS) - Get Walt Disney Company Report
.
But Wall Street doesn't care about this. It didn't in 2011. And it won't in 2013.
Netflix didn't crash in 2011 and waddle through 2012 because of the problems inherent in its business model. It went through these problems because of what became known as "Reed Hastings' missteps."
Don't let Hastings fool you. If the house of cards had to collapse, he welcomed the "missteps" as a built-in excuse. They allowed him to largely sidestep what's really wrong with Netflix (the stuff I wrote about throughout 2011 at
Seeking Beta
).
Instead of shining the spotlight on the bad stuff, Hastings was able to position the situation as an unfortunate one. He screwed up and just needed to apologize. Sure, people were pissed. They made jokes, but, at the end of the day, there's no need to hold a grudge. Everybody make mistakes. But they come back from them. They live to fight another day. It really was all quite brilliant, even if unplanned.
Expect Wall Street to buy what Hastings sells in 2013 just as it did for most of 2011. The stock will soar this year. At some point, however, we'll hit a make it or break it point where three primary issues hit around the same time:
What do you do with the DVD division? Hastings should have sold it a long time ago. As fewer people use DVDs -- and all that's left are the heavy users -- it becomes an expensive business to run.
Will original programming at Netflix be even a quarter as successful as it is at HBO and Showtime? That's the wild card, but producing one wildly popular original series is tough enough, let alone doing it once or twice a season.
Whether No. 1 or No. 2 turn out all right or not, Netflix will ultimately have to revisit raising prices or changing its pricing structure. You're not duplicating the Disney deal when you give away all of your content for $8 a month. However, if you don't add premium content like mad, you put subscriber growth at risk. To buy this content, you need a war chest of cash. Netflix doesn't have one. Hastings used to call it a "virtuous cycle." Close, but Reed, it's vicious. Damn vicious.
BONUS!! Don't be shocked to see Netflix hit Wall Street up for some cash this year like it did in late 2011.
So, yeah ... if you made me choose here and now, I say NFLX
accomplishes
both: Hits $300
and
eventually goes out of business. Lots can change between now and then though.
Just be careful if you're going to call shotgun on Reed Hastings' next joyride. It leaves the hangar next Wednesday.
--Written by Rocco Pendola in Santa Monica, Calif.
Rocco Pendola is
TheStreet's
Director of Social Media. Pendola's daily contributions to
TheStreet
frequently appear on
CNBC
and at various top online properties, such as
Forbes
.