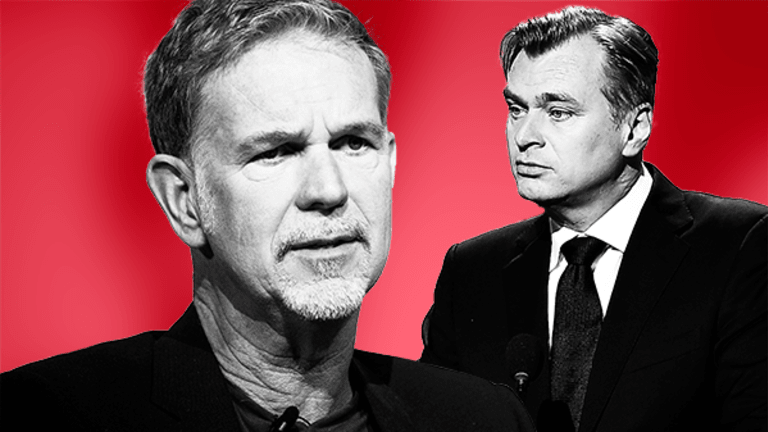 Netflix vs. Nolan -- Which One Represents the Future of Film?
The 'Dunkirk' director had some harsh words for Netflix last week.
Last week, while promoting his new film "Dunkirk," Christopher Nolan slammed Netflix Inc.'s (NFLX) - Get Netflix, Inc. Report strategy when it comes to releasing its original films.
"Netflix has a bizarre aversion to supporting theatrical films," Nolan told Indiewire. "They have this mindless policy of everything having to be simultaneously streamed and released, which is obviously an untenable model for theatrical presentation."
Nolan has, in recent years, become one of the leading proponents of the big-screen experience. His films usually cost $150 million or more, leading to big-budget spectacles such as "Inception" or "Dunkirk." He often shoots his films on Imax 65mm cameras, believing that large-format film makes for a theatrical experience that cannot be emulated in the living room. In short, the man does everything he can to ensure that his movies are watched on a big screen. Audiences have turned out fairly reliably.
Netflix has taken a different approach ever since it released its first 'Netflix Original' film in fall 2015. Reed Hastings' company insists on releasing its movies on its streaming service simultaneously with theatrical release, much to the dismay of exhibitors. In fact, the major theater chains (AMC Entertainment Holdings Inc.
(AMC) - Get AMC Entertainment Holdings, Inc. Class A Report
, Regal Entertainment Group
(RGC)
and the like) refuse to show Netflix's films on their screens because of the company's insistence on simultaneous streaming.
"Since our members are funding the films, they should be the first to see them," the company said in a recent letter to shareholders. "But we are also open to supporting the large theater chains, such as AMC and Regal in the U.S., if they want to offer our films, such as our upcoming Will Smith film 'Bright,' in theatres simultaneous to Netflix. Let consumers choose."
The streaming giant has quite a bit riding on the Will Smith Christmas release. It is probably the most ambitious film that Netflix has ever produced, with a $90 million budget and a plot that pairs a human cop (Smith) with an orc cop (Joel Edgerton) in a sci-fi buddy comedy. It's a blockbuster in the vein of "Men in Black," one that audiences are accustomed to seeking out on the big screen.
Netflix's refusal to stand down on simultaneous streaming, however, means that only a handful of theaters are likely to show "Bright," while the major exhibitors opt to use their screens for December studio releases such as "Star Wars: The Last Jedi" and "Pitch Perfect 3."
Would it be an "untenable strategy" for theaters to play "Bright" while it is available for streaming on Netflix, as Nolan suggests? Surely several moviegoers do not have a Netflix subscription and would buy a ticket to see a Will Smith comedy on Christmas day. It is also possible that some Netflix subscribers would pay to experience the film on the big screen with a crowd, rather than streaming it in the living room alone.
Unfortunately, no one in the theater industry is willing to take the bet. Streaming is viewed as too large of a threat to exhibitors, and they have consistently refused to screen Netflix films lest it be viewed as tacit approval of the streaming model. The films from Amazon.com Inc.'s (AMZN) - Get Amazon.com, Inc. Report Amazon Studios are shown in theaters, sure, but only because the conglomerate doesn't offer films on its Prime Video service until they've played for the full theatrical window.
Releasing a movie into theaters, though, is not a walk in the park, especially for an increasingly prolific company such as Netflix.
"Theatrical release is a whole different ballpark," senior comScore Inc. analyst Paul Dergarabedian told TheStreet last month. "The marketing cost can be incredibly expensive, and while big movie studios have the economies of scale for that, Netflix does not."
Not to mention Netflix's current strategy is working out just fine so far. The streaming company added 5.2 million subscribers in its second quarter, including a big influx of 4.1 million international subscribers as Netflix becomes increasingly globalized.
One of its latest original films, "Okja," has been widely acclaimed and viewed by millions around the world, according to Netflix chief content officer Ted Sarandos. The company's stock is up more than 51% year to date.
On the other end of the spectrum, movie theater stocks are either down or even across the board in 2017. Ticket sales have plateaued over the past few years, even as exhibitors have sweetened the deal with amenities such as reclining seats and enhanced concessions. The majority of films released this summer have underwhelmed at the box office, suggesting people just ain't going to the movies like they once did.
Audiences are still showing up, though, for movies that are successfully marketed as event films -- superhero movies, for example, make up four of the top five highest-grossing films at the yearly box office. "Beauty and the Beast," a live-action reboot of a beloved Walt Disney Co. (DIS) - Get Walt Disney Company Report property, is the year's No. 1 film and the eighth highest-grossing film of all time at the domestic box office.
And "Dunkirk" soared in its debut this past weekend, reaping 23% of its $50.5 million debut from premium Imax screens as many moviegoers felt a Nolan film was worth seeing on the largest screen possible.
With Netflix siphoning off talent from the studio system using its deep pockets and reputation for creative freedom, it's possible the film industry could start seeing these "event films" become its only theatrical releases, with most other content going to streamers such as Netflix.
Though a midrange original hit such as "Baby Driver" or "Girls Trip" does come along and do well for the theater industry every now and again, movies are increasingly being sold on brand strength -- think DC or Disney or even Nolan. In the future, these big-budget brands could dominate theaters while smaller-scale movies are discovered in the living room and select cinemas.
Of course, that's just one way the industry could move. Perhaps the streaming industry will completely cannibalize the movie theater industry, or perhaps advancements in VR technology will change the entire game in ways that nobody expects. Maybe theater owners and studios reach a deal to shorten the time frame for home viewing. Only one thing is for certain now: movie theaters are doubling down on amenities, and Netflix will be ramping up its content production in the coming years.
May the best industry win.
Watch More with TheStreet:
5 Outrageously Expensive Jimmy Choo Shoes and Bags That Should Scare Coach