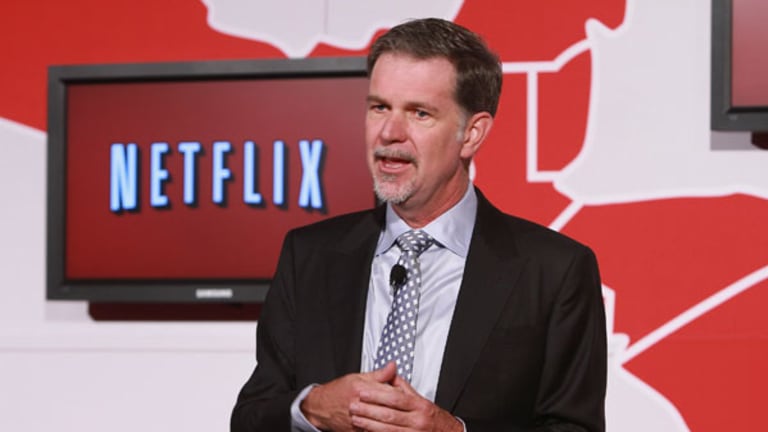 Publish date:
Netflix Singlehandedly Sucking the Life Out of Journalism
Pre- and post-Netflix earnings, a majority of the media provides readers and viewers an incomplete picture of reality.
Pre- and post-Netflix earnings, a majority of the media provides readers and viewers an incomplete picture of reality.
NEW YORK (TheStreet) -- The other day I noticed that one of Netflix's (NFLX) - Get Report lawyers viewed my LinkedIn profile:
For a minute, I was slightly concerned; is Netflix considering filing suit?
But then I reconsidered. What would Netflix charge?
Conspiracy to commit journalism
(thanks, Jake Tapper). Would they prosecute because I predicted their stock's 2011 implosion months before it happened? Or maybe they would litigate because I said their stock would
,
, hit $200 and, alongside continued business-related skepticism, hold to
? (Yes, I think the stock could hit $300).
If you only pay attention to the prevailing media headlines on Netflix, you get an incredibly skewed version of reality.
It's as if media outlets such as
The New York Times
are state-owned and Reed Hastings controls the information.
In and of itself, the poor Netflix coverage we receive, by and large, day in and day out, is not that big of a deal. However, it does reflect a bigger picture problem: Journalism is dead. And it's not because of inflammatory headlines or the quest for pageviews. It's because journalists -- and, within the financial sphere, Wall Street analysts -- have become unconscionably lazy.
Consider David Carr's flat-out absurd piece in the online version of Sunday's
:
TV Foresees Its Future. Netflix Is There
. If there was ever an out-of-touch, poorly-researched story published by an otherwise respectable publication, this was it. To prove his shallow point that Netflix is visionary and the old guard media is not, Carr asks a leading question:
... what were the traditional television players up to?
He then locks and loads with an answer designed to prop up his thesis:
Squabbling yet again over retransmission fees, with a standoff between CBS and Time Warner Cable that could set off a blackout, driving audiences to other ways of viewing.
Carr's entire argument comes down to this:
It now seems obvious that an industry ripe for disruption would eventually be transformed from the outside.
That's a popular opinion; however, it has very little basis in fact. Throughout his piece, Carr answers his own questions with responses that take him where he wants to go. That's counter to good journalism, where writers seek information that helps piece together the truth, not craft some flavor of fairy tale.
He ignores reality or, at the very least, refuses to paint a complete and accurate picture for his readers.
Is Netflix out in front? Absolutely. Is it some flavor of disruptive first mover? No question about it. Are the old guard media guys at
Disney
(DIS) - Get Report
,
CBS
(CBS) - Get Report
,
Time Warner
(TWX)
and elsewhere doing nothing but squabbling over retransmission fees? If you believe this, you're misinformed. I talk to these guys. They're hardly in the dark about, or as Carr disingenuously suggests, not participating in "television's future."
If HBO wanted to, it could, with the flip of a switch, become the Internet-only television outlet with 108 Emmy nominations. Of course, that move would absolutely crush its business, but at least they would, presumably, earn Carr's respect.
And does Carr realize that, according to Nielsen data, traditional television viewing has
increased
by nearly nine hours over the last four years. Of course, online and mobile video viewing have both exploded exponentially over the same period, but these platforms start with much smaller numbers.
For instance (thanks to the latest issue of
Broadcasting & Cable
for access to the numbers), in Q1 2009, viewers, two years of age and older, watched an average of 153 hours, 27 minutes of traditional TV per month. That figure popped roughly 2.6% to 157 hours, 32 minutes in Q12013. Meantime, online video consumption exploded approximately 167% from three hours to more than eight hours across the same timeframe.
Again. Impressive. But Carr and many of his colleagues shirk their journalistic responsibilities by failing to provide the entire picture. Traditional television is hardly hurting; in fact, because it controls a vast majority of the content, it dictates the pace of the game.
Does Carr understand that, while they -- quite logically -- want to protect their longstanding and incredibly lucrative models of charging cable/satellite companies fees for access to programming, the old guard media also participates, en masse and increasingly, in streaming?
While some form of traditional television accounted for 92.5% of all viewing in Q1 2013 (a number Carr and his fellow Netflix cheerleaders ignore), 8.3% of consumption of a seemingly random program -- CBS's
Elementary
-- came through either video-on demand (5.0%) or online streaming (3.3%) platforms. Another 32.2% percent of viewing took place via the DVR with the remainder (59.5%) boring old live television.
It's not that the old guard media doesn't see or comprehend the future. They're simply managing the transition as to keep their businesses as healthy as possible. And, if you look at
the performance of big media stocks
-- and attendant metrics such as audience size, international growth, revenue and profits -- you'll see that a vast majority of these companies are experiencing their best days ever.
Not only do they participate in streaming, they, by and large, absolutely do dictate the pace. If more than 90% of all viewing happens via traditional television (live and DVR), how much of the pure online variety (on-demand and streaming) do you think Netflix and other online-only entities such as
Hulu
and
Amazon.com
(AMZN) - Get Report
Instant Video account for?
A significant chunk of it, as the CBS'
Elementary
example helps illustrate, must come from the old guard broadcasters. And I highly doubt (and, know, because I ask for and receive the numbers) that
TV Everywhere
offerings such as
HBO GO
are going unused. Same with apps such as
WatchESPN
.
But it's difficult to obtain a clear picture largely because Netflix refuses to allow Nielsen to tag its programming (to derive ratings) and refuses to report
how many subscribers actually watch its original programming
. But does that mean it's not a question worth asking? I would argue it's a question we not only must ask, but have a responsibility to ask, in the interest of providing readers the most complete picture and investors the best information possible. But we must not simply ask, we must push.
Yet post-Netflix earnings, the fanciful media coverage continues. I can't cite one particular source because, with a small handful of the usual exceptions, each and every entity handled the quarterly results the same way. They accepted the things Netflix said -- uncritically without, it seems, any further investigation -- and not only reported them, but proceeded to gush over them.
Repeatedly, in print and on television, I have seen and heard supposed journalists refer to Netflix originals as "hit" shows and stop short of fully addressing concerns related to Netflix's business because the company "dismissed" them.
Consider the statements NFLX executives made, on
and in
the Netflix shareholder letter
, about the number of subscribers who watch Netflix originals and the company's refusal to report this and related data. Again, it's the journalist's responsibility to call this stuff out. But few of the most-widely distributed voices in the media question these, at the very least, suspect and incomplete statements from the Reed Hastings, David Wells and Ted Sarandos trio:
We assess the success of each Original by looking at viewing-to-date and estimated future viewing, relative to cost. So far, we've ordered second seasons of all first season projects, which is quite unusual and exciting for the fans of these shows.
If this is how Netflix assesses success, doesn't it make sense for the rest of us, especially investors, to have some hard insight into these apparently ratings-driven decisions? Probably not, because Hastings appears to believe that he -- and only he -- should decide the type of data reporters, investors and the general public have access to:
I can tell you that as the CEO of Netflix, I focus myself. I don't even look at the churn numbers. Essentially, I'm looking at net adds all the time, because you get various trade-offs, and really what we care about is total growth. And so it's bringing the world in line with how management looks at it, which is in terms of net additions which we do check every week, every day.
Reed Hastings dismisses the importance of churn, so the media follows suit.
Excellent, hard-hitting, tireless journalism!
So, Netflix uses viewing numbers to make programming decisions, however, according to Hastings, translated to ratings, they're actually not important:
We said publicly and continue to say publicly, they were not releasing viewing numbers. Our actual ratings would be apples and oranges comparison to what happens on a network. We view the viewing over a very long period of time. We'll tell you though, that you should look at our renewal of a show to a second season as a very positive sign. Because if we're renewing shows that people aren't watching in big numbers then we're creating a huge opportunity cost in our content spend. In other words, we won't have money to spend on things that people watch. So these shows are performing really well for us. They are hitting our numbers with remarkable precision in terms of what we forecasted enough, so that we had confidence to renew Orange Is the New Black, based on our viewing models even a few days before we launched the show.
That last sentence is the most curious, uncontested statement of all. The show never hit the air, but our "viewing models" told us it made sense to renew it. Hastings could be consulting a psychic to make these calls for all we know.
The aforementioned David Carr spits out the lazy talking point:
Netflix, the media distribution company with the best handle on viewing numbers, refuses to share them because it doesn't sell advertising.
So, David, how do you know Netflix has "the best handle on viewing numbers?" And do you really believe the company "refuses to share" actual ratings or ratings-like data "because it doesn't sell advertising" or are you just repeating that because it's what Reed says?
Again, I'm not asking for consensus on my opinion of Netflix as a business or the company's place in the wider media landscape. Valid opinions exist on the many sides of a multi-faceted, always-evolving and quite complicated issue. I'm just asking journalists to do something that resembles their job.
Ask questions. Seek complete information and report it. Have an original take. Stop regurgitating press releases and such.
Call me crazy, but this, from CFO Wells on Monday's call, is sheer lunacy:
And by the way without giving total, without giving ratings numbers, I would tell you every one of these shows are drawing TV size audiences. So you know that House of Cards is a hit because when you walk in to Starbucks people are talking about it. You know when the show is being spoofed at the White House Correspondents' Dinner and 3,000 people are laughing at the slightest references to the show, you know that people are watching it and you know people are talking about it. So without the precision of a number, you know that these shows are hit too.
OK. So the shows are a "hit" because a horribly-skewed sample of politicians and the Washington, DC-based media knows
House of Cards
and, well, Netflix tells us they "are drawing TV size audiences."
That really narrows it down.
According to Nielsen, on Monday night, 11.37 million viewers watched
Under the Dome
on CBS, but a mere 4.1 million saw a
How I Met Your Mother
rerun and just 537,000 watched the season premiere of
Breaking Pointe
on the
CW
. On any given night TV-size audiences number in the tens of millions to the tens of thousands.
But why bother asking the CFO to quantify something a bit more precisely for you? It's much easier to score exclusive interviews and keep everybody happy. You can always just run, hide and, if you have the balls, ask the meaningful questions after the fact. Just like the financial media and Wall Street did when NFLX spun itself to $300 only to implode during what ended up being a fall and winter of discontent in 2011.
--
Written by Rocco Pendola in Santa Monica, Calif.
Rocco Pendola is
TheStreet's
Director of Social Media. Pendola's daily contributions to
TheStreet
frequently appear on
CNBC
and at various top online properties, such as
Forbes
.