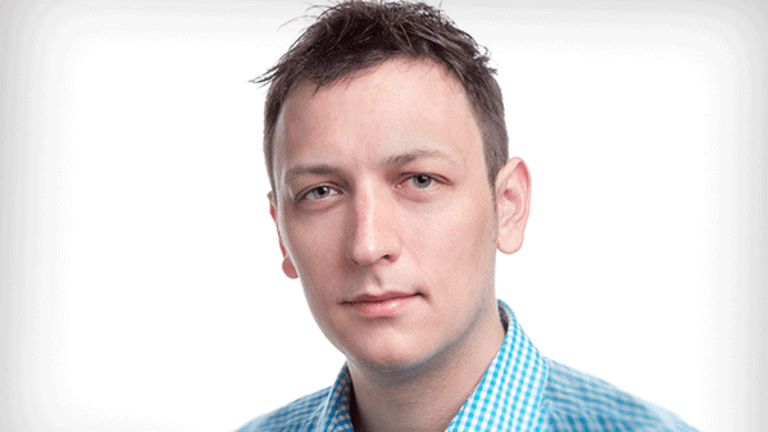 Netflix Should Fear Amazon's Muscle
According to Ben Thompson, the writer behind influential tech-media blog Stratechery, Amazon is better equipped to challenge Netflix for video supremacy than any other media company.
Apple (AAPL) - Get Apple Inc. (AAPL) Report has lots of cash, AT&T (T) - Get AT&T Inc. Report is about to buy Time Warner (TWX) , and Disney (DIS) - Get Walt Disney Company Report has blockbusters lined up for the next 10 years. But Amazon (AMZN) - Get Amazon.com, Inc. Report is the one to fear.
"They are by far the most frightening player in this market," Ben Thompson, writer of the Stratechery blog, said earlier this week at Recode's Code Media conference in Dana Point, Calif. "Netflix is running as fast as they can right now. They want to build up as much power and as many customers as they can to withstand Amazon."
By leveraging its Prime membership program, Amazon is spending more money to produce and acquire television serials and films only available through its website and apps. (Amazon's original films do get a theatrical run.) Its original shows, including Transparent, The Man in the High Castle and Mozart in the Jungle, become reasons to get or retain a membership. Prime members also get free shipping on zillions of goods as well as access to streaming music, e-books and a large library of video from other networks and movie studios.
Thompson likened Amazon's outsized advantages to Alphabet's (GOOGL) - Get Alphabet Inc. Class A Report Google when it decided to give away its Android operating system for free. Making Android widely available was possible because Google owned a massively profitable search business. It didn't need to make a profit on Android -- at least not immediately.
"Everyone else who made money in that ecosystem is in very big trouble," said Thompson, whose Stratechery focuses on business strategy and industry trends rather than product performance. 
In a few years, but especially over the past year, Stratechery has become a phenomenon among those interested in how technology is shaping and reshaping global media. A former Microsoft (MSFT) - Get Microsoft Corporation (MSFT) Report employee, Thompson has attracted a loyal and passionate audience that closely follows his insights, analysis and occasional doodles. A subscription costs $10 per month or $100 per year.
At Code Media on Tuesday, Thompson focused on the challenges all video companies are confronting if they don't own a direct-to-consumer relationship. Led by founder and CEO Reed Hastings, Netflix was quick to understand the importance of distribution, and over the past 20 years has built a business that had 93.8 million subscribers worldwide at the end of 2016. About 55 million of those subscribers are in the U.S.
Amazon is poised to carve out a similar-sized operation, Thompson said.
Apple and Alphabet are holdings in Jim Cramer'sAction Alerts PLUS charitable trust portfolio. Want to be alerted before Cramer and the AAP team buy or sell AAPL or GOOGL? Learn more now.
According to a recent financial filing, Amazon generated about $6.4 billion in revenue last year from "retail subscription services," a veiled reference to its Prime membership program. Backing out a membership fee of $99 per year, Amazon analysts have their first glimpse into the size of Prime: roughly 65 million.
"Any company that has that kind of business model is dangerous for anyone else who's in there," he said.  
Of course, Prime is principally aimed at convincing consumers that Amazon should be their go-to source for any product, large or small. Amazon posted sales last year of $136 billion, a 27% jump from a year earlier.
But while Prime helps sustain the company's core business, it also has freed up millions of dollars for original programming, including films such as Manchester by the Sea, recipient of six Academy Award nominations, and The Big Sick, which it reportedly won for about $12 million at this year's Sundance Film Festival after outbidding Netflix. (Netflix did shell out $12.5 million for Mudbound in the festival's largest sale.)
Speculation also is high that Amazon is preparing to launch an online network to rival Time Warner's HBO but with the reach of a Netflix. The New York Post this week was the latest to weigh-in. And last month, Bloomberg reported, Netflix leased for 10 years a five-story building in Hollywood near a studio complex roughly the size of five Wal-Mart stores.
If Amazon investors are worried about anything, it's CEO Jeff Bezos' penchant for investing in new parts of the ever-expanding corporate octopus that is Amazon. Amazon said operating expenses jumped 23% in the fourth quarter to $42.5 billion. Much of that went to executing Prime's promise of two-day shipping, but it also went into original programming production.
Piper Jaffray senior tech analyst and Loup Ventures founder Gene Munster previously told TheStreet Netflix could spend about $7 billion on all content in 2017, with Amazon closely behind at about $6 billion. The latter signaled last year it would sharply increase its content spending.
"Amazon can do that because they monetize very differently," he said. "They have tremendous latitude; they have deep pocketbooks."
By borrowing from the Netflix playbook, Amazon is embracing the same model that Netflix used to solidify its brand, making shows such as House of Cards, Mad Men and Orange Is the New Black persuasive reasons to get and keep a Netflix subscription. In doing so, Thompson explained, the relative value of Netflix's subscription has increased as the company produces more of its own programming.
Amazon does the same with Prime.
"Netflix has a 10-year time frame to pay off their investment [in programming]," Thompson said. "Amazon comes in with a 20- to 25-year time frame. Once they have you in Prime, they have you for life, and that is by far a far more dangerous competitor for anyone."