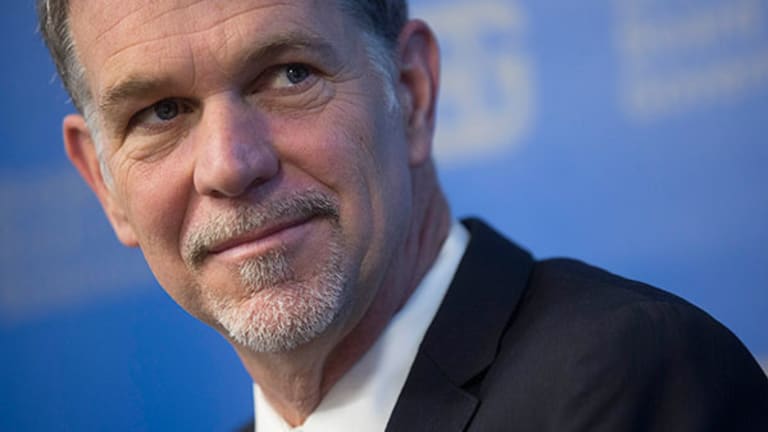 Netflix Might Offer Offline Viewing as Competition With Amazon Escalates
CEO Reed Hastings conceded for the first time that offline viewing is something Netflix needs to 'keep an open mind' about.
Updated to include information on offline viewing.
With Amazon (AMZN) - Get Amazon.com, Inc. Report heating up their rivalry by offering monthly standalone video subscriptions, Netflix (NFLX) - Get Netflix, Inc. Report co-founder and CEO Reed Hastings said for the first time on Monday that Netflix would consider matching Amazon and allowing its users to download some content and watch it offline. 
Amazon introduced the option back in September to Prime customers in the U.S., U.K., Germany and Austria, and it's proven to be a very popular feature, allowing users to download movies and TV shows and then view them when they don't have an Internet connection, such as on an airplane or the subway.
In the past, Netflix has been adamantly opposed to offering offline viewing, saying internet connections are available in most places now and users might be "paralyzed" by having the option to view offline.
But on Monday's conference call, Hastings conceded in an answer to a reporter's question that offline viewing was something Netflix needed to consider offering.
"We should keep an open mind on this," Hastings said. "We've been so focused on click and watch and the beauty and simplicity of streaming. But as we expand around the world where we see an uneven set of networks, it's something we should keep an open mind about."
Overall, Hastings hailed "an enormous quarter for us" during the company's first quarter earnings presentation.
Netflix exceeded projections by adding more than 6.7 million net subscribers in the first quarter of 2016, pushing its global tally to more than 81 million subscribers. However, forecasts for the second quarter are comparably tepid, with Netflix anticipating 2.5 million net subscribers.
The stock fell sharply in after-hours trading on Monday, and was down more than 10% in morning trading on Tuesday to $97.03.
Helping Netflix's first-quarter numbers were the documentary series Making a Murderer, which launched in December but helped results in early 2016; the February debut of Full House sequel Fuller House; the fourth season of House of Cards and the second round of Daredevil episodes, both in March.  
In the U.S., the company gained 2.23 million subscribers in the first quarter, slightly below the growth seen in the same period for the last two years.
"What you see is this continued growth and we're thrilled to keep that growth steady," Hastings said.
More than 40% of Netflix subscribers are outside the U.S., the company said. Investment in international markets contributed to a decline in operating income from $97 million in the first quarter of last year to $49 million, however.
In the coming quarter, Netflix anticipates gaining just half-a-million subscribers in the U.S. and 2 million internationally.
Chief Financial Officer David Wells said that absent the strong performance of launches in Australia and New Zealand last year, the international guidance would appear stronger. "We've got these large blooms of launches last year and in Q1 this year," he said.
Hastings showed little interest in either Starz (STRZ) or Viacom's (VIAB) - Get Viacom Inc. Class B Report Paramount Pictures, both of which have attracted merger buzz. Netflix has favored organic growth throughout its two-decade history.
"We've done no M&A," Hastings said. "That probably speaks for itself."
The Netflix boss touted the work that Chief Content Officer Ted Sarandos has done to build an in-house team, which Hastings said is "much stronger long-term than if you tried to juice it with M&A."
When asked about Amazon.com's (AMZN) - Get Amazon.com, Inc. Report  plan to launch a stand-alone streaming video service, separate from its Prime service, Hastings noted that the market is already crowded with offerings from Hulu, Amazon, HBO and Showtime.
"It's natural that everyone is coming in as they realize that the future is Internet TV," he said.