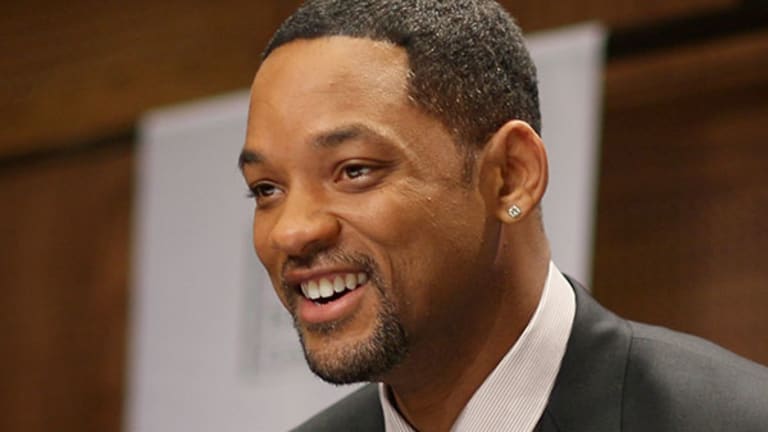 Netflix Set to Make $90M Will Smith Film 'Bright' in Bid to Boost Subscriber Base
The video streaming giant continues its push to use original content to lure subscribers.
Netflix (NFLX) - Get Netflix, Inc. Reportis expected to soon announce an agreement to produce the movie Bright, a film with a $90 million budget that will propel the video streaming giant into a new and sharply more expensive sphere as it pushes to use original content to lure subscribers.
A deal could still fall apart at the last moment, but sources with knowledge of Netflix's plans said the service intends to make the film for its subscribers and not for significant theatrical distribution. That will force Netflix to pay the actors in back-end deals, where stars make money once a movie turns a profit.
It's unclear if Netflix, which pioneered the production of original programming among online sites with shows like House of Cards and Orange Is the New Black, will make money on the movie, a cop thriller starring Will Smith and Joel Edgerton.
The company said in January that it had negative cash flow of $276 million in the fourth quarter, more than triple a year ago, in part because of increased spending on content.
Those costs included an estimated $60 million it spent on Adam Sandler's movie The Ridiculous Six, which the company said was the most watched movie in each of its territories when it debuted on Dec. 11.
Netflix has stepped up its programming spending at a time when competitors Amazon (AMZN) - Get Amazon.com, Inc. Report and Hulu, backed by major media companies, also are spending more on original shows. In its most recent quarter, Netflix said the number of new subscribers it added were fewer than a year ago, and it anticipated the same situation in its current quarter.
In the past, Netflix said it doesn't anticipate taking write-downs for its programs, in part because the programs generally have performed better with its subscribers than anticipated.
"The range of audiences we expect to bring to it are very broad," said Ted Sarandos, Netflix's chief content officer, in a recent earnings call, commenting on the company's ramp up in television-style programs. "That's why we've been right so far in terms of predicting the size of the audience for these shows."
A Netflix spokesman wouldn't comment for this story.
The hefty costs of Bright may test that assumption, but media experts said the film will likely play better than American-style TV programs for Netflix's 30 million international subscribers, who are a primary focus of the company since expanding its service to more than 130 countries in January.
"They need global rights, which are very hard to secure, given the way various deals across the world work for studios," said Blair Westlake, a former Microsoft corporate vice president who secured programming for its Xbox service. "This fixes that issue."
To win the rights to make and distribute Bright, Netflix outbid Time Warner's (TWX) Warner Brothers studios, which teamed with MGM, who were willing to go as high as $50 million, according to Deadline Hollywood, which broke news of the negotiations. PalmStar, a small independent company, bid around $60 million.
This article is commentary by an independent contributor. At the time of publication, the author held positions in Netflix and Microsoft.