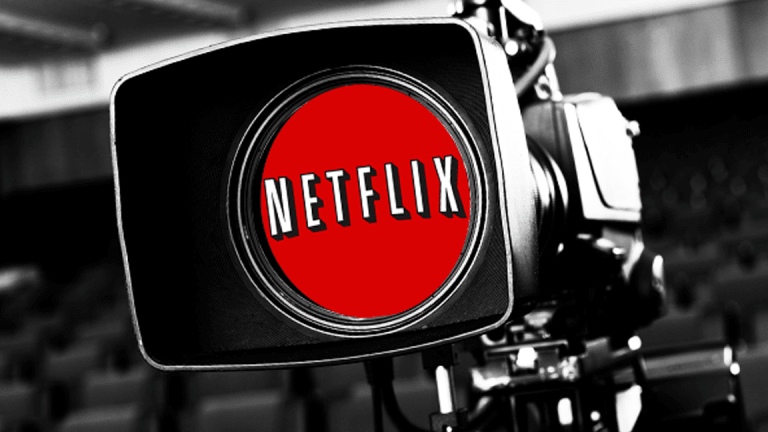 5 Things to Watch for When Netflix Reports Earnings on Monday
The streaming giant's stock has more than doubled this year. That spells high expectations for its Q2 report.
While Netflix (NFLX) is used to dealing with high pre-earnings expectations, the bar seems to be set especially high this time.
With the help of strong Q4 and Q1 reports, as well as a broader appreciation by investors of Netflix's long-term opportunity and competitive strengths, the streaming giant's shares have followed up on a strong 2017 by rising 108% in 2018. Netflix will try to keep up its momentum when it delivers its Q2 investor letter after the bell on Monday, and hosts a "video interview" at 6 p.m. Eastern Time.
TheStreet will be live blogging Netflix's second-quarter earnings after the close on Monday, July 16. Please check our home page then for more details.
As many others have noted, Netflix's 2018 run-up has led it to surpass Disney (DIS)  as the world's most valuable media company. It has also recently led a handful of analysts who like Netflix as a company, but are worried that its stock has gotten ahead of itself, to issue downgrades and warnings. UBS's Eric Sheridan cut shares to Neutral on Thursday even as he hiked his price target by $50 to $425. Deutsche Bank's Bryan Kraft warned Netflix could miss second-quarter subscriber expectations, but didn't change his Buy rating or $360 price target.
After closing at an all-time high on Wednesday, shares fell 1.1% on Thursday and were trading down 3.8% on Friday late afternoon to $397.79.
On average, analysts polled by FactSet expect Netflix to report Q2 revenue of $3.94 billion (up 41% annually) and GAAP EPS of $0.79, and to guide for Q3 revenue of $4.13 billion (up 38%) and EPS of $0.71.
However, Netflix's subscriber add figures usually decide how its shares move post-earnings far more than its revenue and EPS. In April, the company guided for 6.2 million Q2 streaming net subscriber adds -- 1.2 million in the U.S. and five million in international markets. The Q3 analyst consensus is for 947,000 U.S. and 5.05 million international net adds.
In addition to the revenue, EPS and subscriber add figures, here are some other things to watch as Netflix reports and hosts its video interview.
1. Expected Cash Burn and Capital Needs

Due to heavy content spending and (to a lesser extent) higher marketing and R&D spend, Netflix has guided for 2018 free cash flow (FCF) of negative $3 billion to $4 billion. However, with the company having only burned $287 million in Q1 -- Netflix says this was partly due to the timing of content payments -- the consensus for 2018 cash burn ($3.07 billion) is near the low end of the range.
If Netflix favorably revises its FCF guidance, that could be well-received. Lower cash burn would likely translate into lower debt-raising activity in the coming quarters. At the end of March, Netflix had $6.5 billion in debt to go with $2.6 billion in cash.
2. ASP Trends
Thanks to price hikes, a weaker dollar and a mix shift towards costlier plans, Netflix's dollar-based average selling price (ASP) has been trending higher. It rose 14% annually in Q1, with 12% growth recorded in the U.S..
ASPs should be up meaningfully in Q2 as well. However, the dollar's recent strengthening might impact the pace of growth in Q3. Any commentary about expected Q3 and Q4 ASP growth is worth paying attention to.
3. 2018 and 2019 Content Spending Plans

Following multiple budget hikes in prior months, Netflix reiterated its 2018 content spending guidance in April. The company forecast it will spend $7.5 billion to $8 billion on content this year on a profit-and-loss basis, a range that could translate into over $12 billion in spending on a cash basis.
A quick look at Netflix's stock chart makes it clear that Wall Street has given Reed Hastings & Co. the green light to spend aggressively on content. And given how ambitious Netflix's management has shown itself to be and how Netflix's subscriber growth has served to validate its spending strategy, a fresh 2018 content budget hike would hardly be shocking.
Also keep an eye out for any specifics shared about Netflix's expected 2019 content spend. The company has said it expects its content budget to grow in 2019 and 2020, but hasn't given any figures.
4. The European Pricing Test
Netflix recently began testing a pricing overhaul in Europe in which it would cut the number of simultaneous streams offered by its popular Standard plan (it costs $11 per month in the U.S.) from two to one, and the number supported by its Premium plan (it costs $14 per month in the U.S.) from four to two. Those still wanting four simultaneous streams would have to sign up for a new and costlier Ultra plan.
The broader rollout of such pricing changes would upset some users, but would also serve to cut down on password-sharing and provide a lift to ASPs. Look for Netflix to get a question or two about it during the video interview.
5. Marketing Efforts
Netflix has guided for its marketing spend to rise 56% this year to $2 billion, as it spends heavily to both grow international awareness and increase U.S. buzz surrounding popular originals. Any commentary about what kind of payoff Netflix has seen from its marketing efforts, and what it has learned from them, would be of interest.
Management could also get some questions about Netflix's reported interest in making bricks-and-mortar acquisitions in the name of providing additional buzz and publicity for its content. The company was reported in April to have offered over $300 million for an L.A. billboard company, and has also reportedly explored acquiring movie theater chains.