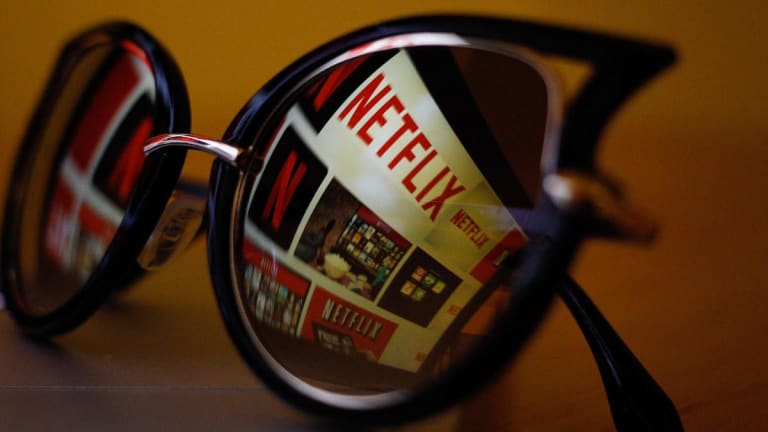 Netflix's Big Price Hike Could Add More Than $1 Billion to Its Annual Revenue
The streaming giant's latest U.S. price increase comes at a time when nearly half off all domestic households are paying for its service.
Netflix (NFLX)  is nothing if not a data-driven company -- the type that doesn't carry out a big price hike without carefully analyzing what its likely impact would be.
That's worth remembering as Netflix hikes streaming prices across the board for its U.S. subscribers. The company likely has a very good idea of how much this move will boost its revenue and lower its cash burn over the course of 2019, and just how many (or how few) consumers will cancel their subscriptions or avoid signing up because of it.
Going forward, Netflix will be charging $9 per month for its Basic plan, which provides access to one non-HD stream at a time, up from $8 previously. The popular Standard plan, which provides access to two simultaneous HD streams, is seeing its price rise by $2 to $13 per month. And the price of Netflix's Premium plan, which provides access to 4 simultaneous HD and (when available) 4K streams, is rising by $2 to $16 per month.
The price hike goes into effect immediately for new subs, and will hit existing subs over the next three months. It arrives fifteen months after Netflix hiked the price of its Standard plan by $1 per month, and the price of its Premium plan by $2 per month.
As was the case for prior Netflix price hikes, Wall Street is applauding the streaming giant's latest move: As of the time of this article, Netflix shares are up 6.5% to $354.67 in Tuesday trading. That leaves them up 53% from a Dec. 26 low of $231.23, ahead of a Q4 report that arrives on Thursday after the market close.
How much extra revenue will the price hike deliver? In October, Netflix forecast it would have 60.26 million U.S. streaming subscriptions at the end of Q4, of which 58.46 million would be paid subscriptions. With domestic Netflix usage believed to skew more towards Standard and Premium plans relative to Basic plans than is the case in more cost-sensitive markets -- its U.S. average monthly revenue per paid sub appears to have been around $11.50 prior to the hike -- the company might be staring at an extra $1.70 or $1.80 per month, on average, from paying subs.
If Netflix hit its Q4 subscriber guidance and its U.S. average revenue per paid sub rises by $1.75 per month due to the price hike, one would be looking at an extra $1.23 billion in annual revenue from the hike from its existing base, once it fully goes into effect. And should Netflix make good on an analyst consensus for about five million domestic subscriber adds in 2019 -- admittedly, this estimate could be lowered a bit thanks to the price hike -- the price increase would yield $100 million or so in additional annual revenue from those subs.
Given how it has rolled out price hikes in the past, it wouldn't be surprising to see Netflix, which has guided for 86.24 million international subs (79.56 million paid) at the end of Q4, also soon roll out price hikes in more affluent foreign markets. At the same time, it might avoid hiking prices in cost-sensitive emerging markets, where the company seems interested in experimenting with cheaper, mobile-only plans.
Netflix doesn't break out its foreign subscribers by country, so it's tough to gauge how much of a top-line boost price hikes in wealthier foreign markets would provide. Moreover, the company might choose (depending on what its data tells it) to hike prices differently outside of the U.S. Last summer, Netflix was conducting a European test for a pricing revamp that would lower the number of streams supported by its Standard and Premium plans (and thus cut down on password-sharing), while introducing a costlier Ultra plan that supports four streams.
Overall, however, between the U.S. price hike, likely hikes in some international markets and the subscriber growth expected in both regions, it's not far-fetched to see a fresh round of Netflix price hikes adding more than $1.5 billion to its top line. Those funds could be used to lower Netflix's cash burn, which was forecast in October to be around $3 billion in both 2018 and 2019, and/or further increase Netflix's annual content spending (already above $12 billion on a cash basis) as Amazon.com  (AMZN) keeps investing heavily in Prime Video and Disney  (DIS) gets set to launch its Disney Plus streaming service.
Amazon.com and Disney are holdings in Jim Cramer's Action Alerts PLUS member club. Want to be alerted before Jim Cramer buys or sells AMZN or DIS? Learn more now.
The timing of the price hike is definitely interesting, given that it shortly follows the end of a seasonally big fourth quarter and comes just before Netflix reports how it performed that quarter.
Netflix, which a couple weeks ago reported impressive global viewing numbers for original horror movie Birdbox, must have liked what it saw in the U.S. in Q4 in order to sign off on the hike.
Here, it's hard to ignore the fact that surveys have suggested Netflix maintains plenty of headroom to raise prices in the U.S., where it possesses very high customer satisfaction ratings and remains priced at a fraction of the typical pay-TV package. One also can't ignore the fact that nearly 50% of all U.S. households are now paying for Netflix, and that some meaningful percentage of the others have access to it via password-sharing, a practice that Netflix has been wary to date of overtly cracking down on.
For all those reasons, Reed Hastings & Co. may have concluded that they're better off exploiting some of the untapped pricing power they have with domestic subs, rather than keeping prices down to chase after a bit of extra subscriber growth.
Netflix's price hike might end up strengthening Prime Video's position a bit with lower-income U.S. consumers -- particularly since Amazon is charging just $5.99 per month for Prime to consumers using food stamps and other government-assistance programs. And on the fringes, the hike might benefit services providing ad-supported TV shows and movies, such as Roku's (ROKU) Roku Channel.
But considering how successful the company was at keeping subscribers loyal following its 2016 and 2017 price hikes, and what both surveys and anecdotal evidence suggest about how hooked most of its domestic users are on its service, one has to think that Netflix knows what it's doing here.