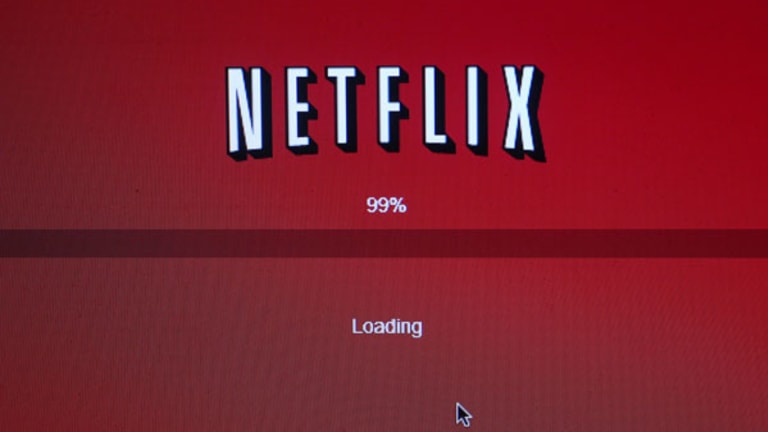 Netflix News So Absurd I Couldn't Make It Up
Deja vu: A Wall Street analyst presents faulty research, <I>Bloomberg</I> reports it and NFLX stock goes up.
NEW YORK (TheStreet) -- Stay tuned for the news so absurd I couldn't have made it up. Have your research methods and statistical analysis textbooks ready. Junior high level will suffice.
I was wrong.
I predicted Netflix (NFLX) - Get Report would hit $300 per share by summer
. It appears it will reach that level much sooner.
The other day several folks took exception to the metaphorical musing I used in this article title:
Netflix: The Biggest Empty Promise Since Enron
. Actually, I had originally used "scam" instead of "biggest empty promise," but somebody in the editorial department at
TheStreet
decided to make the change. That's their prerogative. Not a battle worth fighting.
We're dealing in hairline semantics here. The article speaks for itself. From the first sentence to the coda, it's clear where I stand.
To reiterate . . . (You can find links in the "biggest empty promise" article that verifies what follows). I have suggested being long NFLX since last summer when it traded for around $60. I called it to $100. I called it to $200. And, as the story in the first paragraph of
this
article verifies I called for $300 by summer at the beginning of the year.
Also see: Google Music Service a Non-Event for Pandora >>
NFLX closed Wednesday's session at $243.40, up 4% on the day and roughly 305% since
.
Where were all of the other NFLX bulls way back then? Nowhere to be found. They hopped on the bandwagon once the stock took off. It's all on the record where I was when NFLX collapsed in 2011 and as it began to soar in 2013.
As for the company, I have rarely been positive. Given the breadth of content I have produced on the subject over the last three years, I don't have to go over the reasons why. But, at day's end, I have been one of the few in the media -- financial or otherwise -- who has consistently nailed the divergent stories of NFLX the stock and the Netflix the company.
If you have issue with words such as "empty promise" and "scam" being used in association with Netflix, I have a proposition for you. Keep buying the stock. There's no reason not to, particularly if you were buying below $100. You're so far ahead by now.
But
don't do the prudent thing
.
Don't take profits. Put on a blindfold. Put your faith in Reed Hastings. And let it ride.
Be like those poor Enron employees (and I mean that sincerely because those folks got screwed) who kept their 401Ks in their company stock till the bitter end. That was my intention when I used Enron and Netflix in the same sentence. To make that point. I thought it was clear. You're a smart reader. One that doesn't require spoon feeding, but I guess a relative sliver of a handful do.
And if you think the company is something more than a
house of cards
(pun
very
cheesily intended), you clearly have not been paying attention.
Netflix is a cartoon. And a majority of the media -- financial scribes and talking heads in particular -- have a penchant for getting hit on the head with the anvil and coming back for more.
Also see: Dan Loeb's Activism May Stall at Sony >>
Here's the type of drivel that drives NFLX higher. That's why calling the stock a buy is like shooting fish in a barrel. The market's irrational ways can often be the trader or investor's best friend. You just can't get sucked in by the hype that drives this puppy higher.
Like this ...
You know
Bloomberg
right? The company with those Peeping Tom terminals? Anyhow, this snippet was passed off as "research" by
Bloomberg
yesterday. Here we go. It's a crazy one (Bloomberg content is indented and in italics, my interjections come in between and after):
Netflix Rises as Much as 3.1% After BTIG Survey
2013-05-15 13:34:13.486 GMT
By Clyde Eltzroth
May 15 (Bloomberg) -- Survey of more than 400 people at 2 Bluth Banana Stand locations in NYC provides evidence Netflix is rebuilding consumer confidence, BTIG analyst Richard Greenfield said in note.
OK. Right off the bat we know we're in for some crappy research when BTIG and Richard Greenfield are mentioned. Search my name alongside his and
Pandora
(P)
to get a feel for the type of "work" he produces.
* 368 of 427 people interviewed were Netflix subscribers
Greenfield said "Arrested Development" is ''clearly increasing'' subscriber happiness, should help to reduce churn
Also see: Bad Sign for Microsoft as Dell Discounts Windows RT Tablet >>
It's one thing to say "buy the stock, it's going up." Even a guy who can't get behind the company (me) has enough sense to say "buy the stock" at least for a little while. But it's entirely another to relay a sixth grade social science project as research. Unless, of course, you think you're speaking to complete fools.
Greenfield sampled 400 people. There's his first problem. To make things worse he used quite possibly the most unreliable sampling method possible -- a convenience sample. I used to use those in graduate school. It's what you do when you don't have funding to draw a legitimate and reliable sample using a proper method.
When you publish research in academia with a "convenience sample," you must indicate that that's what it is and discuss how the limitations of the method impact your results. You basically have to say, my results are suspect because of my sampling method. Greenfield doesn't have to do that because he practices something closer to witchcraft than science.
And, of course, we have a serious case of sample and selection bias here. For Christmas sake, Greenfield drew a faulty sample to begin with, but there's absolutely no way it's representative of the population. He interviewed subjects at a gathering of diehard "Arrested Development" fans. Of course these people are fired up. And, typically, the most ardent rush to the surveyor to exhibit their unbridled enthusiasm for their passion.
So Greenfield generalizes to a much larger population (Netflix subscribers) noting that their "happiness" is "clearly increasing" because 368 of 427 people interviewed at a stop on a freaking "Arrested Development" viral marketing tour said so.
You really can't make this stuff up.
Whether he ends up being right or wrong on Netflix (he'll be wrong) is neither here nor there. It's a real issue when a guy who works on Wall Street can pass off absolute crap as research. And it's even worse when an otherwise respectable news organization such as
Bloomberg
reports it as research to people with money on the line, who also happen to drive the price of a stock that runs a serious risk of imploding. Again.
Also see: Would You Buy The Ariel Castro House Where He Brutalized Three Women? >>
More food for thought. Another analyst, Richard Tullo at Albert Fried, explains why he remains bearish NFLX in a Wednesday afternoon note:
So why are we apparently doubling down on a bad call? We think management has overly dismissed real risk, as represented by the company's aggregate $5.7 billion content liability of which $1.3 billion or $21 per share is due in the next 12 months. We think NFLX will raise more debt as it did in 1Q13 and therefore rolling capital raises increase long-term costs and impair EPS as NFLX earned just $0.05 per share in 1Q13 due to a debt raise. Essentially current enterprise value and future FCF (free cash flow) gets transferred from the stock holder to the bond holder in our view when a company raises debt and as liabilities exist off balance sheet ...
Bingo.
--
Written by Rocco Pendola in Santa Monica, Calif.
Rocco Pendola is
TheStreet's
Director of Social Media. Pendola's daily contributions to
TheStreet
frequently appear on
CNBC
and at various top online properties, such as
Forbes
.