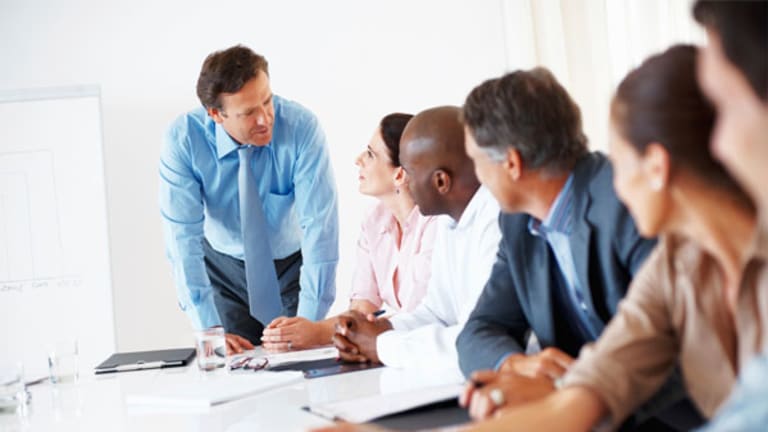 Netflix Needs a Celebrity Spokesperson
Reed Hastings must lay low, raise cash, price and reinvent Netflix.
NEW YORK (TheStreet) -- Last week, I wrote an article for TheStreet suggesting that, after it sells its DVD division, Netflix (NFLX) - Get Netflix, Inc. (NFLX) Reportshould raise prices again.
In that article, I briefly mentioned using a celebrity spokesperson to make the announcements and subsequently massage consumer backlash.
This makes sense for several reasons.
Netflix CEO Reed Hastings is an enigma.
The man exudes a brilliance beyond anything most of the rest of us could hope to attain. At times, he commands control of a room with a charming persuasiveness that's got to be God-given. By all accounts, he's also a heck of a guy.
Plus, it goes without saying -- Reed Hastings is a visionary. If all he did was come up with the DVD-by-mail idea, he would qualify, but there's so much more. I love listening to him speak about the future of television -- smart TV and such. It's dynamic stuff. And his visions and ideas regarding education are equally as strong. He backs up that talk by donating a ton of money to the cause.
But, there's another Reed Hastings we see from time to time. I'm not sure how or why it comes out, but it makes cats like
Zynga
(ZNGA) - Get Zynga Inc. Class A Report
CEO Mark Pincus look like dynamic rhetoricians.
We all remember last summer. We all remember Hastings' horrific
video where he introduced
Qwikster
. And we all remember the spoofs that followed from
Saturday Night Live
to a great one by
Conan
that I must have missed:
Hastings can come off like an aloof Keystone cop on occasion. That's what the public remembers him for. While much of the hate has worn off, it would come storming back if he showed his face again as the bearer of bad news.
For the record, I don't think the guy deserved what he got last year when he raised prices and split DVD. He took some viciousness and took it well. I was a bear long before those well-publicized missteps, moves that really didn't phase me much one way or another, as ill-advised as they were.
But, it is what it is. We live in a pretty cruel society. People feel as if they are entitled to $7.99 Netflix. If somebody messes with that, look the bleep out.
But, as I noted in last week's article, Netflix has no choice but to "mess with it." It cannot proceed aggressively and ameliorate concerns over $5 billion in off-balance sheet obligations without more cash. Going to Wall Street or Silicon Valley for the funds will only raise more red flags.
Netflix faces a classic decision. It needs to increase revenue so it can continue to spend. Because if you want growth, you have to spend.
Hastings cannot be anywhere near a microphone or camera when the time comes to make a move. Give CFO David Wells a script, make him sign something that says he won't say anything stupid and send him to the analyst conferences and such. In dealing with the public, however, hire some people who know what they're doing.
At the same time as Netflix adds value to its service, it should also add a limited and relevant e-commerce component to help drive revenue. This coincides with the sale of DVD and another price increase.
The whole thing rolls out methodically with a celebrity spokesperson everybody loves. I'm not sure who that should be because I do not know Netflix's demo as well as Reed Hastings does. But the new "face of Netflix" needs to be somebody you just cannot say no to.
Whoever makes the announcement -- and there absolutely needs to be one before 2013 is out -- it cannot be the blunt and arrogant one-sided affair we saw last year. If you're raising the price on an entitled bunch, you absolutely have to give them something they did not have prior to the increase.
Most importantly, they can't feel like they want to shoot the messenger upon hearing the news.
At the time of publication the author held no positions in any of the stocks mentioned.
This article is commentary by an independent contributor, separate from TheStreet's regular news coverage.
Rocco Pendola is a private investor with nearly 20 years experience in various forms of media, ranging from radio to print. His work has appeared in academic journals as well as dozens of online and offline publications. He uses his broad experience to help inform his coverage of the stock market, primarily in the technology, Internet and new media spaces. He has taken a long-term approach to investing, focusing on dividend-paying stocks, since he opened his first account as a teenager. Pendola, 37, is based in Santa Monica, Calif., where he lives with his wife and child.