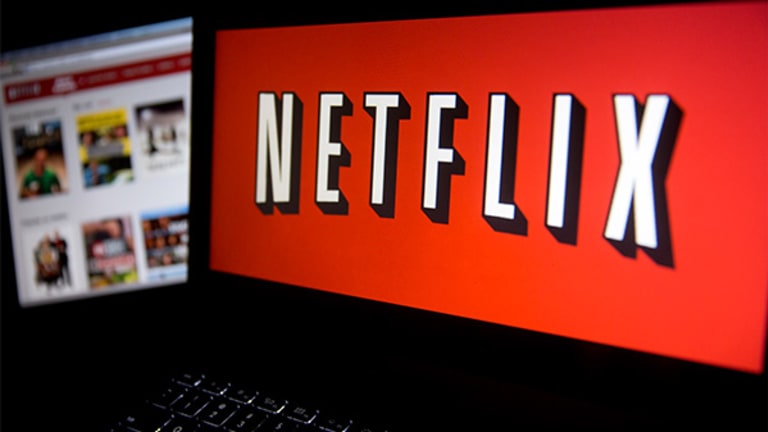 Netflix Looks to Big Screen to Defend Turf Against New Streaming Services
The online streaming service's stock has fallen in the past month and the company will have to spend more money to acquire original content, analysts said.
NEW YORK ( TheStreet) -- Netflix (NFLX) - Get Netflix, Inc. Report, which has taken a beating lately as new streaming services go public, has shown it's willing to pay top dollar for original content, both movies and serials, to keep its place in an increasingly competitive market.
With the launch next month of Time Warner's (TWX) standalone streaming service, HBO Now, and Apple's (AAPL) - Get Apple Inc. Reportreported entry into online television bundling, pressure on Netflix may be higher than ever. In order to compete with newcomers such as DISH's (DISH) - Get DISH Network Corporation Class A Report SlingTV and Sony's (SNE) - Get Sony Corp. Report PlayStation Vue, Netflix must beef up its offerings of original content.
"There's no breathing room or margin of error," said Steve Ridge, president of the media strategy group at consultant Frank N. Magid Associates.
Despite Netflix's launch of Tina Fey's comedy series Unbreakable Kimmy Schmidt - a rare foray into comedy for the streaming provider - and the acquisition of independent film Beasts of No Nation, Netflix shares have declined nearly 12% to $420.40 over the past month.
Research firm Evercore ISI on Monday downgraded Netflix to sell from hold due to higher costs associated with increased competition and uncertainty on the return from recent investments in original programming. Traders also reacted negatively to a report the company had passed on the streaming rights to top-rated 1990s sitcom "Seinfeld."
Netflix's stock appears to be suffering from investor concern that offerings led by HBO Now are likely to cut into growth, said Pacific Crest Securities research analyst Andy Hargreaves. "For the last 18 months there's been a pretty concerted effort on their part to do exclusive deals," he said.
Netflix, which carved out its original content niche with high-quality series like political thriller House of Cardsand the dark jailhouse comedy Orange Is the New Black, mirrored HBO's strategy with The Sopranos and Sex and the City. Netflix last month said it plans to raise $1.5 billion in debt to help finance original content.
"If you make good shows and have good shows that are exclusive, it's not an either/or type of market," Hargreaves said of the competition between Netflix and rivals such as Hulu and Amazon Prime (AMZN) - Get Amazon.com, Inc. Report for consumers' dollars. Netflix had 57.4 million subscribers worldwide at the end of 2014, and the company said it expects that number to grow to 61.4 million subscribers by the end of the first quarter.
In an effort to protect and grow its position, Netflix has begun expanding into films, striking deals with Adam Sandler and buying the rights to Crouching Tiger, Hidden Dragon: The Green Legend, the sequel to the 2000 Oscar-winning Chinese-American action film.
But it's the reported $12 million that Netflix paid for Beasts of No Nation, a drama about a child soldier in Africa and starring British actor Idris Elba, that may be the company's next House of Cards.
In the same way the political thriller helped Netflix earn credibility as the first online-only television series to win an Emmy Award in a major category, the company has positioned Beasts of No Nation as its Hollywood awards contender.
The film will also need to be released in theaters to qualify for awards like the Oscars and Golden Globes, affording Netflix the chance to push a model of simultaneous theatrical and online release, Ridge said.
"It's definitely a foundation in a future strategy, and it's kind of the price of entry to some degree," Ridge added.
Major theater chains have said they will not show Netflix's films because the company will not give them an exclusive exhibition window as major Hollywood studios do. Beasts of No Nation's release will probably be to a couple hundred art-house cinemas as a result, said Phil Contrino, the chief analyst for Boxoffice.com.
"You have to look at (the simultaneous release) as, 'Is this going to have lasting appeal to its subscribers and is it going to make their subscribers happy?'" Contrino said. "Because at the end of the day, the box office grosses are not nearly as significant as what they're bringing in from their subscriber base."
A drama like Beasts of No Nation, if afforded a wide release and Oscar nominations, could gross a small sum totaling as much as $30 million to 40 million at the box office, according to Contrino.
But embracing the traditional theatrical model is not where Netflix stands to make its biggest impact. A successful simultaneous release could give the company a stronger position to negotiate with exhibitors as well as selling consumers on a new concept, Ridge said.
"Every one of these things is putting a little bit of a dent," he said. "It's nibbling away at the traditional business model and a lot of those bites add up over time."