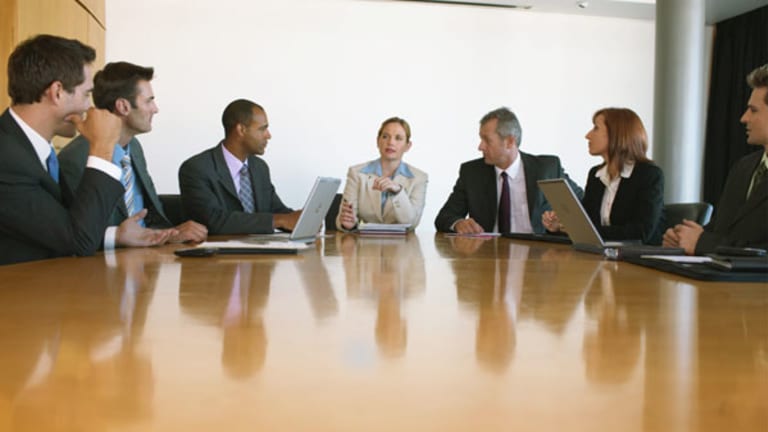 Netflix Is The TV Content War's New Battleground
With mergers increasing cable and satellite's might, television content providers humbled by potential a la carte pricing could squeeze Netflix and other streaming services who need their shows more.
PORTLAND, Ore. (TheStreet) -- If we're headed toward a la carte television, as my colleague Rocco Pendola has suggested on multiple occasions this week, guess who's going to get stuck with the bigger bills?
No, not cable and satellite customers who get to structure their offerings lists as DirecTV, Comcast, Verizon and others tell content providers like Fox, Viacom, Disney, AMC and The Weather Channel to take their fee complaints walking. There won't be any more back-and-forth between service and content providers or nasty blackouts mixed with snippy commercials. If television goes a la carte, the viewers are going to set the prices themselves based solely on demand.
Nope, the only way content providers are going to be able to jack up their fees and squeeze more money out of deals for their shows is to target the one company in the room that will still be doling out cash for such things: Netflix. The company's recent deal with Comcast for bandwidth and the potential for similar payouts to Verizon and others left Netflix's big, fat wallet sticking out of its back pocket. As most of the content providers already know, Netflix has been robbed by their like before.
This is a company that isn't terribly opposed to making painful compromises for the sake of content. It locked in Disney to an exclusivity deal, sure, but it let exclusive content deals with Epix and Starz slip away to make that happen. It hammered out agreements with Warner Brothers and Sony half a decade ago, but gave away the right to rent or stream anything resembling a new release from either of them.
With the cable and satellite providers in no mood to negotiate soaring fees and Fox, Time Warner and Comcast's own NBC Sports building sports ecosystems to rival that of ESPN and its $5.50-a-month flagship station, the content providers are losing any semblance of leverage they once held.
Except where Netflix is concerned. That company is still concerned with locking in exclusive content and warding off advances by Amazon, bumbling network joint venture Hulu Plus and Verizon's still tiny Redbox Instant collection.
While cable and satellite companies can drop the redundant Weather Channel and a whole bunch of niche networks without batting an eyelash, Netflix would be in serious trouble if its viewers suddenly were unable to binge watch the last episodes of Mad Men or couldn't catch up with the all of CBS' How I Met Your Mother before its season finale.
Netflix has built its streaming service around two core strengths: Television series and children's programming. The movies are nice, but rarely are they exclusive to Netflix and seldom do they stick around for a year or more. By contrast, viewers have just as much access to back episodes of Scrubs and Cheers as they had two years ago and have Disney content joining a network already stocked with DreamWorks, Nickelodeon and PBS kiddie offerings.

However, Netflix still produces very little of those products itself: And for every House of Cards or Orange Is The New Black, there's a Lilyhammer or Hemlock Grove that doesn't quite hit the mark. Content providers like Showtime, AMC, Fox and even Comcast's NBC and USA have their hands on the shows that keep folks watching and subscribing. They know Netflix viewers will wait through lengthy negotiations just as long as the new episodes of It's Always Sunny In Philadelphia, Family Guy, Arrow and the last season of Psych keep showing up and completing their collections. They know that those same viewers love having cult classics like Buffy The Vampire Slayer, Battlestar Galactica, Futurama and The X-Files around and that they'd flip out if they ever disappeared from the virtual library.
That knowledge is power, and that power comes with a price. Cable and satellite customers may one day be able to trim the price of their pay television by trimming away a few channels, but Netflix needs the content and still has the wiggle room in its pricing to pay for it. Where once Netflix was beholden to the folks with the fiber-optic cable who could accelerate and slow its speeds at whim, it's now at the mercy of channels, media companies and content providers chastened by their former masters and chasing new sources of revenue.
The niches may disappear from the cable and satellite menus, but Netflix is just one digital stockpile of niches. Just what its content partners will charge for the privilege from here on out remains to be seen. Our advice: Take the over.
-- Written by Jason Notte in Portland, Ore.
>To contact the writer of this article, click here: Jason Notte.
>To follow the writer on Twitter, go to http://twitter.com/notteham.
>To submit a news tip, send an email to: tips@thestreet.com.
RELATED STORIES:
>>Why 'Let It Go' From Disney's 'Frozen' Needs An Oscar
>>Are Documentaries More At Home On Streaming?
>>Hey Wal-Mart: These Are American Workers' Songs
Jason Notte is a reporter for TheStreet. His writing has appeared in The New York Times, The Huffington Post, Esquire.com, Time Out New York, the Boston Herald, the Boston Phoenix, the Metro newspaper and the Colorado Springs Independent. He previously served as the political and global affairs editor for Metro U.S., layout editor for Boston Now, assistant news editor for the Herald News of West Paterson, N.J., editor of Go Out! Magazine in Hoboken, N.J., and copy editor and lifestyle editor at the Jersey Journal in Jersey City, N.J.