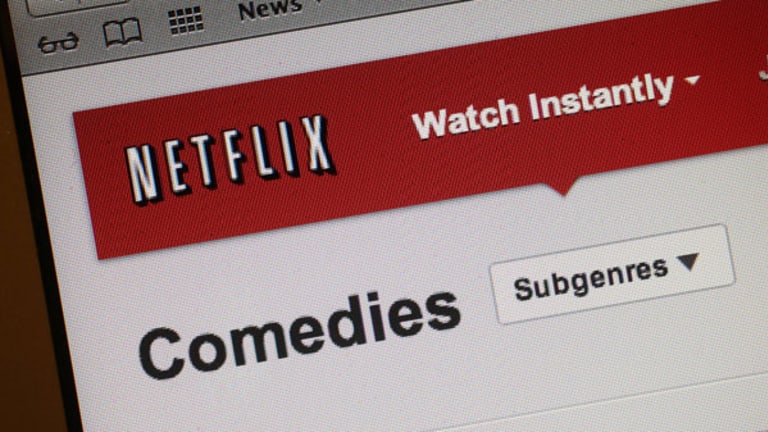 Publish date:
Netflix Is Nothing Like HBO
For as long as it exists, Netflix will remain an add-on, operating at the mercy of old-guard, content-controlling media companies.
For as long as it exists, Netflix will remain an add-on, operating at the mercy of old-guard, content-controlling media companies.
NEW YORK (TheStreet) -- Reed Hastings would kill (that's a figure of speech) to have HBO's programming on Netflix (NFLX) - Get Report. I'm certain of that.
But, unfortunately, that's not where he ends his hallucinatory associations between the glorified bootlegger and Home Box Office. He did it again Wednesday with
CNBC's
Julia Boorstin. (You can see that video in
How Many People Actually Watch Netflix Originals?
).
Consider other equally absurd statements Hastings has made about HBO:
December 6, 2011, UBS Conference: And the funny thing is HBO is becoming more Netflix-like, i.e., going over the Internet and interactive streaming and that kind of thing, and we're becoming more HBO-like doing -- winning the bidding for House of Cards and doing originals. And I think the 2 of us will compete for a very long time ... we'll always be a little better at the Internet. They may try to stay better on originals, we'll start to catch up with them on that ...
April 25, 2013, Netflix IR: The network that we think likely to be our biggest long-term competitor-for-content is HBO. They recently won, for example, long-term exclusive domestic movie output deals with Universal and Fox. They bid against us on many Original projects ... While we are passing HBO in domestic members in 2013, it will be several years before we are peers with them in terms of Original programming, Emmy awards, and international members. It wouldn't be surprising to us if HBO does their best work and achieves their highest growth over the next decade, spurred on by the Netflix competition and the Internet TV opportunity.
Most people focus on whether or not Netflix and HBO compete. I don't. It's irrelevant because, Hastings is right when he says
HBO is growing and will continue to grow irrespective of Netflix
. And Netflix, from practically every standpoint imaginable will always be a pimple on HBO and
Time Warner's
(TWX)
rear end.
Also see: Marissa Mayer's 'New York Yankees' Strategy Will Fail at Yahoo! >>
But that doesn't stop Hastings from making comparisons. It's in these comparisons, not the perceived competition where things get interesting. That's one place of several where we discover what an unworkable proposition Netflix becomes.
Consider the following excerpt from May 13, 2013
coverage of Netflix:
(Michael Pachter of Wedbush Securities) also dismisses the idea that Netflix generates its own content, like HBO, and thinks this is a red herring for investors.
"Someone else produces content, Netflix buys exclusive rights for a very limited period of time and then Netflix doesn't own the content anymore," he said. "This is not the same as the HBO model. They are nothing like HBO. They have a three-year window to show 'House of Cards.' After that nothing. They don't own it, they can't exploit it further unless they pay more. That's not ownership of content."
"People overvalue the domestic streaming business and they discount the fact that the domestic DVD business is all of their real profits, and that is going away," he said.
Pachter is absolutely right.
And for Hastings to claim, as he has, that HBO is becoming more Netflix-like and Netflix is and/or will ever get closer to HBO with respect to original programming is patently absurd. Not only are the models different, as Pachter notes, but the quality of the programming and Netflix's opportunity to develop more of it -- of anything -- pales in comparison to the cash cow that is HBO.
Think about what HBO is. This is the network that did "Inside The NFL" and still does "Real Sports with Bryant Gumbel." "Inside the NFL" rarely gets credit for this, but it served as the model
ESPN
used -- and still uses -- for much of its NFL coverage. HBO stopped doing "Inside the NFL" once it ceased to be something special to HBO. It continues to do "Real Sports" because you're hard-pressed to find shows with such quality reporting -- as opposed to daily and weekly highlight shows -- elsewhere.
This is the network of "Sex and the City," "The Sopranos," "VEEP," "Game of Thrones," "Vice" and "The Newsroom."
HBO is an original programming pioneer. It took decades to build. And no matter how eloquently he speaks about the future of television, there's no possible way -- under Netflix's present structure -- Hastings can do what needs to be done to be a meaningful part of it.
Netflix does not have time on its side. Nor does it (short of a buyout or additional fundraising bailouts) have the cash to finance the number of originals -- which would, almost across the board, have to be HBO-level smash hits (we're talking millions and millions of documented viewers) to matter.
I'm not going out on a limb when I say this has not happened with Netflix's pseudo-originals to this point and it's not going to happen anytime soon, if ever.
Lost in the false hype over "Arrested Development" is something that actually matters:
Viacom
(VIAB) - Get Report
, a major supplier of
Kids TV
for Netflix,
its contract with the streamer.
Nickelodeon
reruns are now absent from Netflix.
This is the type of thing Reed Hastings does not want to discuss.
Netflix's content library, by and large, lives and dies by the mercy of huge media companies such as Viacom. The old guard that -- believe me when I tell you (I talk to these guys!) -- does not want to and will not continue to license content to $8-a-month Netflix. Increasingly, they want to keep it in house. They want control. And, as more and more content owners, exercise this control, claim exclusivity and protect the premium nature of their programming, Netflix is left with scraps and a sparse selection of run-of-the-mill originals.
Also see: It's O.K. to Discuss A Couple's Net-Worth at the Wedding >>
Hastings likes to paint Netflix as the streaming pioneer. That's hollow self-praise. The old guard knows how to do streaming as well as -- and in many cases better (see, e.g., HBO GO, WatchESPN,
DIRECTV's
(DTV)
TV Everywhere
platform) -- than Netflix.
There's just no incentive -- no pressure on their timelines -- to introduce full-boar streaming and/or unauthenticated viewing until they're ready. Why in the world would these guys blow up a model that generates billions of revenue when they own and control the content that keeps consumers locked into their ecosystems, on and offline?
For now, they'll allow Netflix to persist as an add-on. Like a pack of batteries, not even wrapped, attached to the present your kid really wanted for Christmas.
--
Written by Rocco Pendola in Santa Monica, Calif.
Rocco Pendola is
TheStreet's
Director of Social Media. Pendola's daily contributions to
TheStreet
frequently appear on
CNBC
and at various top online properties, such as
Forbes
.