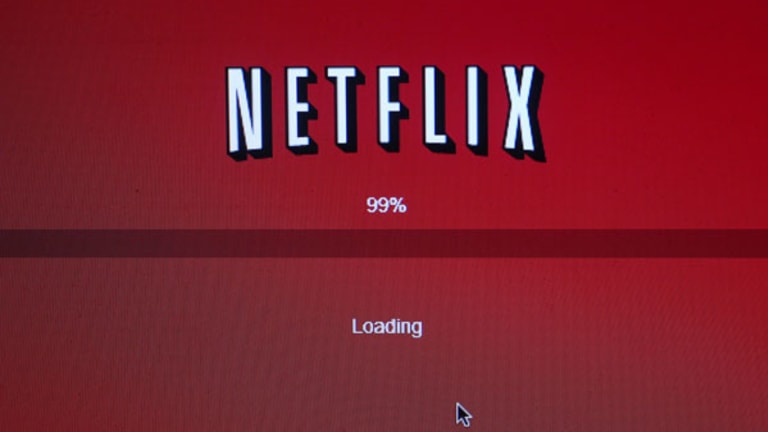 Netflix Is Not Coming to Comcast, TWC (UPDATED)
The idea of making Netflix a part of your cable package triggered a mix of laughter and outrage among industry executives and investors.
Updated from 10:04 a.m. Monday, Oct. 28, to include include comments from Comcast Cable President and CEO Comcast earnings conference call. See Page Three.
NEW YORK (
) --
Between articles on Seeking Alpha in 2011 and TheStreet since then
, I have characterized, with more than ample support,
Netflix
(NFLX) - Get Netflix Inc. Report
as a walking contradiction. And, as my reporting throughout this article -- sourced at some of the highest levels of the television industry -- proves, you should view media reports about Netflix "talks" with cable companies with a grain of low-quality salt.
While it's been nice to be on the right side of the stock (calling 2011's implosion and
), it's been twice as nice doing the work -- on the ground -- fleshing out the story about NFLX, the company, that the rest of the media and Wall Street prefer to ignore.
A major takeaway from this ongoing process: Don't put much stock into what comes out of the mouths of Netflix CEO Reed Hastings and his top lieutenants. There almost always seems to be, in my opinion, more to it than they make public. And often, there very well may be ulterior motives, shrouded in strategic self-interest and preservation.
For a couple weeks now, the financial and entertainment media couldn't spit out the headlines frequently enough:
Could Netflix Become Part of Your Cable Package?
and
Netflix In Talks With Cable Companies
. There was
something curious about Hastings' renewed push to make Netflix part of the cord it purports to cut
. But, of course, that same media refused to critically assess the situation.
Brian Stelter,
The New York Times
media reporter, brought up
Comcast
(CMCSA) - Get Comcast Corporation Class A Common Stock Report
in an Oct. 14
:
Comcast declined to comment ... But the company's discussions with Netflix revealed a sharp turn from just a year and a half ago, when it promoted a partial alternative to Netflix called Streampix for its customers. Back then, Comcast said it wanted to "give customers no reason to go anywhere else."
Comcast has said relatively little about Streampix since.
That ended this past Friday, as the truth jumped in front of the Netflix fairy tale.
Those talks Netflix was reportedly having with cable companies, according to my sources, never happened or, if on some level they did, weren't nearly as substantive or as far along as the media made them out to be in its frenzy of
Netflix Could Be Coming to Cable
stories (as Netflix sat back and watched). And, newsflash to
The New York Times
,
Streampix
is "back!"
Here's my take (as in, my researched opinion of what might have happened, considering what the media reported and what my sources tells me): Across the broad media industry, everyone talks to everybody all of the time. Things come up. But just because something comes up doesn't necessarily mean two or more parties are "in talks." An important distinction exists between "talking" and being "in talks." Between being serious or close to doing a deal and having one party float an idea, quite possibly through media leaks, it would like to see gain traction.
As the Hastings-fueled smoke and mirrors rolls on, I reckon something else might have happened on the way to reality.
This next paragraph is pure conjecture and speculation on my part, albeit well-informed conjecture and speculation.
Hastings knew
Comcast's New Internet, Streaming Video Deal
, which includes
Time Warner's
(TWX)
Home Box Office (HBO)
, but
not
Netflix, was about to happen. Pursuant to the receipt of this knowledge, he strategically makes public his company's desire to be part of the traditional cable establishment. What better way to try to steal
HBO's
thunder than to anticipate the Comcast announcement with a leak of some half-cocked story you know the Netflix-loving media will not only take and run with but frame in the most positive light.
Thanks to Peter Kafka at
for providing a nice visual on exactly what these new Comcast packages entail:
If you follow Netflix and Hastings' history beyond a surface scratch, you know he would much rather see Netflix's name in place of
HBO
in that Comcast advertisement.
That said, I can confirm the following tidbits:
High-level television industry sources note that not only is the talk about Netflix coming to cable premature, but a) there isn't serious interest to make it happen, particularly on the part of Comcast and Time Warner Cable (TWC) and b) when large cable television investors got wind of last week's Netflix in Talks with Cable Companies reports they freaked out, immediately flooding the executive offices of big cable companies with You Guys Can't Be Serious and Must Be Crazy phone calls.
Expect more deals like the Comcast one with basic cable, basic Internet, a cable-company backed streaming offering, HBO and HBO GO to appear soon. This is not what Netflix wants, but when Time Warner Cable, for example, announces a similar package (and I'm almost certain it will) it's likely to include HBO, not Netflix.
That said, it would not shock me to see somebody break away from the pack. I could picture a
Charter Communications
(CHTR) - Get Charter Communications Inc. Report
,
Cox Communications
or other smaller cable company doing a deal where it includes Netflix.
But I would be shocked to see a big name such as CMCSA or TWC go the same route.
In an Oct. 21
, Stelter noted:
(Netflix) also acknowledged that the company was in talks with some cable operators about making Netflix accessible through set-top boxes, but they said that this sort of integration would take years to achieve.
That bit from Stelter and his Oct. 14 piece basically jibes with what Netflix officially stated in its Q3
Letter
to Shareholders:
We are open to more of these integrations with cable set-tops around the world (Netflix recently signed an integration deal with the UK's Virgin Media), but given the fragmented technology footprints, we think it will be many years before cable set-top boxes match Internet set-top boxes for Netflix streaming volume.
While they let the
Netflix to Cable
headlines blare a week or so prior, days before the Comcast/HBO deal goes public, Hastings and his Chief Financial Officer David Wells claim technological hurdles stand in the way of making Netflix part of cable.
Because, of course, why wouldn't the evil cable companies, as Netflix notes in its Q3 letter, "believe that by enabling their subscribers to do more with their cable set-top and remote, they can increase satisfaction, relative to their subscribers using a separate Internet set-top box or smart TV to enjoy Netflix." I mean it has to be some damn technical issue, not the reality of the television/content business keeping this most obvious move from taking place.
A clear case of Netflix playing the public's dislike for cable companies against these same cable companies moving, albeit slowly, to unbundle
without Netflix
and the pesky technology-related hurdles that apparently prevent the same from happening
with Netflix
.
First, where there's a will there's a way. If the cable companies really wanted to make Netflix set-top box integration happen, they could. The executives at these companies would direct their engineers and other tech geeks to get it done. Maybe not overnight, but certainly in a time frame measuring far less than "many years."
Second, they're not moving with urgency because there's absolutely no need to. While
Netflix could use the potential subscriber bump an alliance with big cable might provide
, the cable companies and major programmers have little incentive to facilitate the process.
They simply do not need Netflix as part of their evolving set of bundles to provide value. After all, it's the big media names that license and/or actually own almost all of the content Netflix streams. To that end, by promoting their own Internet delivery initiatives they can ultimately render Netflix, for all intents and purposes, unnecessary.
While I have received confirmation from high-level sources
that a Netflix-squashing partnership between HBO and
AMC Networks
(AMCX) - Get AMC Networks Inc. Report
is always possible, though not probable, expect
HBO
to explore ways to make its
HBO GO
streaming service even more attractive. Remember, in addition to its own library of exclusive content,
HBO
has relationships with programmers and studios who have their own caches of the same. I expect the Comcast accord to mark merely the beginning of the old, but hardly sleepy media's efforts to evolve its business models.
That said, cable investors were furious because there's no need to blow up these lucrative models right now. And there's absolutely no good reason for Comcast, Time Warner Cable or even a smaller provider to include Netflix in an evolution it has no place being part of.
The long-standing relationships cable companies have with names such as
HBO
mean billions of dollars to both sides. As such, we should expect the big money with investments (that are doing quite well) dependent on the health of these arrangements to freak out over the folly of working Netflix into the mix. There's just no need for it from any perspective, despite the Netflix spin.
And, even if the technology was ready to go tomorrow morning, Netflix becoming part of your no-longer local and equally-as-evil (I'm just playing off of popular sentiment and frustration) cable company's offering, especially if your set-top box says Comcast or Time Warner Cable on it, isn't happening anytime soon no matter how badly Netflix or the media it has in its coat pocket wants it to.
*UPDATE:
And, lo and behold, on Comcast's Thursday earnings call, Comcast Cable's President and CEO, Neil Smit, had this to say about the possibility of adding Netflix to the Comcast cable lineup:
Let me take the questions one at a time. On the Netflix side, really there's nothing to report. It's been, frankly, incredible to me the amount of press coverage this has received. Our customers can receive Netflix in a number of ways, so it's not really a high priority for us. We're open to putting apps on our X1 platform. We have, for example, Facebook and Pandora there now. But at this point, we don't really have anything to report on the Netflix front.
Yes, Neil, it's been incredible to me as well.
--
Written by Rocco Pendola in Santa Monica, Calif.
Rocco Pendola is a columnist and
TheStreet's
Director of Social Media. Pendola makes frequent appearances on national television networks such as
CNN
and
CNBC
as well as
TheStreet TV
. Whenever possible, Pendola uses hockey, Springsteen or Southern California references in his work. He lives in Santa Monica.