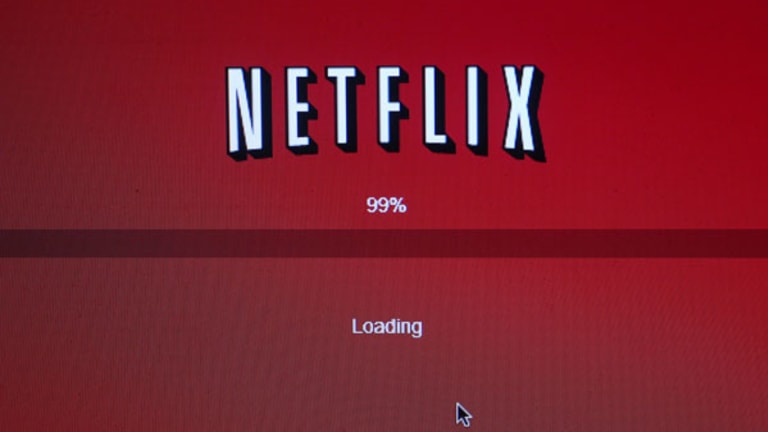 Publish date:
Netflix Insists Less Will Be More
Can Netflix accelerate its growth and profits while facing higher costs for content and access to customers?
Can Netflix accelerate its growth and profits while facing higher costs for content and access to customers?
NEW YORK (TheStreet) -- Netflix (NFLX) - Get Report has decided to offer less for more and hope Wall Street buys it.
The streaming service, which claims to have seen just a "small reaction" to its recent price increase, said at Internet Week in New York that it will be looking for shows that get bigger audiences in the future, and will push viewers to accept fewer choices.
It's illustrating how the new strategy will work in Latin America, where it will be heavily pushing a soccer-related title called "Mata Mata" in the run-up to next month's World Cup. 
Offering fewer, higher-value choices sounds like a model that can adapt to high fees for last-mile access to customers, so investors rewarded Netflix handsomely yesterday, giving the stock a 2% gain.
The shares are nowhere near their all-time high of almost $455, but given their Amazon-like price-to-earnings ratio of nearly 140 they're high enough.
Are they too high?
In order to justify the current price, Netflix needs to accelerate its 20% annual top-line growth rate, or regularly earn a lot more than the $112.40 million, or $1.85 per share, it brought to last year's bottom line.
The most recent quarter, however, saw only an 8% rise in revenue quarter to quarter, and a 10% sequential gain in net income.
The strategy seems to be that Netflix will become more like its pay cable rival, HBO, which it passed in subscribers earlier this year . But if that's the case, should it really have more than one-third the value of Time Warner (TWX) before its pending split into print and video units next month?
That's because wherever it looks Netflix sees an environment where costs are rising and competition increasing.
The company admits it did not bid on a recent HBO auction of its old shows, which went to Amazon (AMZN) - Get Report. Yahoo! (YHOO) is continuing to evolve into a direct competitor for new content. Google's (GOOG) - Get ReportYouTube service is continuing to grow.
Then there is Hulu, partly-owned by Comcast (CMCSA) - Get Report, the largest last-mile broadband company.
Netflix has been pounding the table for "net neutrality," so it won't have to pay for a "fast lane" and can compete toe-to-toe with Comcast's model of infrastructure control and vertical integration.
But at a Washington hearing this week FCC chairman Tom Wheeler found himself squarely in the middle, with Democrats arguing for reregulation to protect neutrality and Republicans calling Netflix a "free rider" on local Internet infrastructure. 
Without more government oversight, Comcast may be free to squeeze Netflix with higher charges for access to customers, while continuing to enjoy its own control of exclusive content through NBCUniversal. Google may not remain sympathetic as it rolls out its own Google Fiber to more cities.
Investors seem to believe that Netflix's expansion into Europe will compensate for slower subscriber growth in the U.S. 
But even if Netflix's rosy scenario comes true and Netflix can charge people less for more, knowing what they want each night and giving it to them, is Netflix's current stock price justified?
At some point either Netflix's growth accelerates or the skeptics are going to be right.
At the time of publication the author owned shares of GOOG, AMZN and CMCSA.
This article represents the opinion of a contributor and not necessarily that of TheStreet or its editorial staff.
>>Read More: Don't Even Think About Selling Facebook
>>Read More: Why AT&T's Deal for DirecTV Makes No Sense