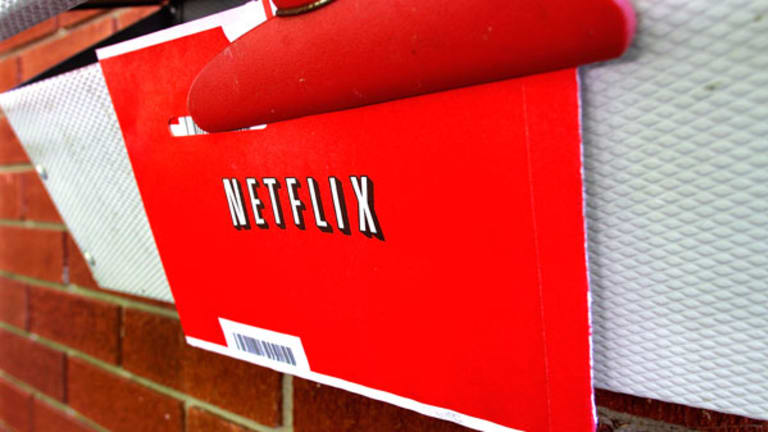 Netflix Could Benefit From Elon Musk's Strategy at Tesla and SolarCity
Netflix's Reed Hastings might want to look at Elon Musk's management of Tesla and SolarCity as a guide.
NEW YORK (TheStreet) -- Netflix (NFLX) CEO Reed Hastings may do well to mimic the capital planning policies instituted by Elon Must at Tesla (TSLA) and SolarCity (SCTY) , as the company continues to invest in original programming as a means to grow users on the increasingly popular streaming video service.
Tesla and SolarCity have performed strongly after both firms conducted secondary stock offerings this year, as investors look beyond the dilution of capital raises and, instead, become more willing to invest their money behind upstarts in the respective electric car and solar energy industries.
Netflix, while a media and technology firm at heart, is in a similar position to Tesla and SolarCity.
The company is an industry innovator that is competing against firms with a bigger market presence and far larger bank accounts. Amazon (AMZN) already has a competing platform, satellite TV giants such as DirecTV (DTV) are toying with a service and speculation is mounting that Apple (AAPL) and Google (GOOG) will increase their presence in video market.
In spite of impressive growth figures, Netflix also currently operates at a razor margin that gives the firm's management little room for error. For instance, Hastings has said in interviews that he came close to destroying Netflix with a botched implementation of Qwikster, a split off of the firm's steaming and DVD subscription businesses.
It has taken a while for Netflix to recover. After the firm's better-than-expected third quarter earnings, Netflix shares now sit near record highs. 
Elon Musk, faced with such a situation, might consider raising additional equity capital as a way to fund growth investments and as a buffer against strategic missteps or competitive changes. In fact, that's exactly what he did for both Tesla and SolarCity in 2013.
Musk successfully used positive feedback on Tesla's much-hyped Model S electric sedan to raise capital multiple times this year. Those moves helped Tesla significantly add to its cash balances and allow for an acceleration of the firm's electric car production. They also allowed the company to repay Department of Energy loans well ahead of schedule, in a move that also extinguished low-priced stock warrants that could have diluted Tesla's existing shareholders.
While Tesla has significantly added to its share count in 2013 with secondary offerings, it doesn't appear that ordinary investors mind.
Tesla shares sit within reach of record highs and the firm's stock rallied on both of its 2013 capital raises. Some might take that scenario as an indication of investor complacency and a bubble-like mentality in growth stocks like Tesla.
There is another explanation.
It is possible investors saw Tesla's capital position as the No. 1 risk to the firm's share price. Were the company to post a weak quarter or fall short on execution, it wasn't hard for some to project a sinkhole in Tesla's cash that could have forced it to raise equity at unattractive prices. 
Raising capital at premium prices, however, may have minimized risks that the firm would harm investors with a more dilutive secondary offering at a later date. The same appears to hold true at SolarCity, which saw its shares surge on a recent announcement that it would raise nearly $50 million through a secondary offering.

Analysts continue to speculate that Netflix will need to raise additional capital as it bolsters investment in original content, grows its platform and make good on existing commitments.
On the firm's third-quarter earnings call, CEO Hastings said the company wasn't considering a capital raise. However, analysts from Jefferies and Credit Suisse both continued to point out the possibility in Tuesday research reports.
"We find it difficult to justify this valuation given the risks of rising content costs, heavy competition, and the likelihood Netflix may need to raise additional capital to fund operations," Brian Fitzgerald, a Jefferies analyst said in a Tuesday research report.
"With more competitors bidding on ever pricier content, we think content owners will be in the driver's seat at the negotiating table, perhaps forcing Netflix to share more of the total economics of a given deal. As a consequence, we believe current Street gross margin expansion assumptions may be too optimistic," Fitzgerald added.
The analyst also said Netflix may need to raise capital given its relatively minuscule free cash flows and content liabilities that now stand at $6.4 billion to go with $500 million in long-term debt.
A capital raise would be an obvious way to continue to handle the financial burdens of growth, without putting the firm's operational capacity and earnings at risk.
Reed Hastings appeared to notice the firm's rising stock price and indicated a momentum or bubble-driven volatility in the firm's shares.
"In calendar year 2003 we were the highest performing stock on Nasdaq. We had solid results compounded by momentum-investor-fueled euphoria. Some of the euphoria today feels like 2003," Hastings said in his investor letter. 
Such comments may undermine Hastings' ability to offer additional Netflix shares to investors; however, they also indicate a strong rationale for even a minor stock offering.
Why not take additional capital from investors, especially at a price that could minimize dilution for existing shareholders?
There is no guarantee, after all, that capital will be available at such attractive prices further down the road were Netflix to stumble in its seemingly stellar execution. 
Netflix shares were falling nearly 8% in Tuesday trading at $327.50 on analysts concern the company's shares may be fully valued.
-- Written by Antoine Gara in New York