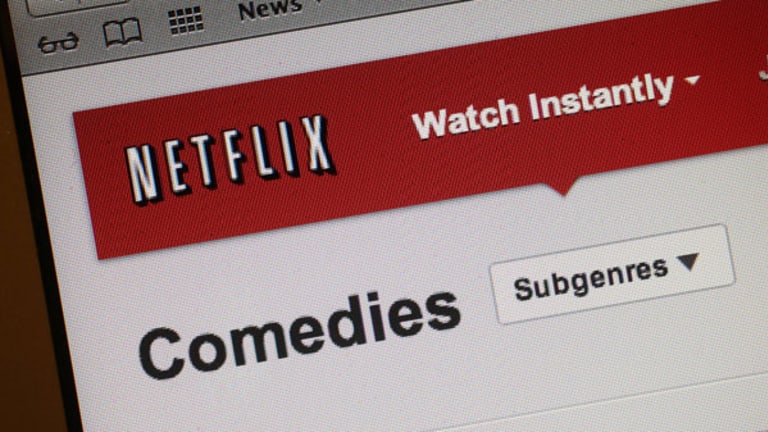 Netflix and JCPenney's Time of Birth, Death: 2013
While Netflix's stocks transformed the brand from a question mark to a juggernaut, JCPenney's performance was so bad that it got the boot from the S&P 500.
NEW YORK (TheStreet) -- Netflix (NFLX) gets the Comeback Player of the Year award. The stock performance in 2013 was remarkable. Here is a look at the year ahead and some highlights of Netflix's recent success.
2014 Netflix Outlook
As TheStreet'sJonathan Heller says, the price is high, and so are the expectations. From an earnings standpoint, Netflix is expected to soar. Analysts are predicting an EPS increase of 12 cents over the next two quarters. Additionally, analysts forecast that Netflix's annual EPS for 2014 will double over this year's projected yearly figure.
Costs will be a major issue for Netflix. In 2014, the company is poised to introduce five new original shows. As a result, the firm plans to double its investment in original content and programming for 2014. Yet, Netflix's current content costs have already dragged down its after-tax profit margin. Additionally, Netflix faces intense competition in a video-streaming industry with few barriers to entry. Competitors like Amazon and Hulu will continue to drive up content costs for Netflix due to competitive bidding.
The combination of growing costs, declining margins and intense competition may not affect Netflix's stock growth in the next two quarters. However, I believe those concerns may serve as catalysts for a selloff of Netflix's stock in the latter part of 2014. After Netflix's strong rally, says TheStreet's Jane Searle, just 15% of analysts have a buy on the stock, which is perhaps proof that after a year when the rally was fueled by multiple expansion, investors will need to cast a harsh eye over portfolios to assess whether stocks can deliver on earnings growth.
A 'Stellar' Contender in 2013
The starting point for Netflix's stellar year occurred with Netflix's stunning fourth-quarter results released in January. Netflix surpassed Wall Street estimates in terms of EPS, revenue, profit and total U.S streaming subscribers. As a result, Netflix's share price grew by more than 40 dollars per share in 24 hours. Over the course of a few days, the share price had grown by 70% at the top of the year.
Netflix followed up on its momentum with a splendid earnings report in April. This was fueled by strong U.S subscriber gains that surpassed its own expectations. However, Netflix's fiscal first quarter included the launch of its popular series: "House of Cards." Netflix's share price grew by 22% to a total year-to-date performance of 125%. Around the time of the earnings report, short interest had declined by just over 5%.
In June, Netflix's shares received a further boost after the company announced that it had partnered with DreamWorks Animation (DWA) to bring more than 300 hours of original animated programming to its customers. This was the most significant deal for original content in Netflix's history and the most noteworthy commitment to Internet television in the history of DreamWorks Animation. Netflix's share price increased by 7% on the news and by 25% over the few weeks after.
Three months after the release of its new Web series: "Orange Is the New Black," Netflix struck a deal with Sony undefined for a brand-new one-hour psychological series set to take place in early 2014. This was Netflix's first major deal with a major Hollywood studio. Investors responded favorably to the news, as Netflix's stock went up 7%.
One week after, Netflix surpassed the lofty expectations of Wall Street with spectacular third-quarter results. Netflix's reported an EPS of 52 cents. The term posted 1.1 billion dollars in revenue and expanded its subscriber growth internationally. Netflix's stock jumped as much as 10% on the news and ended the trading day with a gain of 6%.
Netflix's stock was so robust that it managed to withstand a highly publicized cut of its own stake by billionaire Carl Icahn. While the announcement caused the largest selloff of the year for Netflix, its stock bounced back to rise by nearly $50 per share over the past two months.
On Jan. 2, 2013, Netflix closed at $92.01 and still faced looming questions about its viability. As of Dec. 21, 2013, Netflix's stock has risen more than 308% to a total of $375.67. Netflix is the top stock performer in the S&P 500 this year. It closed Monday at $380.58.
While Netflix surged near the top in 2013, JCPenney's (JCP) stock did so poorly in 2013 that it was kicked off the island known as the S&P 500. Here is the unhappy recap of JCPenney's stock performance in 2013 as well as a look at the year ahead.

2014 Outlook for JCPenney
In September, a JPMorgan analyst estimated that JCPenney could be bankrupt by the third quarter of 2014 if there was no improvement in profit performance. Yet, the retailer is poised to receive a boost from holiday retail sales.
Zacks Investment Research predicts a consensus estimate of -0.46 EPS for the next earnings report. This is a great improvement over 2012's -1.95 total.
Five analysts have revised their forecasts upward for the upcoming earnings report. Also, forecasts for the next four quarters are significantly above the same periods last year. In light of JCPenney's strong Thanksgiving sales, I do believe the company will slowly gain momentum on improvement in same-store sales and revenue. It already surprised bears when the company reported that same-store sales grew 10.1% over last year near Thanksgiving. 
Tough Year for JCPenney
On Feb. 28 2013, JCPenney's sales were down 28% from the fourth quarter of 2011 and fell 200 million dollars short of Wall Street expectations. JCPenney recorded its worst annual revenue in more than 20 years. The news dropped the shares 17% in the following morning and by more than 30% the few days after.
Ron Johnson was reportedly axed as JCPenney's CEO, on April 8, after a tumultuous 17-month tenure. He was replaced by Myron Ullman.
JCPenney reported a dismal first quarter on May 16. It saw a 19% loss in same-store sales and shelved its dividends. Revenue declined by 16% to $2.64 billion. The firm reported a net loss of $348 million, which was a decline of more than 50% from the prior year. Shares fell 4% on the news.
The stock took a serious hit, on July 31, when commercial lender CIT Group (CIT) put an abrupt end to its financing of deliveries from smaller companies to JCPenney's retail outlets. On this new-found uncertainty, JCPenney investors sent its shares plunging 10%, then down 20% by the end of the  week after.
September brought a brutal back-to-school shopping season for the store. Then there was Goldman Sachs' initiation ofcoverage on JCPenney's debt at underperform as well as its recommendation that debt investors get coverage in case the firm defaults. On September 25, its share price dropped more than 15% to its lowest level in 13 years.
In what could only be deemed as a desperate move, JCPenney offered a secondary stock offering that month. This stock dilution caused the share price to decline by 30%. In the weeks thereafter, JCPenney declined to a 52-week low of $6.24.
JCPenney's stock would bounce back as high as $10.19 on November 29. The stock had been kicked out of the S&P 500 and was put in the S&P Midcap 400 that month. As of Monday's close, JCPenney had declined by more 59%, to $8.78.
At the time of publication, the author held no position in any of the stocks mentioned.
This article was written by an independent contributor, separate from TheStreet's regular news coverage.