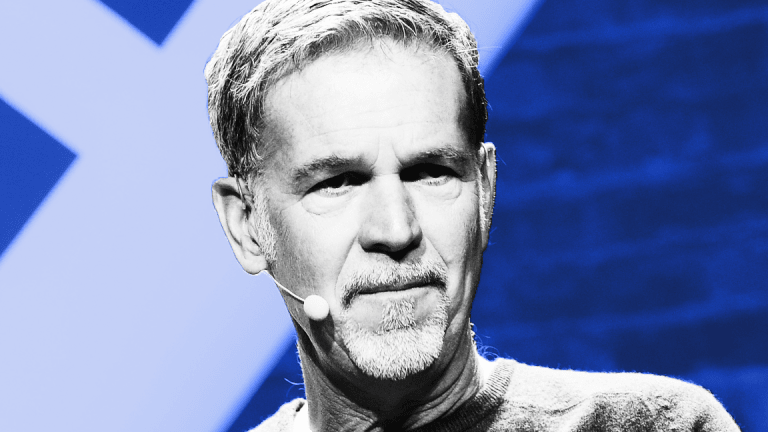 Netflix and Amazon's Lack of Profits May Actually Be Helping Their Stocks
Predicting Netflix and Amazon's future earnings power is something of a guessing game. And in this environment, bulls are making pretty optimistic guesses.
Valuing large-cap tech companies that are disrupting giant industries, posting strong double-digit growth and reinvesting all of their profits (or close to it) for the sake of pursuing big long-term opportunities is never an easy task.
When markets are in a risk-averse mood, companies that fit this description will probably trade at a healthy discount to where they would trade if they cared more about near-term profits. And even when market conditions are good but not great, the companies' spending habits could yield a slight discount due to the uncertainty surrounding just how profitable the companies will be down the line.
But today? Following a giant multi-year tech rally that has led many to feel as if the sector's marquee names can do little to no wrong, the opposite might paradoxically be true. Because it's impossible to value companies like Netflix (NFLX) - Get Netflix, Inc. Report and Amazon.com (AMZN) - Get Amazon.com, Inc. Report based on their near-term earnings or free cash flow (FCF), some bulls can actually feel more comfortable bidding their shares to the stratosphere than they would if it was possible to value the companies using traditional earnings and cash-flow metrics.
As of the March 6 close, Netflix and Amazon are respectively up 379% and 304% over the last three years, leaving the companies sporting $141 billion and $744 billion market caps. For comparison, Alphabet (GOOGL) - Get Alphabet Inc. Class A Report , Facebook (FB) - Get Meta Platforms Inc. Class A Report , Microsoft (MSFT) - Get Microsoft Corporation Report and Apple (AAPL) - Get Apple Inc. Report are respectively up 96%, 128%, 113% and 38% over this time, and the Nasdaq has registered a 49% gain.
Certainly, Reed Hastings and Jeff Bezos' companies have done plenty of things right over this time to help justify those massive gains. Netflix's streaming subscriber base has roughly doubled to 118 million thanks in large to huge international growth, and the company has successfully carried out multiple price hikes. Amazon's revenue has more than doubled due to massive direct e-commerce, seller services and AWS growth, and its ongoing mix shift towards services has produced steady gross margin expansion.
And all this success has led investors to rethink how they look at the long-term value of Netflix and Amazon's core businesses. For example, how Netflix's unmatched scale among subscription streaming services, and the unmatched content budget it helps finance, provides the groundwork for massive subscriber growth and considerable pricing power, as well as a unique ability to make regional and niche content bets pay off. Or how Amazon's e-commerce scale -- not just in terms of customers and volume, but also in terms of third-party sellers and its warehouse/logistics infrastructure -- together with Amazon Prime's one-of-a-kind nature, paves the way for non-stop retail share gains and opportunities for expanding into bricks-and-mortar fields.
Still, every business has its price. And some back-of-the-envelope math suggests a lot has been priced in.
Based on an enterprise value (market cap plus net debt) of $145 billion, Netflix is valued at over $1,200 per each of the 118 million streaming subs it had at the end of 2017. If one chooses to value Netflix based on the 190 million subs analysts on average expect it to have at the end of 2020, the company is worth over $760 per sub. And if one feels this estimate is a little conservative (it possibly is) and that the company will have 210 million subs by then, this brings Netflix's valuation down to about $660 per sub.
Now suppose Netflix, which expects to burn $3 billion to $4 billion in cash this year and isn't expected by analysts to turn cash-flow positive until 2021, eventually produced a 20% FCF margin on these 210 million subs while collecting an average of $14 per month from them (price hikes). That would yield annual free cash flow of a little over $7 billion. Netflix trades for a little over 20 times that FCF level, which probably isn't feasible for at least several years even if the company began spending more conservatively.
Likewise, if Amazon was to post an 8% FCF margin -- more than twice Walmart's (WMT) - Get Walmart Inc. Report margin, but perhaps attainable given the strength of Amazon's services revenue streams -- on expected 2021 revenue of $397 billion (more than twice its 2017 revenue), that would yield 2021 FCF of about $32 billion. Amazon currently trades for 23 times that FCF level, which of course would require a marked slowdown in spending growth.
These are all very rough estimates, of course, and some readers may have more aggressive ones. But they nonetheless make for an interesting contrast with a company like Facebook, which is also posting very strong sales growth (revenue is expected to rise 36% this year) but is also quite profitable.
In spite of big capital investments that are depressing profits some, Mark Zuckerberg's company trades for just 17 times a 2020 GAAP EPS consensus of $10.49. And this estimate could prove conservative, given it implies a major slowdown in earnings growth, and that Facebook has a very long history of topping consensus estimates and is just starting to monetize Facebook Messenger and WhatsApp.
Paradoxically, the fact that it's possible to value Facebook using conventional earnings and FCF methods might work against it in an environment like this relative to a Netflix or Amazon. Facebook's very large near-term earnings and cash flows provide a yardstick that investors can use to forecast its earnings power in the years to come, and value it accordingly.
Since Netflix and Amazon lack such yardsticks, the sky becomes the limit for what bulls see these admittedly remarkable companies accomplishing.
This column originally appeared on Real Money, our premium site for active traders. Click here to get more great columns like this.

Jim Cramer and the AAP team hold positions in Amazon, Alphabet, Facebook, Microsoft and Apple for their Action Alerts PLUS Charitable Trust Portfolio. Want to be alerted before Cramer buys or sells AMZN, GOOGL, FB, MSFT or AAPL? Learn more now.