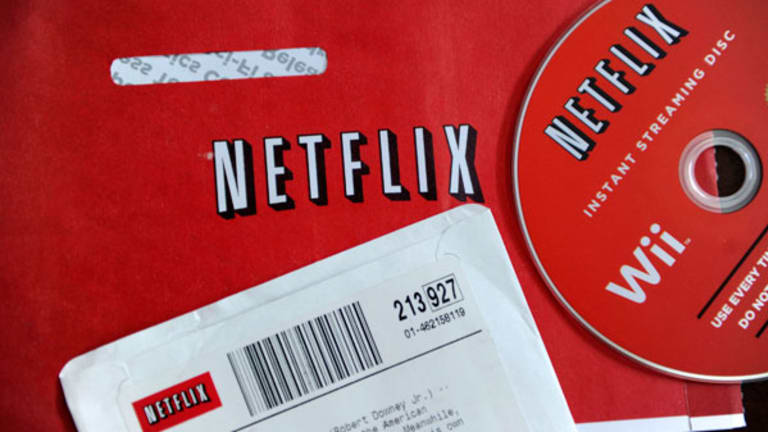 Netflix: An Overleveraged Guinea Pig Waiting to Fail
No matter what the big media companies say, don't believe for a second that they take Netflix seriously.
AUSTIN, Texas (TheStreet) -- Every day you read articles citing the thoughts of Wall Street analysts as if you should care about what they have to say. Personally I would rather hear what you (yes, you) have to say way before most of these guys and girls.
And I'm serious. Why do you think outlets with user-generated content and reviews do so well? You know,
Bleacher Report
,
Seeking Alpha
and
Yelp
. Chew on that. And don't be a hopeless cynic.
That said, I have a handful of analysts worth keeping tabs on. I relayed insight from my current favorite last week in
Reed Hastings Will Talk Jive at Netflix's Bankruptcy Hearing
.
Richard Tullo of Albert Fried is one. Not only did he get
Pandora
(P)
right, but he keeps coming up with imaginative (and credible) thoughts on
Netflix
(NFLX) - Get Netflix, Inc. Report
.
Tullo's latest gets to the heart of a question I have been asking for a while. Why does the old guard media allow Netflix to exist when they literally could put it out of business tomorrow? The easy answer is money. Listen to a
CBS
(CBS) - Get CBS Corporation Class B Report
conference call, which is often the best illustration of how Netflix mindlessly pads the pockets of programmers who happily unload old and tired programming for millions of dollars advertisers see no value in giving up.
But that's the obvious answer. Tullo comes up with something much less apparent:
Disney's (DIS) - Get Walt Disney Company Report new motion picture 'OZ: The Great and Powerful' may prove to be a stinker in the box office, perhaps not this week because fantasy movies always open good, but we think OZ may join the 'Flops Disney Hall of Fame'...
No matter, Disney has figured out a way ... to mitigate its flops. Flops don't matter anymore when you have NFLX standing ready to fund your mistakes and buy the originals you don't want, but you also don't want Time Warner (TWX) and News Corp. (NWSA) - Get News Corporation Class A Report to have either ... you can green light a flick like OZ. If it works you make money and if it flops you sell it for way too much money to Netflix.
Sweet deal, right? Netflix looks like more of a guinea pig than a serious player. The well-funded, secure and sustainable big media content owners know the score. Don't believe for a second -- no matter what they say publicly -- that they take Netflix seriously.
This comes on the heels of just how much money Netflix shells out to produce original programming: likely millions of dollars per episode, according to this
, and far more than the networks pay for hour-long shows.
Add that to another solid analyst's perspective.
According to The Business Journals
, Michael Pachter of Wedbush thinks Netflix is in worse shape financially today than it was in 2011. (Can you say "overleveraged"?) In sum,
Houston, we have a problem
.
-- Written by Rocco Pendola in Austin, Texas.
Rocco Pendola is
TheStreet's
Director of Social Media. Pendola's daily contributions to
TheStreet
frequently appear on
CNBC
and at various top online properties, such as
Forbes
.