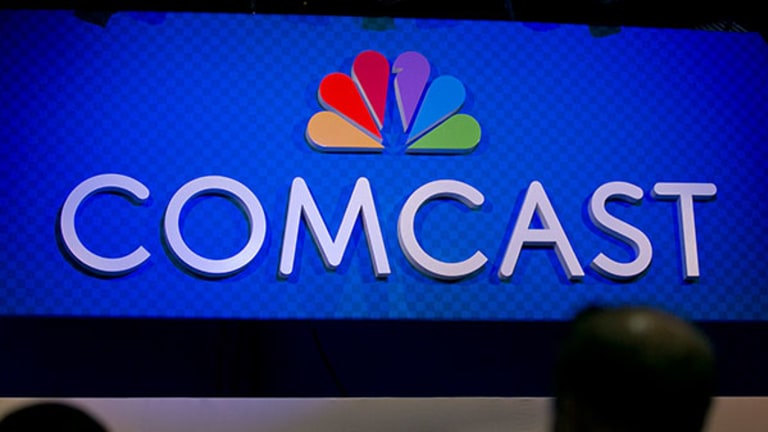 Net Neutrality Rules Giving Cover to $45 Billion Comcast-TWC Merger
The stage is now set for regulators to give thumbs up or down on the merger.
NEW YORK (TheStreet) -- With the vote on net neutrality done, Comcast (CMCSA)  and Time Warner Cable's (TWC) $45 billion merger plans may be poised to go full throttle.
Regulatory approval from the Federal Communications Commission is still pending on a proposed merger that would extend Comcast's position as the country's largest broadband provider. The deal, proposed a year ago, has generated sharp criticism from proponents of net neutrality, many of whom are Democrats, who argue that the combined company would have too much power to decide Internet traffic flow.
But with FCC Chairman Tom Wheeler leading a Democrat majority on the commission to approve rules that will  classify the Internet as a utility and prohibit pay-to-play "fast lanes," Comcast and Time Warner Cable may be shielded from critics who charge that broadband consolidation is counter to a "free and open Internet."
"This paves the way for Comcast/Time Warner Cable to get approved," Amy Yong, an analyst at Macquarie Securities, said in an interview. "It's the next thing in the queue." The deal could be approved by the end of March or early April, she added.
Before the merger can move forward, the Department of Justice and the Securities Exchange Commission still need to comment on the deal in the form of a consent decree. The industry will be watching to see if there are any surprises in that statement, said Paul Sweeney, analyst with Bloomberg Intelligence. The decree essentially covers the legal details of the merger under regulatory approval. 
The net neutrality vote gave the FCC some political cover to ensure that the merged company would be a fair player in the marketplace, he said.
"More regulation of the broadband business should give regulators more comfort that they will be able to manage Comcast going forward," Sweeney said.
FCC's concerns about the deal apparently stem from the broadband side of the business. The combined Comcast and Time Warner Cable would hold some 55% of the broadband market under the latest classifications from regulators. Net neutrality could allow Comcast and regulators to assuage concerns about such a huge player being created, he said.
"While no industry participant wants more regulatory oversight, in this particular case it might help the transaction to be approved," Sweeney added.
Listening to Comcast CEO Brian Roberts in recent days, he sounded confident of the merger being approved by regulators. During his company's earnings call, he also said the integration plans were proceeding to bring Comcast and Time Warner Cable together.
This article is commentary by an independent contributor. At the time of publication, the author held no positions in the stocks mentioned.