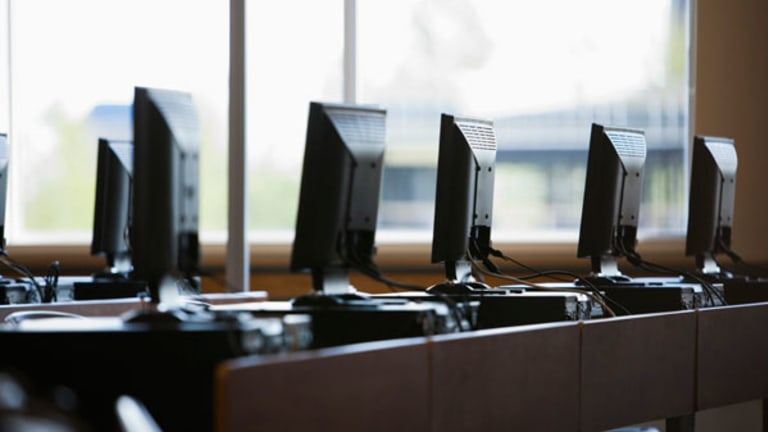 Net Neutrality Is an Economic Imperative Not a Political Football
With the future of the Internet at stake, it's useful to look at the history of the telecommunications industry to understand why the principle of Net neutrality is so important.
NEW YORK (TheStreet) -- The Federal Communications Commission is in the process of determining national policy on Internet usage, and the stakes are high.
The crux issue is Net neutrality, the idea that Internet service providers must treat all data equally, regardless of content, services, application or platform. Self-interest and politics have clouded the debate, but anyone who favors innovation and a dynamic economy should should support Net neutrality.
The FCC was forced to reassess its Internet policies following court challenges to its 2010 Open Internet Order, which limited the ability of telecommunications companies to favor or discriminate against some content and services.
Cable companies, led by merger partners Comcast (CMCSA) - Get Comcast Corporation Class A Report and Time Warner Cable (TWC) , argue that they should be allowed to provide different service levels ("fast lanes" and "slow lanes") for different content and services. Charging more for premium access clearly could fatten their margins.
Net neutrality advocates say this would produce "toll roads" that would pick winners and losers in the marketplace.
Given the stakes, it's hardly surprising that both sides are working hard to shape the debate. Some Net neutrality advocates have even alleged that the telecommunications industry is
 by secretly sponsoring fake "grassroots" groups opposed to Net neutrality.
Lawmakers, meanwhile, have seized upon the issue as a political football.
Republicans such as Rep. Bob Goodlatte of Virginia seem content to give cable companies the power to pick winners and losers on the Internet, arguing that "regulation generally stifles ... innovation." 
Democrats, who by and large support Net neutrality, are framing the debate in populist terms, saying that Net neutrality protects consumers and start-ups from big business. They seem more intent on scoring political points against Republicans than on making the most convincing argument for Net neutrality.
The real issue here is promoting innovation and maintaining U.S. leadership in the high-tech sector. To understand the importance of Net neutrality it's useful to look back at telecommunications history.
Long before e-mail, text messaging, SnapChat and WhatsApp, the telephone was the dominant means of communication.
For nearly a century after Alexander Graham Bell received his telephone patent in 1876, the Bell Telephone Company and its successors were able to exert enormous power over the information that could pass over its network and the devices that could be connected to it.
Older readers may remember the iconic black rotary phones in many American households. What they may not remember is that Bell's business model limited the devices that could connect to its network to encourage customers to use phones made or sold by Bell. If a customer wanted to use a non-Bell phone, he or she would have to give the phone to Bell and then pay a monthly fee to lease it back from the company.
Makers of innovative telephone devices, such as the Hush-A-Phone and Carterfone, had to successfully sue (1956) and work through the FCC (1968), respectively, to force Bell to allow these third-party devices on the network. The markets for consumer answering machines, fax machines, and modems (which allowed networked computers to communicate over the phone network) only evolved after Bell was forced to allow "any lawful device" on its network.
It's obvious that all sorts of data and industries use the Internet. In the absence of Net neutrality, today's carriers could impede innovation across a wide swatch of businesses by discriminating against some services and content.

Among the top 10 highest bandwidth services today are media companies Netflix (NFLX) - Get Netflix, Inc. Report ; Hulu, the joint venture between Comcast's NBC/Universal, Disney (DIS) - Get Walt Disney Company Report and 21st Century Fox (FOXA) - Get Fox Corporation Class A Report ; Pandora (P) ; e-commerce firm Amazon (AMZN) - Get Amazon.com, Inc. Report ; and social network Facebook (FB) - Get Meta Platforms Inc. Class A Report .
In the absence of Net neutrality, those companies would be put at the mercy of multiple local/regional cable companies, which could limit their innovations in entertainment and e-commerce. (The three largest cable companies, Comcast, Time Warner Cable, and Cox Communications -- though dominant in many local markets -- have fewer than 40 million total U.S. subscribers out of more than 100 million households in the U.S.)
Given that many consumers still have limited choice of local and regional Internet service providers, competitive pressures alone are unlikely to moderate carriers' behavior. Furthermore, the "cord-cutting" trend, which is cannibalizing cable companies' bread-and-butter television business, gives cable companies a strong incentive to impede the progress of Internet based competitors such as Netflix (NFLX) - Get Netflix, Inc. Report .
The argument for Net neutrality is about more than politics. It's about promoting innovation, supporting the growth of high-tech industry and keeping the Internet free and open.
At the time of publication, the author held no positions in any of the stocks mentioned.
This article is commentary by an independent contributor, separate from TheStreet's regular news coverage.
Lenny Grover is the founder of
 and the author of 
Risk/Upside Analysis: A Framework for Making Profitable Investment Decisions
.  Prior to starting Screener.co, he worked as an investment professional with two separate venture capital firms.