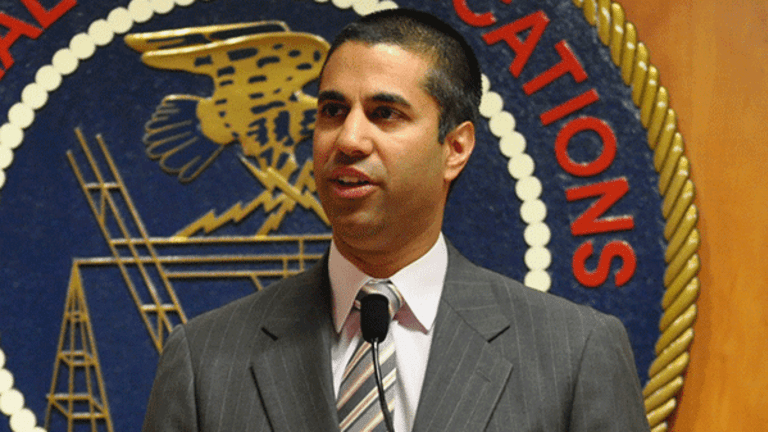 Net Neutrality Could Be Crippled by March Under Trump's New FCC
Ajit Pai takes over the agency after years of criticizing former chairman Tom Wheeler for being heavy-handed. If Pai suspends net neutrality, he could be vulnerable to the same critique.
From all indications, Ajit Pai is a nice guy.
Those who have interviewed Pai, whom President Donald Trump promoted to chairman of the Federal Communications Commission on Monday, say he's mild-mannered, a good listener and believes very strongly in open, vigorous debate. For evidence of his congeniality, they often cite that Pai was raised in Kansas (though I'm not sure what that's supposed to mean).
When it comes to net neutrality, however, the public may soon see a very different Ajit Pai --  maybe the one who has spent the past 10 years in Washington.
Despite his magnanimous reputation, Pai is being urged to take an ax to the 2015 Open Internet Order, better known as net neutrality. Rather than restart another multiyear debate topped by the inevitable court ruling, Pai could use his newfound Republican majority on the five-member FCC to hammer through an "advisory opinion" that would have the nullifying impact of suspending the agency's legal authority to enforce the Open Internet Order.
(The agency always has three members of one party to two from the other, which means there's an opening on both sides of the aisle following the resignation of Pai's predecessor, Democrat Tom Wheeler, and the failure to reconfirm Jessica Rosenworcel, also a Democrat. Republican Michael O'Rielly and Democrat Mignon Clyburn are the other commissioners.)
In other words, Pai could let the order stand but would provide "a safe harbor for internet service providers and tech companies who wish to operate under the light-touch regulatory regime that was in operation prior to 2015," wrote Brent Skorup, a research fellow at George Mason University's Mercatus Center, a research institute funded in part by the Koch Brothers, in "How to neuter Title II on Day 1 of a Trump FCC."
If Pai chooses to issue such an advisory order, possibly as soon as the FCC's March meeting, he likely would tickle AT&T (T) - Get AT&T Inc. Report , Comcast (CMCSA) - Get Comcast Corporation Class A Report  and Verizon (VZ) - Get Verizon Communications Inc. Report , where he once held the position of associate general counsel. But in doing so, Pai risks being accused of the same heavy-handedness that he often charged was a hallmark of the FCC under Wheeler.
"There's a tension here," said Berin Szoka, president of TechFreedom, a Washington think tank that often has sided with Pai. "He absolutely criticized Wheeler for ignoring input, but this whole enterprise, the Open Internet Order, rests on mistaken legal claims, so it's going to be difficult for Pai not to undo them."
In other words, Pai might abandon his congenial standing to do what he feels is right and overdue, which is to turn the FCC away from enacting protections and rules aimed at aiding consumers in their dealings with large for-profit corporations. As he probably knows, such an advisory order likely would spark many of the same street marches and colorful demonstrations that took place outside the FCC's headquarters in the run-up to the February 2015 vote that secured net neutrality.
It might also force the question of net neutrality back to Congress, which is what Pai and others have argued is long overdue. Needless to say, such a debate would get political very quickly.
Comcast is a holding in Jim Cramer'sAction Alerts PLUS Charitable Trust Portfolio. Want to be alerted before Cramer buys or sells CMCSA? Learn more now.
Pai, as well as Szoka and Skorup, broadly argue that the FCC under Wheeler overstepped its mandate and that the job of making sure broadband providers don't block or slow web traffic, or favor a particular user over another, is the role of the Federal Trade Commission and the Department of Justice's antitrust division. Alternatively, net neutrality advocates have long argued that the FCC is the only agency built to actually enforce a code of conduct for an entity that has become as integral to modern life and the modern economy as the internet.
Just before announcing his resignation in December, Wheeler took a shot across the bow of AT&T, charging that the country's largest cable TV provider was violating net neutrality by not counting its mobile phone customers' use of its new online pay-TV platform, DirecTV Now, against their data plans. In industry jargon, that's called zero-rating.
That is, AT&T was making its digital pay-TV platform more attractive to its millions of mobile phone users over competing services such as Sony's (SNE) - Get SONY GROUP CORPORATION SPONSORED ADR Report PlayStation Vue or Dish Network's (DISH) - Get DISH Network Corporation Class A Report Sling TV. Wheeler had a similar objection to Verizon zero-rating its digital platform, Go90. With Pai in control of the FCC, it's unclear whether AT&T and Verizon will be forced to pull back.
Yet the debate over zero-rating is sure to remain hot given that AT&T is pushing Trump regulators to approve its acquisition of Time Warner (TWX) . Critics of that $85.4 billion merger contend that AT&T will have all sorts of ways to quietly favor Time Warner content on its broadband network. Similar arguments are still being made about Comcast's ownership of NBCUniversal.
An FCC order suspending net neutrality also might wake the sleeping giants of Silicon Valley, which were largely quiet two years ago save for Netflix (NFLX) - Get Netflix, Inc. (NFLX) Report . The internet's largest users -- Alphabet (GOOGL) - Get Alphabet Inc. Class A Report , Apple (AAPL) - Get Apple Inc. (AAPL) Report , Facebook (FB) - Get Facebook, Inc. Class A Report and Netflix -- have the most to win or lose if the FCC removes itself from enforcing net neutrality.
For their part, Silicon Valley's largest players are largely staying quiet. Netflix declined to comment for this story, while Alphabet, Apple and Facebook weren't immediately available for comment.
Nonetheless, their principal Washington lobbying group, the Internet Association, diplomatically said this week that while Pai "doesn't always agree with our industry on every issue, he is both thoughtful and willing to listen. The internet industry is a significant stakeholder before the FCC, and we look forward to a productive working relationship with Chairman Pai."
Thankfully, they didn't mention he's from Kansas.