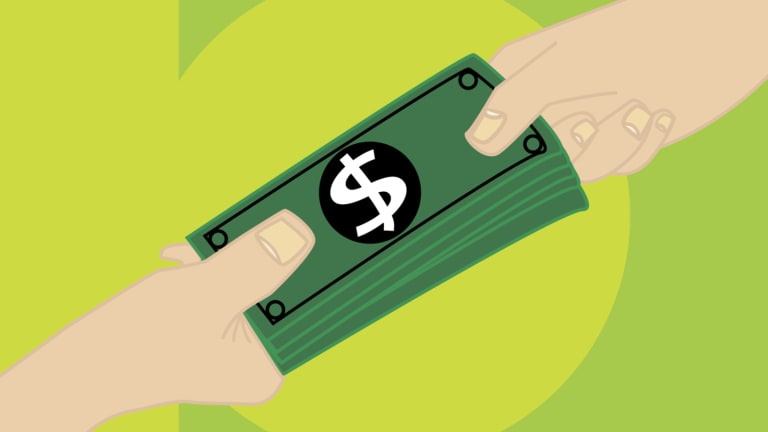 NerdWallet Gets $64 Million on Road to $1 Billion Valuation as Money Pours Into Fintech
PayPal co-founder Max Levchin got $275 million for Affirm, Credit Sesame got $16 million and Vouch got $6 million, according to funding announcements by financial technology companies at Finovate.
NEW YORK (TheStreet) -- Money continues to pour into financial technology start-ups, as evidenced by a flurry of funding announcements at this week's Finovate conference in San Jose, Calif. 
Shortly before the event, PayPal co-founder Max Levchin announced $275 million in funding for his latest venture, Affirm, an installments payments start-up.
The 1,500 attendees at the financial technology or fintech conference were told that companies that presented at last year's Finovate conference received almost $800 million in investments over the past 12 months. 
The week kicked off with the news that San Francisco-based NerdWallet, an online provider of personal financial advice, received $64 million in funding, giving it a valuation in the mid-hundreds of millions, according to Reuters. On Tuesday, the first company to present at the conference, new lending firm Vouch, picked up $6 million in funding, led by venture capital firm CoreVC.
On the second day of the conference, Credit Sesame, which has more than 6 million customers, announced $16 million in new funding; it has raised $35 million to date.
In a market that TechCrunch this week called "scorching," some investors sense a bubble. But many investors continue to see today's start-ups as having stronger business models. For example, NerdWallet's CEO said its ad-supported business could fund its planned growth from 200 to 300 employees this year without the need for any of the funds from its recent round.
While some observers might perceive many of these start-ups as game-changers, several of the biggest names in banking happened to be in attendance, including Vanguard, Schwab (SCHW)  and Wells Fargo (WFC) .
And plenty of seasoned veterans are advising this crop of start-ups. Following the example set by LendingClub (which years ago added former Morgan Stanley (MS) CEO John Mack to its board), NerdWallet augmented its board of advisors with Vikram Pandit, a former head of Citigroup (C) , and James D. Robinson III, a former American Express (AXP)  chief.
Other start-ups at Finovate included Stratos, which offers a way to combine multiple credit cards on a single card, Trizic,a robo advisor like Betterment that is selling services to existing brokers and banks, Hedgeable and Moven, a new online mobile bank.
This article is commentary by an independent contributor. At the time of publication, the author held no positions in the stocks mentioned.