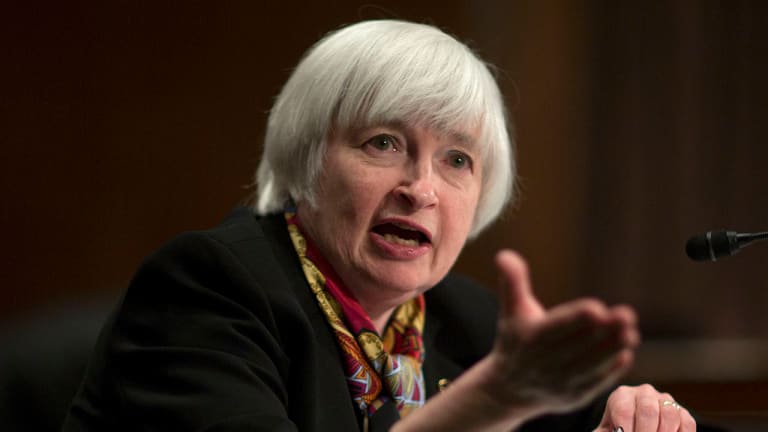 Publish date:
Nearly 25% Chance of Fed Rate Hike in September, Says One Key Indicator
Puzzled about Fed rate hike? One indicator says that rates probably won't go up in September..
Puzzled about Fed rate hike? One indicator says that rates probably won't go up in September..
NEW YORK (TheStreet) -- Want to know if interest rates will go up after this week's September 17 meeting of the Federal Open Market Committee? One place to look is the CME Group Fedwatch. 
The CME Group FedWatch is used to express the market's views on the likelihood of changes in U.S. monetary policy. It is a key market sentiment indicator of a FED rate hike. This indicator is calculated using CBOT 30-Day Federal Funds' (FF) future contract prices to ascertain the implied probabilities of rate hikes.
The chart above shows the implied probabilities of a rate hike in September 2015 FF as of September 11. The market has assigned a 23.1% probability to the rate going up to 0.5%. This is almost a 49% drop from the previous month's figure; last month's probability of rate hike was 45%. It seems that the majority of market is rejecting the likelihood of a September rate hike.
Rather than September, the market is pricing in a rate hike by December 2015 or early 2016. 
As in the two charts above, the implied probabilities for a rate hike in December 2015, and January 2016 FF futures have increased. The market thinks there is a 58% chance of a hike in December 2015 and 65% in January 2016.
Amid uncertainties surrounding China and weak state of the U.S. economy, the sentiment indicator FedWatch is pointing that the Fed is not likely to raise interest rates in September 2015. It is more likely that the Fed will start hiking rates in December 2015 or January 2016.
Related stories:
This article is commentary by an independent contributor. At the time of publication, the author held no positions in the stocks mentioned.