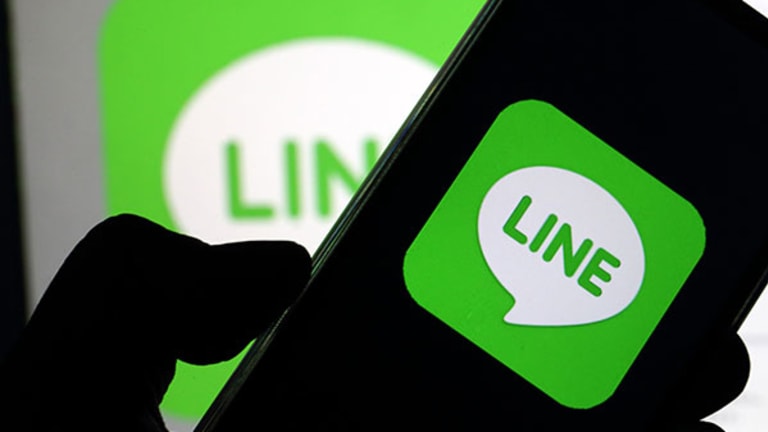 Naver Corp's Line Files for $10 Billion IPO, Gaining Currency for Acquisitions
Opportunistic deals continue to keep social media on everyone's minds.
NEW YORK (TheStreet) - You can now add Japan's most popular messaging app LINE to the growing list of apps looking to attract potential investors.
Japanese messaging operator LINE Corp, a subsidiary of Korea's Naver Corporation, might soon appear on the Tokyo Stock Exchange. The company applied for an initial public offering with a valuation over 1 trillion yen (about $10 billion) earlier this month.
With more than 400 million users, LINE may have been inspired by social media's recent costly acquisitions. Facebook's (FB) - Get Free Report $19 billion purchase of WhatsApp and Japan's Rakuten signing a $900 million dollar deal to acquire Viber come to mind. Rather than risk being bought out, the company will turn its hand at attracting investors while simultaneously evolving into an international brand.
Founded in 2011, LINE was initially developed as a way to keep in contact with people using Internet-based resources. But since then, LINE has evolved into a communications platform complete with apps, stickers-lively emotive images to help those when words aren't enough, games and most recently, Webtoons. 
Nomura Holdings and Morgan Stanley (MS) - Get Free Report have been tapped by LINE to manage the IPO and are also in the midst of considering a dual listing either on the NYSE or NASDAQ. And although still in the beginning stages, the IPO could go public as early as November, according to media reports. 
But according to LINE Corp. "determinations regarding whether to ultimately list, listing venue and listing timing, etc., have not been made," Hazuki Yamada, Global Public Relations manager at LINE Corp wrote in an email to TheStreet
Potential investors will have to wait to hear more about the app hitting the market but it's hard not to wonder how LINE going public will impact the Tokyo Exchange.
Josef Schuster of IPO-focused research firm IPOX Schuster LLC believes LINE going public "should be considered positive for the Tokyo Stock Exchange." Schuster also believes LINE could be dual-listed in both Tokyo and the U.S.
"By having a dual listing, the firm potentially has the best of both worlds: Trading close to its customer base (Tokyo) while trading within the key social media ecosystem (NASDAQ/NYSE). This cements Japans role as an alternative listing venue for technology IPOs in the region, as well," he wrote in an email exchange.
LINE generated 18 billion yen ($177.6 million) during its first quarter of 2014, a 14% increase from the previous quarter. LINE, LINE corporation's core business, generated 14.6 billion yen ($114.1 million) during the first quarter, a 19% increase from the previous quarter and a 223% increase from 2013's Q1 according to the company. 
Josef Schuster also believes LINE going public will have an impact on the social media industry in general. He believes LINE going public will present the company with the opportunity to gain media coverage and a move that ultimately translates into more business.  
LINE continues to see growth internationally. Although most popular in Japan, Thailand, Taiwan and Indonesia, LINE has been expanding into Europe, India and Latin America with the help of culturally sensitive stickers and other apps.
"LINE has also captured new users in South American countries such as Chile and Venezuela through exploring joint marketing campaigns with local businesses, offering localized stickers and airing television commercials, further establishing its global presence," stated LINE CEO Akira Morikawa in a May press release.
Despite the company's progress, LINE must still compete with WhatsApp's 500+ million monthly users, Tencent Holdings Limited's QQ -which has a reported 798.2 million users as of 2012, and other instant messaging apps as they continue to evolve into entertainment hubs and one-stop shops for users.
Schuster says LINE needs to make acquisitions to stay competitive, as FaceBook did in acquiring companies like WhatsApp and Instagram.
"The social media business is a high velocity business and there are low barriers to entry for any firm. The nature of the technology and consumer can [instantly] lead to quick shifts in market share."