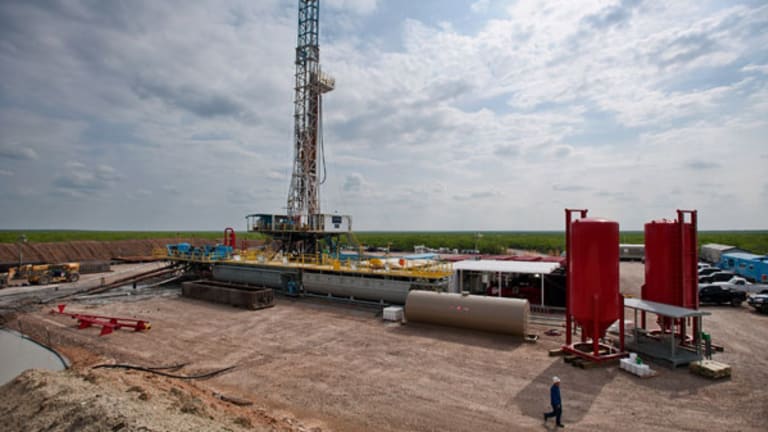 Natural Gas Stocks Are Poised to Explode
With producing natural gas wells in one of the top regions of the U.S., small natural gas stock Dejour looks ready to rumble.
NEW YORK (TheStreet) -- Natural gas prices were already on a steady upward move before the latest price catalyst appeared in the form of Russia's invasion of Ukraine.
Russia's threats regarding curtailing natural gas flow to Europe put an even bigger emphasis on U.S. production. The U.S. doesn't export its natural gas but starting in 2015 permits issued by the Dept. of Energy will allow American companies to begin to exporting the valuable commodity.
This past week we saw trader interest intensify in the sector with small independent oil and gas producer Houston American Energy (HUSA) - Get Houston American Energy Corp. Report gaining 51%. This large move in Houston American will likely bring momentum traders back into forgotten natural gas companies.
One such company that will likely garner the attention of traders is Dejour Energy (DEJ) . Dejour has interests in approximately 130,000 net acres of oil and gas leases throughout Canada and the U.S. Unlike Houston American, Dejour has annual revenue of $7 million from its producing wells. Revenue increased 55% from $1.6 million in the third quarter of 2012 to $2.4 million in the same quarter a year later. This increase was primarily attributable to higher prices and an increase in natural gas production.
Dejour and Houston American are both small-caps and are vulnerable to extreme volatility.
In December, Dejour signed a $27.5 million letter of intent with a Singapore based energy company to develop Dejour's natural gas properties in Colorado. Two weeks ago Dejour's board of directors voted to terminate the deal. The muted market reaction to this news (the stock still trades 40% above the initial deal announcement) is proof the board's decision was the right one, especially considering the increased market attention to natural gas assets in North America.
In August 2012, a major U.S. exploration and production company drilled a Niobrara/Mancos well, midway between Dejour's two Colorado leaseholds. The Unconventional Oil & Gas Center ranks the discovery well as the No. 1 Niobrara Shale producing well in the U.S.
Dejour has approximately 12,000 net acres with "Niobrara/Mancos Shale" potential in Garfield County, Colorado. Fully developed, Dejour could drill and complete more than 100 Niobrara horizontal wells on its acreage.
A look at the Dejour two-year chart shows a large range bound breakout at 22 cents a share. With the stock currently trading at 15 cents a share that breakout may appear to be far away. However, traders should note that after the move in Houston American last week, Dejouir is now the only other natural gas stock trading at less than the 50 cents a share price point.
In highly speculative sector moves, such as the one being seen in natural gas, it will not take much to get this stock to the breakout level. A breakout over 22 cents could see the stock quickly advance to the next resistance level seen at 40 cents a share, a potential 200% move from current prices.
Traders looking to get into the stock before the possible breakout could consider an entry at the 200 day moving average at 18 cents a share. The stock has already attempted two breakouts at this level before the intense sector interest we are seeing now appeared. This next attempt at this moving average will likely see the stock finally break free.
Traders considering an entry prior to the breakout could use 13 cents a share as stops on an entry under 16 cents a share. With a breakout entry of 22 cents a share stops could be considered at 18 cents a share.
Considering the sector interest the potential risk/reward is very attractive here. Traders typically wait for a stock to breakout before entering. Many times however, when there is increased sector momentum, like we are seeing now in natural gas, entries prior to inevitable breakouts can give added returns. This situation appears currently with Dejour.
At the time of publication the author held DEJ.
This article represents the opinion of a contributor and not necessarily that of TheStreet or its editorial staff.