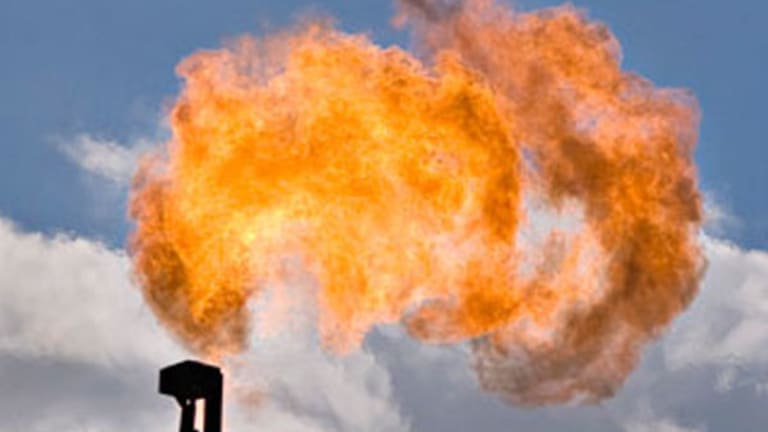 Natural Gas Resumes Downward Price Trend as Storage Picks Up
Will natural gas price continue to fall? If the reserves buildup keeps at this high speed, natural gas price will keep falling, dragging along other natural-gas-related assets
NEW YORK (TheStreet) - U.S. weekly gas in underground storage rose by 107 billion cubic feet (bcf) in the week ending July 11, to a peak of 2,129 bcf not seen since the last week of January, the Energy Information Administrationsaid on Thursday.
The higher-than-expected storage addition pushed natural gas price under $4 per million British thermal units (BTUs) for the first time in 2014.
Here Are Three Factors That Could Drag Down Oil Prices Even More
U.S. Markets Close Sharply Lower on Geopolitical Uncertainty
U.S. largest natural gas producers reacted to the news with sharp declines in their share prices. Exxon Mobil Corp (XOM) - Get Exxon Mobil Corporation Report,  the U.S. largest producer of natural gas, closed at $102.31 while Anadarko Petroleum (APC) - Get Anadarko Petroleum Corporation Report lost 4% to $108.11 and Chesapeake Energy (CHK) - Get Chesapeake Energy Corporation Report was off 3.7% to $26.82. The United States Natural Gas ETF (UNG) - Get United States Natural Gas Fund LP Report was down 3.5% to $21.87.
The recent fall in prices could continue in the coming weeks as the market cools down. If natural gas continues to drop, this could reduce the revenue of natural gas producers such as Chesapeake Energy as nearly 70% of this company's production comes from natural gas. Lower prices will also slash the company's profit margins in the following quarters.
On the other hand, utility companies such as Exelon (EXC) - Get Exelon Corporation Report, which uses natural gas in its power stations, will benefit from lower prices: The downward trend in natural gas prices will reduce these companies' operating costs and thus improve their profitability.
The chart below shows the relationship between storage volumes and natural gas prices. The chart illustrates how increases in storage (the green area) are followed by increases in the price (the blue line) and in reversal when stocks go down prices go up. If reserves buildup continues at the high pace seen so far the price of natural gas will continue to decline, dragging along other natural-gas related assets.
Based on the EIA weekly storage report, in the week ending on July 4, the storage injection rose by 93 Bcf to 2,022 Bcf, while the week before that rose by 100 bcf to 1,929 bcf, well above the five-year average net injection of 72 bcf per week.

Source: EIA
Earlier this year, the natural gas storage fell to its lowest level in years, boosting its price. Since then, however, the storage injections  set at a higher pace than normal -- this slowly brought down the Henry Hub price from its high level. If the buildup in reserves continues at this high pace, the prices of natural gas will keep falling, dragging along with  other natural-gas-related assets.
At the time of publication the author had no position in any of the stocks mentioned.
This article represents the opinion of a contributor and not necessarily that of TheStreet or its editorial staff.
For further reading:Is Liquefied Natural Gas a Buy?