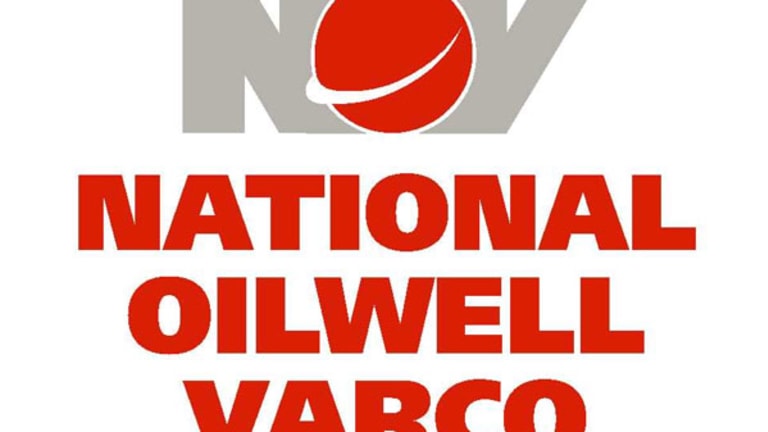 Publish date:
National Oilwell Varco: Good Results, Expensive Stock
National Oilwell Varco management can't realize further share value without an increase in expenses.
National Oilwell Varco management can't realize further share value without an increase in expenses.
NEW YORK (TheStreet) -- In the business world, I don't believe there's anything more fundamental than the law of supply and demand. But the effects are not all the same. While National Oilwell Varco (NOV) - Get Report has been a strong player in the energy equipment space, issues that include oversupply -- which has caused customers to scale back on orders -- have made this a tough stock to recommend.
With oil producers now rushing to build equipment and commence drilling projects, NOV's overall business conditions have certainly improved. But there are now other concerns impacting the long-term outlook of the company. Not the least of which is that Merrill Miller Jr., the company's long-time CEO, recently announced that he will step down once the NOV completes the spinoff of its distribution business. On top of all that, these shares, which have gained 23% year to date, are not cheap. And although NOV posted better-than-expected third-quarter results, I believe a near-term pullback is more than warranted.
As I pointed out in my recent article, as with rival Cameron International (CAM) , details like NOV's revenue and gross margins are not the driving forces of this stock. Not unlike, say, the tech or financial sectors. What matters most in this industry are the volume of orders received. In that regard, I believe NOV did pretty well both on a relative and absolute basis.
NOV's stock valuation notwithstanding, I was thoroughly impressed with the company's $3.3 billion of third-quarter orders, or 44% year-over-year growth. I don't want to exaggerate the importance of this. It leads to a record backlog in excess of $15 billion, and the performance in orders beats Cameron's third-quarter results by 11%. As I recently pointed out, this was one of Cameron's strongest performances.
Unlike Cameron, however, NOV didn't do so well from the standpoint of revenue. I say this knowing that revenue has often been considered a "secondary" metric. When combined with orders and margin performances, it paints a clear picture of not only market share gains, but also operational efficiency. To that end, I believe NOV's 2% year-over-year revenue growth was a relative disappointment.
For instance, although Cameron's 32% order growth trailed NOV by 11%, Cameron's 13% revenue growth outperformed NOV by that same 11%. And not to mention, Cameron's total backlog, which now stands at more than $11 billion, jumped by roughly 50% this quarter. When compared to NOV's backlog growth of 9%, there's clearly a meaningful gap.
Now, I'm not suggesting that Cameron is a better company. But I do, however, believe that Cameron stock presents the better value, especially given that NOV is currently at its 52-week high. The good news for NOV is that demand continues to be strong, as evident by the growing backlog. But that's also the case for not only Cameron, but also Weatherford International (WFT) - Get Report and General Electric (GE) - Get Report.
Unfortunately, though, NOV management didn't sound too confident that it will be able to service the increase demand and capitalize on the strong backlog. While management has discussed capacity additions to support higher production, buying the stock at this level requires the belief that management will be able to fulfill these orders with minimal strain on its facilities. In the past, management has resorted to outsourcing to reduce the backlog. But that has also impacted margins and profitability.
Truth be told, as much as I believe in Cameron's prospects, it, too, is dealing with these same issues. But the difference is, Cameron, which just received several downgrades and a subsequent 15% drop in the stock, is operating on much lower expectations than NOV. Plus, Cameron has the benefit of its OneSubsea joint venture with Schlumberger (SLB) - Get Report, which was able to generate more than $1 billion this quarter in orders.
Essentially, while NOV was able to flex some muscle this quarter with better-than-expected demand, it remains to be seen to what extent management can deal with the supply. And given that rig tech margins were down this quarter by almost 3% year-over-year, management is already struggling to keep profits high. Unfortunately, I don't see a way for management to realize any further share value without an increase in expenses. And given that this will only eat into the company's profits, this still makes this stock tough to recommend.
At the time of publication, the author held no position in any of the stocks mentioned.
Follow @saintssense
This article was written by an independent contributor, separate from TheStreet's regular news coverage.