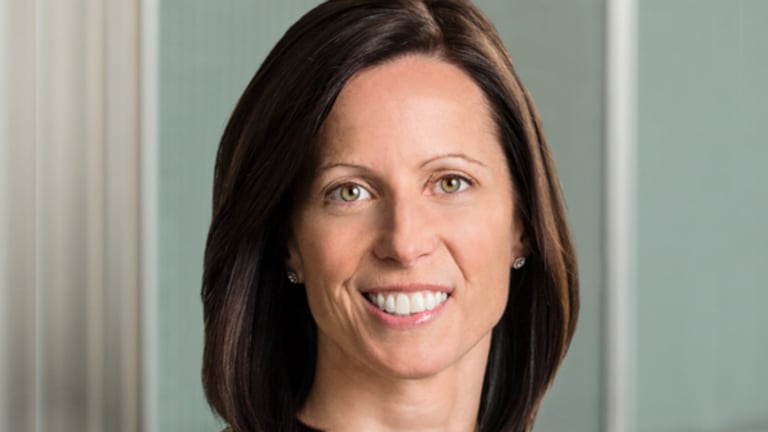 Nasdaq's President and COO: 'We're Really a FinTech Company'
The growing premium on speed, as well as the rise of around-the-clock trading and social media, have turned Nasdaq into a true technology company, says Adena Friedman.
Adena Friedman has seen -- and done -- it all in the course of nearly 20 years working at NasdaqInc I:IXIC, the last two as President.
Friedman began her career there as an intern fresh out of business school in 1993, quickly rising up the ranks by impressing colleagues with her passion for product development and knack for driving results.
Most recently, Friedman has been spearheading the transformation of Nasdaq since returning to serve as president in 2014 after a three-year stint as chief financial officer of private equity firm The Carlyle Group (she also added COO duties to her responsibilities at Nasdaq several months ago). That transformation has involved diversifying beyond just helping companies to go public and into developing Nasdaq's technological capabilities and broadening its offerings.
Nasdaq, which was founded in 1971, was the world's first electronic stock market. It popularized online trading, to the dismay of human floor traders who for years earned fat commissions on each trade. Through its listing services segment, Nasdaq has played a major role in the growth of corporate America by getting companies capital via the initial public offering (IPO) process.
But with the regulatory environment becoming tougher for financial services companies in the wake of the Great Recession and companies eschewing IPOs in favor of raising capital via private investors, Friedman has sought to diversify Nasdaq's business primarily through a slate of acquisitions.
Friedman has played a critical role in shaping the modern-day Nasdaq.
In August 2010, the company purchased Smarts Group, a provider of market surveillance tools to exchanges, regulators and brokers. Then in 2013, it bought the investor and media relations businesses of Thomson Reuters (TRI) - Get Thomson Reuters Corporation Report  in order to sell additional services to the companies that list on its exchanges. followed by the purchase of Dorsey Wright and Associates in 2015, which is a leader in data analytics.
The stock market has become a big believer in the long-term outlook for Nasdaq, in large part thanks to the fundamentals Friedman is working hard to transform. Shares of Nasdaq have surged about 26% in the past year despite the challenging IPO environment, tightening regulatory backdrop and weak fixed income markets. By comparison, the S&P 500 has dropped 2% over the same span, while the tech-focused Nasdaq Composite has shed 4.6%.
TheStreet talked with Friedman about her career at Nasdaq, the current market environment and the future of stock trading. What follows is a condensed and lightly edited version of our conversation.
TheStreet: You started as an intern at the Nasdaq in 1993. How were you able to rise within the organization to your present lofty position?
Friedman: I came to Nasdaq at a very important time in its history because it was transitioning from being a subsidiary of a not-for-profit, which at the time was the National Association of Securities Dealers (NASD), to becoming a full-fledged company in and of itself and then ultimately, a public company.
Against this backdrop, I came in early on and was able to make a big difference. I started as a product manager, and looked at the trading products we had and noticed that Nasdaq at that time -- given it was a not-for-profit -- really didn't focus on why would they make money and how they could maximize the benefits of its trading products for clients and for the firm and how to become more of a commercial enterprise. So I was able to run with the ball and be a product manager, which is almost like being a mini CEO to these products. I was given a lot of empowerment very early.
I also, frankly, made a difference and drove the profitability of the products. I modernized the products and made them a much more substantial part of the business. I was also thrown into a lot of industry issues -- I managed the over-the-counter (OTC) bulletin board for a little while, so had to manage a whole committee of traders and make some substantial changes to the market structure on the OTC bulletin board as a very young person alongside some very seasoned traders. Those types of experiences really helped shape me and to demonstrate my ability to be successful in the environment early.
Stock trading is only going to get faster, says Friedman.
TheStreet: What originally got you interested in financial services?
Friedman: There were several things. My father was in financial services, where he spent his entire career on the buy-side at T. Rowe Price. When I was a kid, I used to go to his office and sit down on the trading floor, which was small back then because it was a buy-side firm, and watch them trade. I really loved being in that environment and learned a lot about investing and investment management from my dad.
Then, when I went to business school, I was immediately drawn to two things. First was financial services and understanding investments and the markets. And second, was product management. So when I came out of business school I was in this strange kind of area of really liking product management, but I didn't want to go sell toothpaste or do something on the consumer side. I really loved the idea of being a product manager in financial services, which was unique and a little bit of a niche at the time. Nasdaq gave me that opportunity.
TheStreet: Did your dad ever share any investing wisdom with you?
Friedman: Definitely, his view consisted of several things. Fundamentals at the end of the day will always win. He was the Chief Investment Officer of T. Rowe Price (TROW) - Get T. Rowe Price Group Report for the last 10 years of his career -- he was the CIO during the internet bubble, and earlier in his career worked during the oil bust back in the 1970s. So he saw everything when it came to the markets. He was absolutely a staunch believer that at the end of the day, fundamentals will always win, so stay the course, be patient and be long-term. That was probably the hallmark of his view.
TheStreet: News cycles are now 24/7, with people are buying stocks based on Twitter comments and transaction speeds increasing. What are some of the risks to Nasdaq in this new environment?
Friedman:  Going back to what my father said about how fundamentals matter, if you believed that everyone was driven by fundamentals, theoretically you would have a perfectly efficient market. I love the idea of efficient market theory, but it's not a reality because there is a herd mentality that inevitably creeps into the market. That's why the internet bubble happened -- investors sort of lost sight of the fundamentals and they were afraid of being left behind. I think that has always been part of market psychology, but now you have the added challenge or element of social media. So you have this issue of, is what you are hearing about a company true coming from any of these social media sites? You have to cut through a lot more noise to try to understand if these things matter or not.
Unfortunately what I think will happen is that people will just react based on what they read or what they see coming across Twitter, as opposed to investigating and understanding whether news is meaningful. So that herd mentality could be exacerbated, in my opinion, through the kinds of trades that occur on social media.
A premium on speed has always been a part of the markets, says Friedman.
TheStreet: What changes is this new trading backdrop causing at Nasdaq?
Friedman: We do a huge amount of monitoring market behavior, it has always been a big hallmark of what we do. We have a very advanced technology today called Smarts, which is the leading market surveillance technology in the world. We use it in our own markets and then we sell it to other exchanges, regulators and clearing houses around the world, as well as broker-dealers.
It's extremely advanced -- it looks at hundreds and hundreds of different signals, triggers and alerts so we can monitor behavior to make sure there isn't a runaway situation or people aren't misusing news or social media to try to create behaviors in the market that aren't appropriate.
We are also doing a partnership with a machine intelligence company around Smarts to make sure we are bringing the best of natural language processes to the table so we can stay ahead of what's happening in the markets. So we are very tech-driven today-- in fact we are really a fin-tech company.
TheStreet: How much faster do you think trading could become?
Friedman: Speed has always been part of the market structure ever since [NYSE trading] started under the buttonwood tree. If you think about it, the guy who was able to yell the loudest or get the fastest to the trading post was the one who got the order. Nasdaq was really the one behind electronic trading -- we created the ability for a much more egalitarian market structure, and we also made it so that people from around the world could trade and benefit from that market structure. Online trading frankly may not have even existed without the existence of an electronic market to operate and get quotes. The invention of Nasdaq has fundamentally changed the world's economies, and I am incredibly proud of being part of that.
When I first started, I was promoting the workstation, which was our new trading device back in the 1990s. We had a network at that time that governed speed. If you were sitting in California you traded at the same speed as someone trading in New York. At that time there was one network, and if you wanted to trade at Nasdaq you had to use the workstation and you had to use our network. As soon as that changed with order handling rules back in 1997, it opened up the ability for multiple markets and networks to exist, which made the position Nasdaq had obsolete. In effect, speed started to matter a lot more -- the governors came off.
In 2005, the Securities & Exchange Commission (SEC) established price and time as the determination for best execution. As soon as they made that determination, it showed that speed was more important than anything else. So they fundamentally changed how the markets operated. At that point it became a game of milliseconds and microseconds. Now people are talking about nanoseconds.
The IPO market has been challenging so far in 2016.
TheStreet: What are some of your thoughts on the future of trading?
Friedman: The market structure around the world has become more uniform than ever before. We are the technology provider to over 80 markets around the world in addition to our own. Connectivity obviously is quite global and extremely advanced. So does that create an opportunity for underlying cash products like equities and Treasures to become more globally traded? The jury is out on that.
Generally speaking, I think technology will continue to be the driving force behind the elements in the market globally. Machine intelligence will become a greater part of trading and investment decisions in the future.
TheStreet: The markets never sleep -- do you?
Friedman: I have to say I love to work. I have an incredibly supportive husband and two wonderful sons who are now 20 and 18 years old. Work is my passion. Nasdaq is my passion, that's why I chose to come back after being Chief Financial Officer at The Carlyle Group from 2011 to 2013. Outside of work, however, I do have a couple of hobbies. I do taekwondo, and enjoy it greatly. I also run and do yoga, so exercise is my hobby.
But other than that, a typical day at Nasdaq is one where I spend a lot of time with clients. Nasdaq is very much known as a very good operator, so that also requires very active management internally. So I spend a lot of time with my business leaders and other key people managing products to make sure we are progressing.