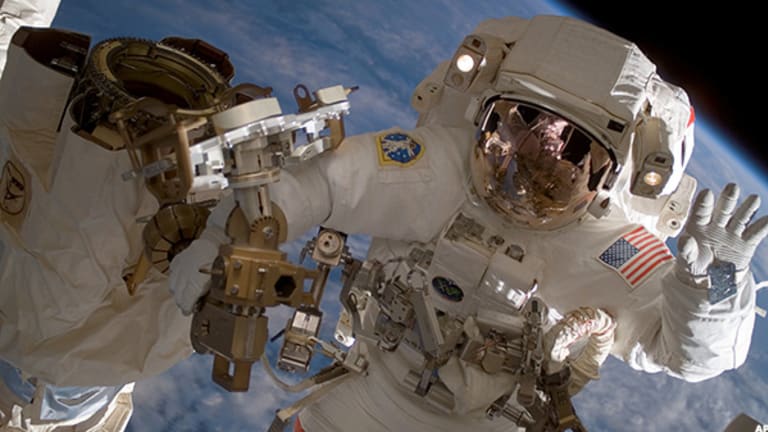 NASA Technology Brings Down Asthma, Allergies
A revolutionary new air purification system, originally developed for the International Space Station, is now a fixture of mainstream society and is increasingly being installed in homes, schools, hospitals and restaurants that report healthier children, happier adults and an improved quality of life.
NEW YORK (TheStreet) -- Ten-year-old Chandler from Arizona is a gifted musician whose fingers fly like feathers as they create mellifluous music on the piano. He also wants to play a flute. But his lungs won't let him. He nearly fainted when he tried it once.
"His [Chandler's] asthma controls his life. He misses out on a lot of things other children his age are able to do. The older he gets, the worse it is," his mother says. Many a time, she cannot afford medical treatment for her sprightly son.
Chandler is among 7 million children -- and 25 million Americans in all -- who live with asthma. But here's the good news: A revolutionary new home and office environmental system, based on a variation of technology originally developed for NASA, is now seeking to solve indoor air pollution-related health problems and improve quality of life around the country, especially for those suffering from asthma, COPD (chronic obstructive pulmonary disease), allergies and compromised immune systems.
The technology in Air Scrubber Plus, which was installed in the International Space Station, underwent testing at Kansas State University to determine its efficacy in eliminating staph, MRSA, E. coli, anthrax, strep, black mold and other serious indoor air quality concerns.
Read: How to Survive This Year's Pollen Vortex
Scientific peer-reviewed studies have determined that the technology weeds out 99% of surface bacteria and reduces airborne viruses, molds and germs by up to 90%.
The sophisticated ActivePureTM system sanitizes the air and indoor surfaces, changing the lives of people who had suffered from respiratory problems for many years. 
Mario Plascencia of Dallas recently purchased the NASA-inspired air cleaner. The entrepreneur's wife suffered from indoor allergies that have stopped since the installation. "I could notice a difference in the air quality in just two weeks," Mario said. "This technology is designed to kill bacteria, not just mask it."
The air purification mechanism at play is an Advanced Oxidation Process, which involves radiating a combination of germicidal UV light, oxygen and water molecules. These react together and pass through a honeycomb cell coated with titanium dioxide and other rare metals.
The oxidation produces superoxide ions, hydroxyls and hydrogen peroxide, which purify the air and clean indoor surfaces. Air Scrubber Plus manufacturers say that the oxygen and hydrogen molecules that arise from this catalytic process replicate the power of nature.
>>Read More: A Romantic '70s Icon Exits the Solar System With a Song
The Environmental Protection Agency has ranked indoor air pollution among the top five environmental hazards in the U.S., since tests have determined that it is two to five times worse than the most unclean clouds of outside air.
According to the American Academy of Allergy Asthma and Immunology, about 7.8% of adults and 10% of children in the U.S. develop hay fever, which arises from an allergic response to pollen, dust mites, cleaning chemicals, radon, pesticides, cigarette smoke, pet dander and cooking odors.
About 3,000 people die from asthma-related issues every year, with children and the elderly constituting a majority. Scientists have estimated that nearly two-thirds of childhood asthma and allergies could be prevented by adequate ventilation, filtration and cleaning. 
Traditional ventilation systems have exacerbated the problem because their ducts are clogged with dirt, dust and other debris. Cleaning out these ducts is both cumbersome and enervating. Air cleaning processes have been particularly challenging in schools across cities like Detroit, Chicago and Philadelphia, where buildings are often more than a hundred years old.
Read: How Godzilla Made Foreign Film a Box Office Monster
Among the schools across the country that see measurable improvements in student health and class attendance is the Triton School in Bourbon, Ind. The school has more than 1,000 students from kindergarten through high school. School attendance records that were reviewed show that the number of people who reported flu symptoms went down by about 80% after Air Scrubber Plus was installed across its premises.
"For the same period of time (the first semester), the number of flu symptoms went down from around 50 per month to 8-10 in the year after products with Air Scrubber technology were installed," a senior school administrator at Triton said.
"Although there is no cure for asthma and allergies, indoor air quality science and technology can help people live happier and healthier lives by providing a solution to one of the biggest health issues in this country," said Tom Lozano, Executive Director of Air Scrubber Plus.
>>Read More:
NASA Leans Back for #GlobalSelfie for Earth Day
SpaceX IPO 'Possible in the Very Long Term'
This article represents the opinion of a contributor and not necessarily that of TheStreet or its editorial staff.