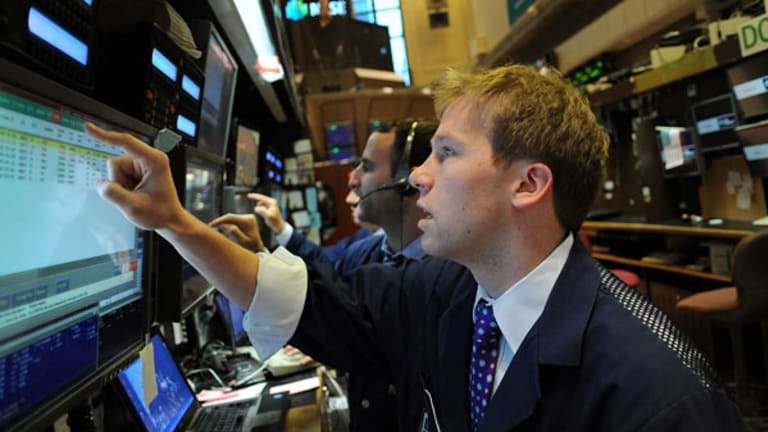 Napco, Lionbridge: 2 Small-Caps Making Big Moves
Some of the best investment calls in 2013 have been among small-mid cap tech and healthcare stocks trading for $5-$10 with medium-term catalysts.
Some of the best investment calls in 2013 have been among small-mid cap tech and healthcare stocks trading for $5-$10 with medium-term catalysts.
NEW YORK (TheStreet) -- One of the better-kept secrets in investing is there are small pockets of the stock market that often appear to provide an enhanced risk/reward profile. One of these pockets is the small- to mid-cap segment of the market and for stocks with prices between $5 and $10.
Two such companies worth considering are Napco Security Technologies (NSSC) - Get Report and Lionbridge Technologies (LIOX) .
For a variety of reasons, it is often easier for a $300 million company with a $5 share price to double or triple than it is for a $3 billion company with a $50 share price. This can be seen again and again throughout recent decades.
Within those guidelines, the best-performing stocks over the past 18 months have been tech and health care stocks. Today I focus on two tech stocks in the $5 to $10 range with the potential for significant gains of at least 100% to 200% over the next six to 18 months.
Napco Security Technologies is already up 70% year to date, but it looks as if meaningful gains will  continue. The stock closed Thursday just over $6. Napco is a manufacturer of mid-high tech security products including intrusion and fire alarms and access control systems. The New York-based company has distribution worldwide.
The company has consistently reported at least $17 million per quarter in revenue. However, a surge in revenue and earnings during the June quarter also caused a surge in the company's share price. The company has always been cash flow positive and has minimal debt at just $1.9 million.

Competitors include Universal Security Instruments (UUU) - Get Report and Magal Security (MAGS) - Get Report. Most players expect meaningful consolidation in this space over the next one to two years, such that Napco stands a very reasonable chance of acquiring or being acquired. 
Either event would likely end up in a substantial boost for the share price of Napco, either due to being bought out at a premium or due to a reduction in competition. In any event, this appears to be a much skewed risk-reward trade with far more upside than downside. Now that the stock has momentum, those who sit waiting for a pullback may very well find themselves disappointed and may miss the opportunity for further upside.
A second interesting play is Lionbridge Technologies. Back in October, Lionbridge was an underfollowed $4 stock. Despite announcing a fourth-quarter revenue outlook that was "in line" with analysts' expectations, the stock quickly jumped 50% to over $6. Much of this is simply due to the fact that Lionbridge is underfollowed and undiscovered by many mainstream investors. Even at slightly under $6, where it closed Thursday, the stock is largely undervalued versus its prospects.
LIOX data by YCharts
In October, the company announced four-quarter guidance of $120 million to $123 million in revenue and gave a preliminary outlook for fiscal 2014 with 5% to 10% revenue growth.
Lionbridge describes itself as "a provider of language, content and testing solutions that enable clients to optimize, release, manage, test and maintain their technology applications and content in global markets." Given the ongoing surge in app development taking place simultaneously in locations around the world, the future potential for the company's products is massive, even if it is currently under-appreciated by investors. It will allow developers in India to sell their products to customers in Russia and developers in China to sell their inventions to customers in Germany and so on.
Revenue have been on a steady climb and are on track to exceed $500 million this year. The company has over $30 million in cash (up from $17 million the previous quarter) and is consistently cash flow positive.
More important, profitability has been on the rise. The company did report one losing quarter back in March but aside from that the company has been showing consistent sequential rises in profits and just hit a recent record profit of $5 million in the most recent quarter (8 cents per share).

These are the factors that explain why the share price has risen by 50% in just a few weeks. But like Napco, the rise appears to be just the beginning, and those who wait for the pullback likely run a greater risk of missing the trade than of buying in at too high of a price.
For example, back in late October, shares of undiscovered Fonar (FONR) - Get Report were trading for around $5(again notice the focus on $5-$10 stocks), when it announced better-than-expected annual earnings. Fonar has a June fiscal year end, such that its next fiscal quarter would be announced within just a few more weeks. By November, the stock was already hitting $10-$12, causing some to wait for a pullback after quick gain of 100%. Yet, when the most recent quarter was announced, the stock quickly broke past $20.
Anyone who follows Fonar had already realized that benefits from a recently completed acquisition were starting to ramp up sequentially and the first-quarter results would likely continue along the positive lines that the fourth-quarter results showed during the release of the annual results.

By this time, the stock had already quadrupled from the $5 level in just eight weeks.  Now that Fonar is pulling back, it may be time to revisit a "buy on the dips" strategy.  
The point to be made is that stocks often fail to stay in the $5-$10 range for long.  When their business starts to falter, they quickly fall well below $5 due to the loss of institutional support.  Many institutions will not (or cannot) buy stocks with a price below $5, such that this level serves as an inflection point.  
As stocks tend to hit this $5 level, it often indicates that the stock is "just good enough" for institutions, but not necessarily fully appreciated by the market as a whole.  This is precisely what we saw with Fonar.  It only took two announcements of better-than-average earnings to send the stock from $5 to $20.  
Lionbridge and Napco may or may not have such similar potential to show triple-digit gains in the near future. A few more months will likely tell the whole story. But at current prices, both of them represent a very attractively skewed bet, where near-term upside greatly outweighs near-term downside.
At the time of publication, the author had no position in any of the stocks mentioned.
This article was written by an independent contributor, separate from TheStreet's regular news coverage.