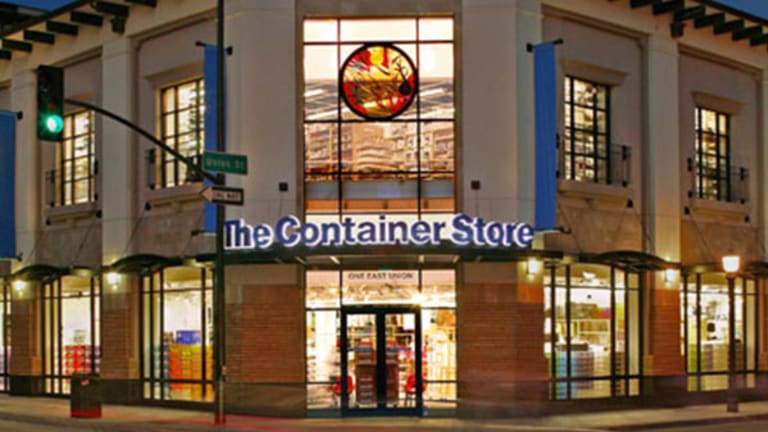 Updated from 8:39 a.m. Friday, Nov. 1, to include opening morning stock price as well as further comments on long-term investment case for the stock. See Page Four.
NEW YORK (
) -- While I can't possibly match the beauty strewn through
Dan Freed of TheStreet's nostalgic look back at his days working at recent IPO
,
Potbelly
(PBPB) - Get Potbelly Corp. Report
, I can relay details of my days-gone-by experience being employed by Friday's big market debut,
The Container Store
(TCS) - Get The Container Store Group, Inc. Report
.
Sometime during the summer of 1999, I decided to end my career in radio after roughly 11 years officially working in the business and about 20 being obsessed with it and unofficially interning at my little hometown station in Niagara Falls, New York.
Baby, if you've ever wondered, wondered whatever became of me ...
, I left Las Vegas for San Francisco in September of '99. I promptly took a job selling sports hospitality packages to Fortune 500 companies and, somewhat germane to this story, the flood of cash-rich, recently public companies emerging across Silicon Valley.
It was great timing for that gig. I was making good money selling $50,000-to-$100,000 packages for events such as
The Masters
to the VPs of Sales at companies such as
Foundry Networks
and the event planners at once-strong firms like
Nokia
(NOK) - Get Nokia Oyj Sponsored ADR Report
. Easiest "sale" of my life.
Those days are gone. Minions at Nokia likely no longer have the authority to approve $109,000 (plus a 21% "service charge") expenditures to "entertain" 10 clients over four days at the Super Bowl. And I doubt VPs at IPOs in the Valley pull out their personal credit cards to expense excursions to events such as the baseball all-star game. You're not making bank cold calling, strong-arming and closing executives at Potbelly or The Container Store in 2013. Because, seriously, we're no longer living in a bubble.
I decided to leave that gig and enter college shortly after September 11th.
The
September 11th. Given what some of my colleagues at
TheStreet
and others who live in and around, were in or around and/or know people who were in or around went through in Manhattan that day, I cringe when I state a) I was terrified that morning and b) it changed my life. Given the obvious material and psychological differences of experiencing that event on the West Coast vs. the East Coast, I always feel the need to qualify my feelings. It would be like me telling my wife I felt her pain during childbirth. There are no words. No comparisons. It was what it was for each of us.
Anyhow, on the morning of 9/11, I was on the bus from my neighborhood near Haight-Ashbury to Downtown San Francisco when I heard. Once we knew the specifics of what happened in New York, reports on local radio indicated that the Golden Gate Bridge was a potential target. We knew what was going on, but we really didn't.
Some of my co-workers -- which came as a shock to me -- decided to leave work and go downstairs to drink at
Harpoon Louie's
. While I understand some folks in Manhattan actually headed to bars on 9/11, I was too shaken to do anything but head back to my apartment and, through a mix of shock and tears, watch the coverage on television.
Once the emotional dust settled -- and I presume that process moved a lot faster for somebody in California -- I reassessed my life. Long story short, I
dropped everything now
and made the refreshingly obvious choice to attend San Francisco State University as an Urban Studies major. January 2002 kicked off my first semester of what would turn into 4-1/2 of growth, birth (my daughter was born in late 2003) and rebirth.
Heading into the drastically different experience of college, I figured I would go all the way. To make extra cash during my tenure, I settled on a retail job. I wanted to do the opposite of what I had always done, thereby arming myself with the type of life experience that would help me do things such as write articles for
TheStreet
.
The Container Store was opening in Downtown San Francisco at the same Fourth Street location, adjacent to
Old Navy
, where it stands today. They put out ads for staff, touting, as per usual, benefits such as flexible hours and "great pay." I applied and got a gig as something called a "retail associate" or some such.
"I was supposed to weigh the meat. Four ounces per sandwich, as I recall."
That's how Dan Freed described part of his Potbelly responsibilities. And, really, that's not a bad way to illustrate what me and my fellow associates had to do at The Container Store.
After going through some sort of painful training where perky retail lifers read out of handbooks, show videos and lead "team building" exercises, we got down to the real work of building out this new store.
In its
, The Container Store, for all intents and purposes, summarizes the process I went through in a sentence:
Training focuses on our culture, leadership skills, product knowledge, space design skills and operational skills.
...
space design skills
... That's the part that's feast or famine for me. As an employee -- and please take no offense to this if you work for The Container Store -- I'm not sure how you can go into work in the type of retail environment the company creates without wanting to pick up some sort of hallucinatory drug habit. Maybe things have changed over the last decade, however, by the looks of the stores, I reckon that's not the case.
On the feast side, what I will briefly describe likely explains a considerable amount of the success The Container Store has had on its way from private to public company.
When we started filling this new store with product, we were literally in the store with nothing but fixtures -- shelves and so forth. Empty rack after empty rack. Boxes were continually brought in and placed in front of the exact shelf where the contents needed to end up. On each shelf, our spunky management team had taped photographs of an existing store in Virginia, I think it was. Each picture gave us a view of exactly -- and I stress exactly -- how we needed to merchandise the corresponding shelf.
It was excruciatingly mind-numbing work. Zero creativity. No ability whatsoever to think on your feet. You simply sliced open a box with your razor knife, pulled items out and put them on the shelf or rack --
exactly
-- the way they appear in the picture. The only way I can describe the hellishness of this experience is to relay the following points:
Number one ... there were times were I felt like I could use that razor knife to harm myself. But then I realized I didn't need to do this.
Number two ... on something like day three of my job at The Container Store, I was loading boxes from a truck onto a dock in the downtown alleyway. I had had enough. I simply couldn't keep doing this job without these nasty urges to harm myself or another human being. So I jumped off the loading dock and ran down the alley as quickly as I could to the nearest corner where I could board the 21-Hayes back to the Haight.
That was it. I never looked back.
It's this very formula -- soul-sucking to any employee with even an ounce of autonomy -- that probably contributes to The Container Store's success. In many cases, American consumers crave familiarity. We want to know that when we walk into a
McDonalds
(HPQ) - Get HP Inc. (HPQ) Report
in San Francisco it will look the same as one in Peoria or Phoenix. But that's the kicker. They don't.
The Container Store has taken the McDonalds' concept -- carbon copied millions of times by thousands of chain stores across the world -- and taken it to an extreme.
We didn't have to merely stock the shelves the exact same way as they were stocked at that DC Metro store, we had to keep them that way. If a customer merely nudged an item out of place by a fraction of a millimeter, we had to move it back as soon as "humanly" possible while being treated like robots.
And, yeah, even in eclectic San Francisco, no earrings, no nose rings, nothing that might "distract" the customer. I'm not sure if one ever occurred, but I felt like there was mutiny coming on that front given the diverse nature of my cohort. I'm hoping things have changed, but, again, by the look of The Container Store today, I reckon they have not.
The Container Store has taken formulaic retail to the radical end of the spectrum. It makes McDonalds and
Starbucks
appear unkempt. As with any IPO, I would not buy this thing on day one, no matter how much it pops or drops. However, going forward, retail that sucks the life out of its employees -- even if they don't realize it's happening -- and creates fanatics in its customer base could make for strong long-term investments.
*UPDATE
: If you blazed your own trail, congratulations (though if you, like most of retail, only got in at the open and
at the opening price
, you're up about a dime a share, as of this writing). TCS shares have basically doubled, as of midday Friday, up $17.10, or 95%, at $35.10.
But IPO hype does not make a long-term bullish case. I intend on writing more in the coming weeks on retail environments such as the one The Container Store creates, but, in this moment, it is interesting to focus on the company's aforementioned fanatic fan base. But it's not just the fanatics; TCS is also a story about consumers who, even if on some subconscious psychological level, seek normalcy and the status quo in their lives.
For instance, if you move from Manhattan to San Francisco and you're already a TCS customer, there's something to be said for, effectively, not being able to tell the NYC store apart from the SF one. It's comforting, in what might be an unfamiliar environment, to walk into a portion, even if only a small one, of your old life that appears familiar. McDonalds, Starbucks, The Container Store and so many others use this very conceptualization as a major ingredient of their success. There's more to it; This is merely the angle I find most interesting.
I know
Jim Cramer
will talking about TCS on
TheStreet
later Friday.
--
Written by Rocco Pendola in Santa Monica, Calif.
Rocco Pendola is a columnist and
TheStreet's
Director of Social Media. Pendola makes frequent appearances on national television networks such as
CNN
and
CNBC
as well as
TheStreet TV
. Whenever possible, Pendola uses hockey, Springsteen or Southern California references in his work. He lives in Santa Monica.