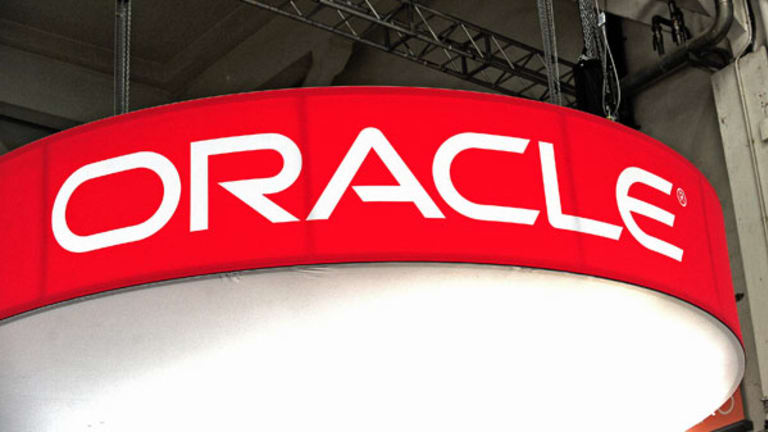 My Apology to Oracle Shareholders
Watching shares of Oracle drop Friday makes me realize that I'm not as smart as I think I am.
NEW YORK (TheStreet) -- I was recently reminded by some comments from readers that I've been on a pretty good winning streak lately.
Some of
includes
Pep Boys'
(PBY) - Get Report
stock selloff,
of
Adobe
(ADBE) - Get Report
and
and the ongoing struggles of
VeriFone (PAY) that we've documented
for the past nine months.
So why do I feel like a loser?
Well, we always remember
. In this case, I missed on
Oracle
(ORCL) - Get Report
.
>>Also see: It's Time to Believe in Ciena>>
I wouldn't compare the company to the San Antonio Spurs losing game 6 of the NBA championship to the Miami Heat, but watching shares of Oracle plummet 9% Friday makes me realize that I'm not as smart as I think I am.
Readers, I'm sorry for letting you down. Let's figure out where I went wrong.
I'm not going to deny that I've long had a love affair with Oracle, even though I don't currently own the stock. This "infatuation" with the database giant has allowed me to give the company a sort of "benefit of the doubt" for things that I normally would punish other companies for. I won't apologize for this -- Oracle has earned this level of respect.
Nevertheless, it was wrong for me to make excuses for the company's disappointing third-quarter (March) earnings report, which led to my recent buy recommendation. Management attributed the miss to poor sales execution, including the fact that the company had hired new salespeople who simply couldn't close deals. I don't doubt that this reasoning was true, especially since Oracle's third-quarter is historically the company's weakest.
However, after another revenue disappointment in this fourth quarter, which includes lower-than-expected growth in the software segment, I'm inclined to believe there are other underlying fundamental issues that are impacting upon the company's performance.
Less than 1% growth in new software licenses and cloud software subscription, which missed the lower end of management's guidance suggest that
Salesforce.com
(CRM) - Get Report
is doing some serious damage. For that matter, I'm also inclined to believe that given the
lengths that Salesforce.com is willing to go
, Oracle's struggles may only be starting.
Plus, given the fact that management issued lower-than-expected guidance for the next quarter, it's clear that Oracle is sensing the imminent pressure not only from Salesforce.com and
IBM
(IBM) - Get Report
but possibly from emerging cloud rivals like
Workday
(WDAY) - Get Report
. What's also clear here is that enterprises are beginning to shift how they procure services that meet their strategic initiatives. Is Oracle falling behind? It sure seems that way.
It's also possible that CIOs have arrived at the point where it has all it needs. I'm not suggesting that the cloud/Big Data market has suddenly become saturated. But still, I'm forced to appreciate that Oracle's sales decline may be reflective of a market that has peaked. This also supports why Oracle has been actively buying into other markets. The company's
of
Acme Packet
( APKT) and network vendor Tekelec, were two recent examples.
In the meantime, the company's strong cash position will continue to present management with plenty of options to navigate this soft patch. So I wouldn't abandon the stock just yet, especially when the company just announced $12 billion share buyback program, while also increasing the dividend by 100%.
>>Also see: Getting Back to Work: Part II>>
Draw your own conclusions as to why management feels compelled to do this now. Clearly the company sees value in its stock. But Oracle has always been savvy when it comes to its dividend strategy. Last December, the company accelerated three quarterly payments into a special dividend in an effort to mitigate potential tax damages related to the fiscal cliff. It worked out great for investors. I expect the similar results for this new policy.
So, if I liked Oracle at $35 per share, I'm certainly going to love it at $30, especially with improving free cash flow margins. But conviction can only go so far. And management needs to help me not have to write another letter of apology.
At the time of publication, the author held no position in any of the stocks mentioned
.
Follow @saintssense
Richard Saintvilus is a private investor with an information technology and engineering background and the founder and producer of the investor Web site
. He has been investing and trading for over 15 years. He employs conservative strategies in assessing equities and appraising value while minimizing downside risk. His decisions are based in part on management, growth prospects, return on equity and price-to-earnings as well as macroeconomic factors. He is an investor who seeks opportunities whether on the long or short side and believes in changing positions as information changes.