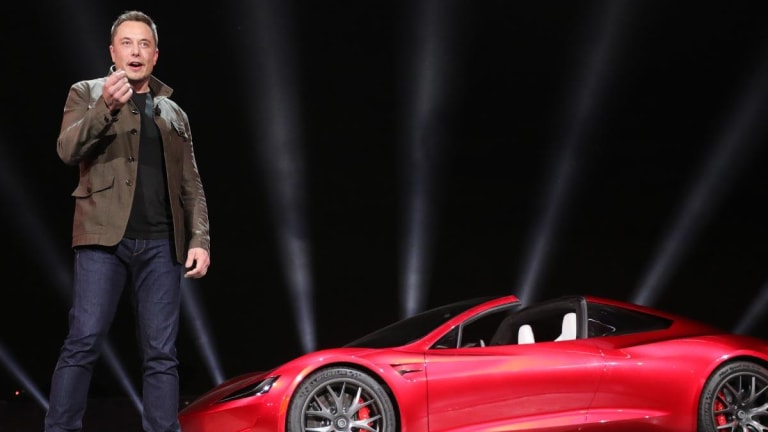 Elon Musk Will Have to Answer Many Questions Before He Can Take Tesla Private
Among other things, we still don't know who is providing financing for Musk's proposed take-private deal, or what their terms look like.
Among other things, we still don't know who is providing financing for Musk's proposed take-private deal, or what their terms look like.
It shouldn't be hard for anyone who has followed Elon Musk's heated battles with short sellers, media critics and analysts, or his grandiose long-term ambitions, to grasp why he'd prefer that Tesla (TSLA) - Get Report become a privately owned company.
But will Musk make his dream a reality? Though the Tesla and SpaceX founder insists that he has the funding lined up to take his electric car company private, there's some fine print attached to his plans, as well as a few unknowns.
To recap: Musk announced on Twitter Tuesday that he's thinking about taking Tesla private at $420 per share -- a 23% premium to Tesla's Monday close -- and that he has "secured" the needed funding. He later elaborated about his intentions in an employee e-mail that was posted on Tesla's website.
As a result, Tesla's shares rose 11% on Tuesday to $379.57. That still leaves them 10% below the discussed going-private price, albeit up 26% from where they traded prior to last Wednesday's Q2 report and its market-pleasing commentary on second-half profitability and Model 3 margin improvement.
One obvious reason for the discount: For now, Musk, who owns about 20% of Tesla and says his stake would remain similar following a deal, only says he's "considering" taking Tesla private, and hasn't made a final decision. Another reason: Musk hasn't yet shared any details about who his financing sources are, how much they've committed or what their exact terms look like.
To put it mildly, Tesla's cash-flow profile and future investment needs don't make it an ideal fit for traditional private-equity investors. At the very least, one has to think that if some traditional P-E investors were to take part in a deal, they'd be looking to buy convertible debt or preferred stock rather than make a standard equity investment.
On the other hand, one could imagine some deep-pocketed foreign investors who see strategic value in owning a piece of Tesla (Tencent (TCEHY) ? SoftBank's (SFTBY) Vision Fund?) buying equity stakes. Indeed, shortly before Musk made his reveal, it was reported that Saudi Arabia's sovereign wealth fund had taken a 3% to 5% stake in the company.
Other conceivable investors include U.S. tech giants, rival automakers and auto parts firms. However, this is all purely speculative for now. Until Tesla shares more details, we can only guess about the identities of its would-be financiers. Also unclear is whether those financiers can be trusted to make good on their financing commitment, or -- in light of the heightened scrutiny recently shown to foreign investments in general, and Chinese investments in particular -- could potentially have their investment shot down by regulators.
A third reason for the discount: The success of Musk's plan might be contingent on a meaningful percentage of Tesla shares owned by third parties not being sold at $420.
In his e-mail, Musk says that he wants the going-private deal to be structured so that shareholders can choose between selling at $420 per share and maintaining stakes in a privately-owned Tesla. He also says his "intention" is for all Tesla employees to remain shareholders, while adding that employees will "still be able to periodically sell their shares and exercise their options" if they wish.
One has to think that many retail Tesla investors would choose to sell at $420. Both because of the premium that they'd be receiving, and because of the limited liquidity Tesla shares would probably have if the firm was taken private.
Many institutional investors would probably choose to sell for the same reasons, and also because some of them have Tesla positions via funds that are explicitly focused on investing in public companies. The Wall Street Journal (citing Morningstar) notes that mutual funds and ETFs collectively own 31.8% of Tesla's stock.
On the other hand, Tesla employees could feel some pressure to hold onto their shares. The fact that Musk is promising employees opportunities to sell in the future could also motivate a lot of them to hold onto their stock for now.
At $420 per share, Tesla would have a $71.4 billion equity value based on its Q2 diluted share count. And the company also has about $11.6 billion in long-term debt and capital leases (partly offset by $2.2 billion in cash) on its balance sheet that needs to be accounted for.
This means that Tesla's financing needs might surpass $65 billion before accounting for commitments from shareholders not named Elon Musk. If other shareholders possessing a 25% Tesla stake between them chose to keep their shares, the company's financing needs would still probably be above $40 billion.
Hopefully, Musk & Co. can provide additional color on Tesla's financing commitments in the near future. And also about what percentage of third-party Tesla holders would have to choose to keep their shares for a deal to clear.
Until we get such details, wagering on Tesla to be bought out at $420 per share represents quite the gamble.