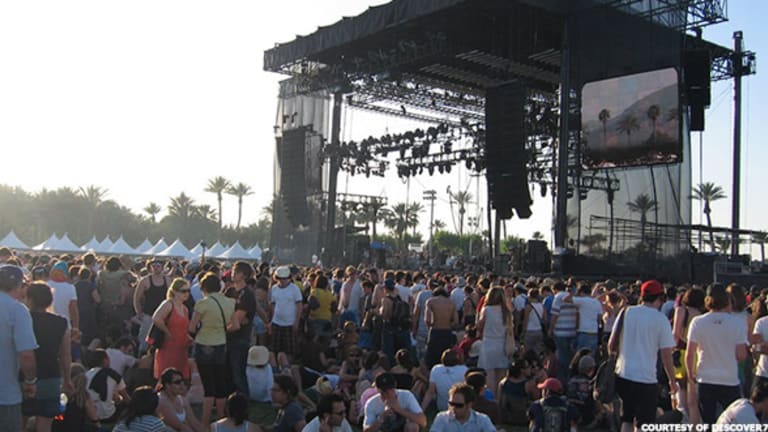 Music Festival Sojourns Are the Latest Craze Among Travelers
From lavish Coachella experiences to music festival hopping in Europe, a new type of vacation is emerging
Imagine: 15 countries, 15 weeks, 15 music festivals.
After an audible sigh that sounds like a happy mixture of exhaustion and exhilaration, Vito Valentinetti explains this itinerary, which to some may seem slightly mad.
"I was a little bit tired after 15 weeks," says the Vermont resident. "It felt great, though. The whole experience was just amazing."
To be clear, the experience Valentinetti is referring to is a vacation designed solely to experience Europe's epic music festival scene - a 100-day music bender, the highlights of which included a boutique music festival in the woods outside Amsterdam, an alternative rock fest on the shores of the Adriatic in Italy and electronic artists playing in a former tobacco factory in Slovenia.
Valentinetti spent some nights camping in a tent, others bunking in a hostel. There was even glamping, sushi and micro-brews along the way. And yes, the occasional muddy, wide open field, which has become a hallmark of such massive music gatherings.
"I did it all," Valentinetti says. "They were all different." 
If his lengthy music journey sounds like some sort of hobby crazed one-off, or outlier, think again. Music festival sojourns, as they are coming to be known, are a growing trend, particularly among twentysomethings.
Bored with idly sitting on a beach for vacation, and in search of more meaningful travel experiences, twentysomethings (and even older travelers) are increasingly creating itineraries to immerse themselves in once-in-a-lifetime music festival experiences. From California's Coachella to England's Glastonbury, these specialized sojourns, which often include stops at local bars and small concert venues to see lesser known acts, are becoming a popular request in the travel industry.
Valentinetti, for his part, has established a website called Music Festival Wizard, that's devoted to providing the details and dates of the world's many music festivals. When he first launched the site several years ago, there were merely 20 or so listings. Today, that number has swelled to nearly 600.
"The last few years people have started finding more and more festivals," says Valentinetti. "I think it's getting bigger and bigger because of the Internet. Not only because people can search online and find information about the festivals, but also because of social media. You get one friend who goes to a music festival somewhere and shares one photo, and suddenly you have 300 friends who say, 'This image is amazing, I want to go.' It's the Internet version of word of mouth."
According to Priceline.com data, Valentinetti's assessment regarding the growth of the music festival industry is pretty accurate. This summer alone, there is a slew of festivals taking place in the United States- from the Governors Ball in New York City in June to the Austin City Limits Festival, in Texas, at the end of the September, one could easily create a U.S. version of Valentinetti's epic journey.
And if you need help arranging a music festival sojourn, there are travel agents with specific expertise in this trend.

Eric Grayson, of Discover 7, is one of them.
A New York-based travel professional who offers a luxury concierge style of travel service, Grayson says a growing segment of his business is dedicated to creating customized Coachella vacations for upscale twenty and thirtysomethings.
"We've been doing it about two or three seasons now," says Grayson. "Percentage-wise, our bookings for this type of experience went up year-over-year 28% between the first year we started doing this and last year. And so far this year it's up a bit more - about 35%."
Grayson's well heeled clients spend anywhere from $8,000 to as much as $50,000 for a truly special Coachella experience, one that includes such things as a lavish villa to call home each night, and a well positioned safari tent on the Coachella concert grounds during the day, to rest, and party.
Others seeking even more pampering and comfort for their concert experience will have Grayson position a luxury RV on the concert grounds for their use. (Just in case getting back to the villa to sleep at day's end seems trying.)
"Some people go all out. We offer VIP experiences where they can get backstage with certain artists, or access to VIP tents not available to the public or invitations to parties," Grayson adds.
Coachella is Grayson's most popular music vacation request at the moment, followed by Burning Man. But business has been so good, he's contemplating branching out to include some of the other notable festivals around the world.
"I think as people accumulate money and get older...you know people who are in their mid- to late-thirties, who are doing quite well, this appeals to them," he says. "Particularly Coachella, it's a beautiful place to hang out for a few days and it's fun."
Meanwhile, in Europe, travelers have been engaging in such music-oriented getaways for decades, says Rüdiger Beermann, director of media and communications for the Festival Hall Baden-Baden.
The son of an opera singer, Beermann says some of Europe's grandest festivals date back 100 years or more, and families plan trips around them year after year -- a tradition that for some families stretches back decades.
"There is a wonderful musical landscape in Europe," says Beerman, who specializes in arranging music sojourns skewed toward a slightly older demographic, the 50-plus crowd seeking a classical experience.
While relatively young by European music festival standards, Baden-Baden has been the location of a popular annual music gathering for about 17 years. A tiny town in the middle of the Black Forest that's home to just 40,000 to 50,000 people, Baden-Baden's population swells come music fest season, says Beerman.

The upcoming Easter Festival, (the highlight of which this year is a co-production between the New York Metropolitan Opera and the Festival Hall Baden-Baden of Wagner's Tristan & Isolde), will bring in about 25,000 people.
"We attract mainly a German and French audience because of our location. But 15% is an international audience, mainly from the United States and Asia and it is growing," says Beerman.
The festival experience in Baden-Baden is a far cry from that in Coachella (well, the luxury RV option aside). Travelers will typically spend three to four days, take in an opera, or a large concert production, a few musical matinees around town and then indulge in some of the region's famous gastronomic events, says Beerman.
But on some levels, what the concert goers in Baden-Baden are seeking, a continent away and decades apart in age, is not all that different then their Coachella counterparts.
"We are a small town, so one of the things we also offer is proximity to the stars - the singers," Beerman notes. "They might be having a walk in the park here, and you will see them. We can't promise that, but you can meet them around town. And we also offer talk shows and receptions with them. You will be living very closely with the artists."