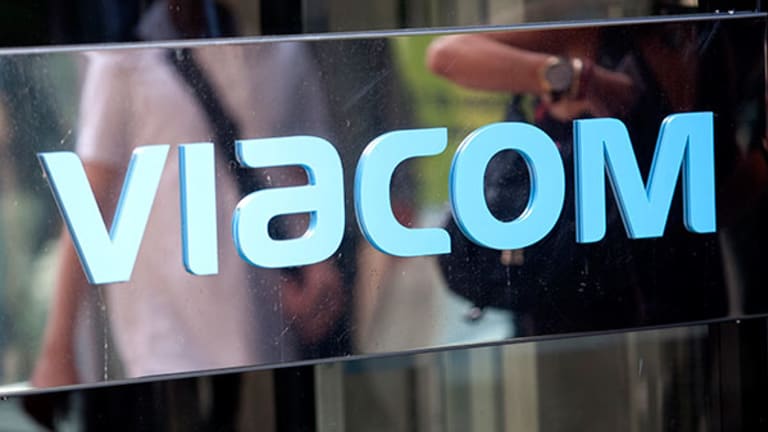 MTV, Nickelodeon Ratings Declines Underscore Viacom's Struggle Amid Industry Transition
Viewership was down significantly this season from a year ago.
NEW YORK (TheStreet) -- Sharp primetime ratings declines at Viacom's (VIAB) - Get Free ReportMTV and Nickelodeon underscores the ongoing struggles of media companies to adapt to viewers' preference for mobile devices -- and advertisers' increasing interest in spending more of their marketing dollars on digital.
While the emergence of Netflix (NFLX) - Get Free Report and Google's (GOOG) - Get Free Report YouTube as integral parts of contemporary entertainment has hurt many traditional media companies that own cable-TV networks, Viacom has been particularly challenged because so many of its channels target younger viewers, media industry executives said Wednesday.
"It makes sense that their ratings are down," said Barry Lowenthal, president of New York media planning and buying agency The Media Kitchen, referring to MTV and Nickelodeon. "Those networks target the exact audiences that are heavy users of mobile on-demand media," he said by email. The ratings declines at those Viacom networks are the result of their audiences tuning into other devices and content including streamed programs via Netflix, he said.
"Millennials have the shortest attention span of probably any demographic group in history," Scott Singer, managing director of New York media consultancy Discover Digital Group, said in a phone interview. "The networks that seem to be affected the most in the marketplace are ones where they're targeting that particular audience." Mobile devices have become the first screen in the home among millennials, replacing TVs, he said.
MTV's primetime viewers two and older fell to 565,000 during the six-month period ended Feb. 22 from 710,000 during the same period a year ago, according to data provided by Nielsen. Viewers of Nickelodeon's "Nick at Nite," which airs during primetime hours, tumbled to 1.1 million from 1.4 million for the same age demographic.
MTV averaged 377,000 viewers two and over for the total day Dec. 29 to Feb. 22 (live plus seven days), down from 420,000 a year earlier, according to Nielsen data. Nickelodeon averaged 1.3 million viewers two and over for the total day during the same time period, down from 1.6 million a year earlier.
Although Viacom CEO Philippe Dauman sought to breathe new energy into the New York-based company with a series of executive changes, much of his public ire has been focused on insisting that Nielsen's measurement system doesn't accurately account for all types of TV program viewing. That is, that young people viewing Nickelodeon shows on tablets and other mobile devices aren't being recorded by the industry's leading measurement firm. Time shifting by viewers who record shows on their DVRs and watch them on a later day or view them on demand via their cable or satellite providers aren't always being factored in either, especially when that viewing is delayed more than seven days after programs' initial air date.
More than 40% of U.S. TV households now have subscription video on demand access, according to the Nielsen Total Audience Report released last week. Of U.S. TV households, 36% have Netflix access, while 13% have Amazon (AMZN) - Get Free ReportPrime and 6.5% have Hulu Plus, said Nielsen. The report also showed the huge, growing decline in live TV viewing that's especially strong among younger audiences. Adults spent an average of 4 hours and 51 minutes viewing live TV each day in the fourth quarter of 2014, Nielsen said. That was down 13 minutes from the same period a year earlier.
But the issues facing Viacom's networks aren't just about ratings measurements. Lower ratings have translated into lower advertising revenue. Although Viacom's global ad revenue grew 3% to $42 million in the fourth quarter ended Dec. 31, domestic ad revenue decreased 6%, the company said in a 10-Q SEC filing. Lower ratings across its channels also resulted in a decline in the average price per unit, it said.
MTV and Nickelodeon, along with Viacom's TV Land and VH1, were all recently hit with job cuts, part of a $250 million realignment that is expected to be completed by the end of March, Dauman said last week at an investor conference hosted by Deutsche Bank.
The biggest surprise about the restructuring was the sheer size of the expected cost savings, John Janedis, a media analyst at the Jefferies Group, said in a phone interview last week. The cost savings should add 6% to 8% in annual earnings, he said. Recent management changes, also part of the realignment, should help Viacom's networks, he said, noting that while MTV's ratings have continued to slide this year on a total day basis, Nickelodeon ratings have improved in recent weeks.
Viacom's stock has lost 8.5% this year, and 21% over the past 12 months. Dauman didn't provide specifics about the job cuts at the conference and Viacom declined to provide specifics Wednesday.
About 12 % of MTV's staff is expected to be slashed as part of the realignment, according to published reports. The job cuts also extended to about 40 employees at Viacom's Paramount Pictures division. It wasn't clear if the job cuts at MTV, Nickelodeon and TV Land were directly related to the weak ratings at those networks, said Janedis.
"Where networks are underperforming, you probably look a little bit harder in terms of where to cut costs and try to maintain profitability, which then allows you to reinvest in the networks," he said.
Viacom is investing more in original programming as more of its rivals and newer entrants such as Amazon and Vimeo, a unit of IAC Interactive (IACI) , do the same. Despite the slumping ratings, Dauman maintains that the Nickelodeon brand retains a healthy core of viewers despite Netflix's popularity.
"We believe Nickelodeon will continue to grow both domestically and internationally, and it is the only place to go if you're a marketer and you want to reach a broad audience of kids and their families," he said. Dauman predicted that the network's Nick at Nite offering will be especially enhanced by the realignment.
Another way to give the Viacom networks a lift is for some of them to work more closely together, said Dauman. That was at least part of the impetus for the management shakeup across Viacom's networks that it announced last month. As part of those moves, CMT and TV Land were shifted into the Viacom Kids and Family Group led by Nickelodeon head Cyma Zarghami, that group's president.
"We'll be able to enhance the programming on all three of the networks by working together," said Dauman.
This article is commentary by an independent contributor. At the time of publication, the author held no positions in the stocks mentioned.