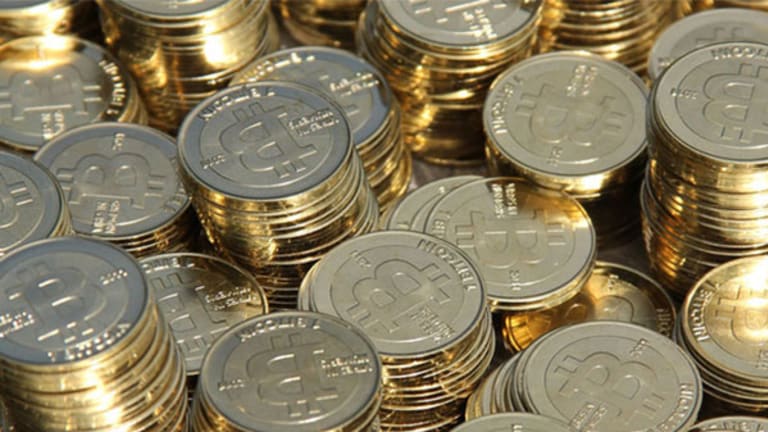 Mt. Gox's Disappearance Is Latest Blow for Bitcoin Investors
Mt. Gox's apparent demise is yet another powerful warning to those thinking of investing in or trading the virtual currency.
NEW YORK (TheStreet) -- On Monday, I wrote that bitcoin exchange Mt. Gox appeared close to imploding. It was the first time I've written a prediction that I hoped wouldn't come true.
But on Monday night, my fears were realized. Mt. Gox's Web site went blank, without notice about the company or depositors' status.
Reuters reports Tuesday morning that the company's founder is unaccounted for and that Mt. Gox's office is empty with the exception of some protestors.
The rise and fall of the Tokyo-based exchange was swift. At one point in 2013, it reportedly processed the majority of all bitcoin exchange volume.
The surge in bitcoin's price and popularity unfortunately attracted cybercriminals bent on exploiting weaknesses. Several multimillion-dollar heists have already been reported. An online document outlining a crisis strategy also began circulating late Monday that may illuminate what happened and what to expect next.
According to the document, 777,408 bitcoins, or about $600 million (based on recent bitcoin prices before Mt.Gox halted withdrawals), are unaccounted for. That's a staggering amount.
Online payment processing fraud and theft aren't new to bitcoin, though. PayPal, now a unit of eBay (EBAY) - Get Free Report, experienced significant fraud in its early days and hired outside security experts to combat it.
The bitcoin market reacted rapidly to the latest news about Mt. Gox. According to Bitstamp, prices fell to 2014 lows of $400 before partially recovering near $500 at the time of writing.
People are asking whether Mt. Gox's apparent failure will spell the end of bitcoin, but the virtual currency appears to be bigger than one exchange.

Even so, the Mt. Gox news may shift investors' risk perceptions.
It also should be a wake-up call for people trying to get rich trading bitcoins. If you trade bitcoins on another exchange, you dodged a bullet, for now at least.
If you're buying bitcoins because you fear the dollar is a fiat currency destined to collapse, you may be right, but you're taking on even more risk in an unproven virtual currency. Gold, either through physical purchases, or via SPDR Gold Shares Trust (GLD) - Get Free Report, a widely followed and traded gold exchange-traded fund, will accomplish your goals.
If you're remaining in the bitcoin market, there are things you can do to protect yourself. Store excess bitcoins off-line in a USB drive or some other type of device that hackers can't reach. Demand and verify that online wallets and/or exchanges have insurance against theft. AIG (AIG) - Get Free Report and Lloyd's of London offer specialty insurance.
Anyone can slap together a Web site and call it a bitcoin exchange. If the company doesn't have customer account insurance, you should question why.
Mt. Gox held more than half a billion dollars of other people's money and based on photos I've seen, appears to be an operation with less than a dozen people.
Is that the type of operation you want your hard-earned money guarded by? Risk management isn't any different with bitcoins than with other investments.
Always focus on how much you can lose before worrying about how much you can make.
At the time of publication, Weinstein had no positions in securities mentioned.
This article represents the opinion of a contributor and not necessarily that of TheStreet or its editorial staff.