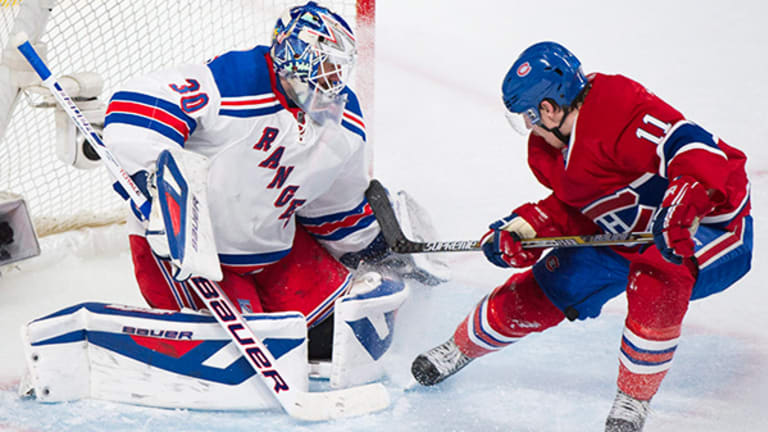 MSG Is the 'World's Most Famous Arena' for More Than Just the Rangers
New York's Madison Square Garden is home to a valuable hockey franchise and its shares support that.
New York's Madison Square Garden is home to a valuable hockey franchise and its shares support that.
NEW YORK (TheStreet) -- The New York Rangers hockey team is headed to the championship, vying for Lord Stanley's Cup for the first time in 20 years
No one is cheering louder than the people running Madison Square Garden (MSG) - Get Report, the venue where the Rangers beat the Montreal Canadiens Thursday night by a score of 1-0. The final round will draw a lot of fans -- and money -- to MSG when the Rangers know which western team will be their opponent.
MSG the stock has had some up and down times, like the Rangers.
It posted poor quarterly earnings, when the Rockettes, who dance at another of its venues -- New York's Radio City Music Hall -- were delayed by production problems in its "Hearts and Lights" theatrical extravaganza.
Shares of MSG fell almost 13%. But they have recovered a bit and are currently around $54, down 5.6% for the year to date.
Having championship hockey at "the world's most famous arena" doesn't hurt.
MSG has three segments but a significant amount revenue comes from two sports franchises, the Rangers and the New York Knicks of the National Basketball League.
Despite the Knicks' dreadful performance since their loss to the San Antonio Spurs in the Finals in 1999, attendance has been both consistent and strong averaging around 20,000 fans per game. At the same time, ticket prices have continued to increase over the years. In fact, the average price of a ticket in the secondary market rose almost 12% year over year in 2014 and ranked among the highest in the NBA at around $321
Just imagine if the Knicks were actually good!
The Rangers don't have that problem this year, and ticket prices, particularly on the secondary market, reflect that.
In addition to sports, there's MSG's Media segment through its MSG Networks. For the year ended June 30, approximately 50% of the company's consolidated revenue were derived from this segment, which also includes multi-year rights for coverage of the New York Islanders, New Jersey Devils and Buffalo Sabres hockey teams.

MSG's financials continue to paint a favorable picture. For example, the company has grown overall revenue more than 5% on average the last five years while also growing gross margin considerably at the same time from 36.6% in 2007 to 48.5% in 2013. Further, both return on equity (ROE) and return on assets (ROA) have increased each year and stood at 10.5% and 5.4% in 2013, respectively.
Furthermore, the company has no long-term debt and has maintained a consistent debt to equity (D/E) ratio. Also, MSG is currently free cash flow positive and has been for most of its trading history, while sporting a favorable enterprise value to EBITDA (EV/EBITDA) ratio of less than 12. 
As event ticket prices continue to increase, in addition to the value of their owned franchises, so too should shares of MSG.
Go Rangers!
At the time of publication the author had no position in any of the stocks mentioned.
This article represents the opinion of a contributor and not necessarily that of TheStreet or its editorial staff.
>>Read more: Alibaba Lets Softbank CEO Sprint Into Our Internet Access Market