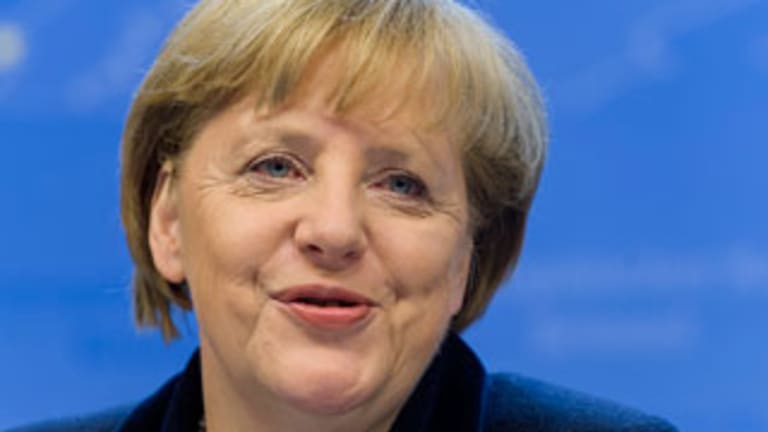 Ms. Merkel and the Markets
Jim Rickards tells Steve Cordasco how the re-election of Germany's Angela Merkel will affect your portfolio.
NEW YORK (TheStreet) -- When the news hit of German Chancellor Angela Merkel's re-election to a third term, I quickly picked up the phone and dialed Jim Rickards, portfolio manager and author of bestseller Currency Wars, to get his take and guidance on the potential outcome for investors.
Here is an overview of our conversation.
Impact of German Elections on European and U.S. Markets
Angela Merkel's smashing victory in the German elections Sunday has implications not only for politics but also for capital markets. It is well known that Merkel has been an outspoken advocate for what she calls "More Europe." The idea is the European Union and the euro must be preserved and expanded as part of a European integration project that stretches back almost 70 years.
But the German electorate is highly skeptical of this project since it appears Germany is continually being called upon to provide financing to bail out EU members including Greece, Portugal, Ireland, Cyprus and perhaps others in future. This forced Merkel into a delicate balancing act.
On the one hand, she did not want the European project to fail. On the other hand, she needed to appear tough and demanding in order to appeal to the German electorate. This was partly the cause of the on-again, off-again drama of the European sovereign debt crisis from 2010 to 2012.
Now that Merkel's victory is secure, she will be in a position to move Germany and Europe in the direction of closer integration and mutual economic support without fear of losing her electoral base in the process. As a practical matter, this means implementation of the Fiscal Treaty, unified bank regulation under European Central Bank supervision, unified bank deposit insurance provided by a new agency, and finally the issuance of euro-bonds backed by the combined credit of all members of the eurozone.
All of these trends are already in motion, but now they are set to accelerate. Merkel will be careful to involve Brussels, the ECB and the International Monetary Fund in her actions, but there is no doubt Berlin is calling the shots and setting the tempo.
Germany will not be a sugar daddy for Europe. It will be quite demanding in conditionality as the integration project moves forward. Euro-bonds backed by full eurozone credit should not be expected until other aspects of the overall plan, including strict adherence to the Fiscal Treaty, are in place. But the plan is in motion and will play out over the next three years.
Europe will benefit from a strong export sector, capital inflows from China and lower unit labor costs in the periphery of Greece and Spain. The idea that a strong currency hurts exports is incorrect. Exports are driven by efficiency in manufacturing and technological innovation as shown by Japan in the 1980s and Germany in the 1970s when both countries had strong currencies and strong exports. Under German direction, the European periphery is set to become Singapore-on-the-Med as a base for investment, manufacturing and exports.
Implications for investors are: a stronger euro, perhaps as high as $1.50 over the next year; a weaker dollar (this is just the inverse of a strong euro, it cannot be otherwise) and excellent investment opportunities in Europe for U.S. dollar-based investors because they will have the double benefit of higher growth and a stronger currency.
Some of the too-big-to-fail European banks such as
Unicredit
(UNCFF)
,
Santander
(SAN) - Get Banco Santander SA Report
and
Deutsche Bank
(DB) - Get Deutsche Bank AG Report
should benefit. The weaker dollar will mean higher inflation in the U.S., which should support the price of gold.
A blended portfolio of European bank stocks, European manufacturers such as
Volkswagen
(VLKAY)
,
Siemens
(SI) - Get Silvergate Capital Corp. Class A Report
,
SAP
(SAP) - Get SAP SE Report
and
Daimler
(DDAIF)
as well as gold should outperform U.S. stocks over the next year.
Follow Steve Cordasco (@CFNPlan)
This article was written by an independent contributor, separate from TheStreet's regular news coverage.
Steve Cordasco is a principal at
and host of CBS Radio's
The Big Money Show
, a weekly radio program on 1210 AM WPHT.
Cordasco has been helping investors reach their financial goals for over 20 years. A graduate of Temple University's Fox School of Business, where he earned a Bachelor's degree in finance and real estate, he is a Registered Investment Advisor and Registered Representative. He holds the Series 7, 63, 65 licenses along with an insurance license.
Barron's, a national financial newspaper, continues to rank Cordasco in the top 10 for Pennsylvania on its annual list of America's top financial advisors. Cordasco maintains strong ties to Temple University, where he is an associate professor in Temple's School of Engineering. He is also involved with charitable organizations including, Cooper Hospital Foundation, Christ the King Regional School Parish Council and School Board, Temple University Fox School of Business Investment Association.