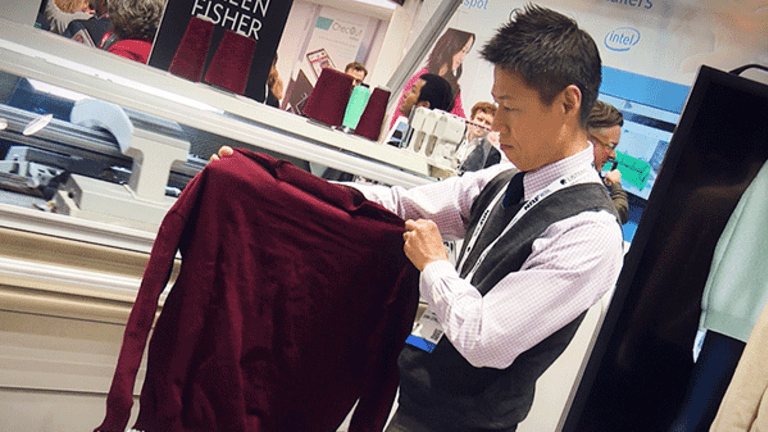 Move Over, Granny--3-D Printers Can Now Knit Sweaters
We watched a 3D printer make a sweater in less than an hour. Can it help fix retail?
Editors' pick: Originally published Jan. 20.
Who knew that knitting could go high tech? It has, thanks to a 3-D printer that can customize a sweater faster than your grandma can knit one.
Intel (INTC) - Get Free Report is powering the 3-D printer that allows retailers to create the garment in roughly 45 minutes. Intel recently displayed the demo printer, made by Shima Seiki, at the National Retail Federation's annual show in New York.
Here's how it works: the sweater is first designed on a computer workstation, based on a customer's demands. The design is then saved on a USB drive and put on the knitting machine, and then voila! In less than an hour a sweater is created.
Michelle Tinsley, Intel's director of mobility and secure payments, said the process of creating a made-to-order item could help retailers with inventory distortion. "Having the wrong stuff is a trillion-dollar problem in the retail industry," she explained. When retailers miss on inventory, they often have to discount their clothing, which hurts profit margins.
Tinsley said the computerized process used with the 3-D printing machine helps retailers better track consumer demand, which would make it easier for buyers to decide how to stock store locations.
The women's brand Eileen Fisher teamed up with Intel to experiment with 3-D sweater printing.
"In the future, you can imagine this with any kind of apparel, like the knitting of shoes, pants and dresses," Tinsley added.
Now, while consumers may love the idea of walking into a store and leaving with an item of clothing that has been specially designed for them, don't expect your local shop to have one of these machines anytime soon. The Shima Seiki printer will set you back $180,000.