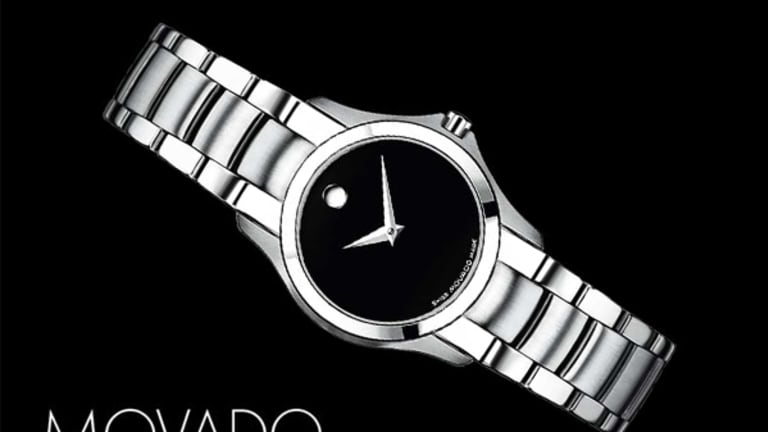 Movado's Time to Shine
Shares of the luxury watch maker pop on a strong earnings report and outlook.
NEW YORK (TheStreet) --There was not much to be happy about in yesterday's trading, but luxury watch maker Movado (KO) - Get Coca-Cola Company (The) Report was one of the few exceptions.
On a day that the
S&P 500
fell 1.6%, and the
Nasdaq Composite Index
fell 2.2%, Movado rose nearly 11% on five times its normal average volume after the company issued a sparkling second-quarter earnings report.
Revenue rose more than 17% to $138.3 million, which topped the $135.9 million consensus estimate. Earnings were $12.6 million, or 44 cents per share, topping analysts' average estimate of 32 cents. Movado also raised its quarterly dividend 60% to 8 cents per share. That puts the dividend back to where it was in 2008, before the company eliminated it for a time, due to challenges the company was facing during the economic crisis.
Read: Gundlach Is Scared to Short Tesla, Says Apple's Dead Money
In fact, in 2008 and again in 2009, Movado achieved a rare feat, one that no company would ever choose; it was a net/net (trading below net current asset value). The great recession was not kind to many companies, including those selling fine, expensive watches, the kind consumers couldn't afford at the time. In 2009, revenue fell 21%, and shares fell below $6.
The following two years, the company lost money, but it always had one thing going for it: a strong balance sheet with ample cash, and no debt. Movado had the wherewithal to see itself through some very difficult economic conditions, and was able to emerge strongly from the recession. Since 2009, shares have risen more than seven-fold, and are now trading at an all-time high. Meanwhile, the balance sheet remains strong. Movado ended the second quarter with $152 million, or about $6 per share, in cash, and with no debt.
data by
What's more, management increased sales and earnings estimates for 2014, suggesting that sales should increase 12% to the $570 to $575 million range, while earnings should be in the $1.90 range, 10 cents better than previous expectations.
That means that Movado is trading at 22.5 times management's earnings estimate, a bit rich for my blood, but not for more growth-oriented investors. I owned this stock when it was trading below net current asset value, and closed the position for a nice gain, but in classic value investor style, was early to the party, and early to leave.
Read: Top 10 Bedbug-Infested Cities
Still, there is a great investment lesson to be learned from Movado, a company that was trying to sell high-end items during a severe recession. Although that could have meant the end for some companies, Movado -- due to the strength of its balance sheet, abundance of cash and lack of debt -- was able to regroup until the economy improved. The company is now reaping those rewards, along with its shareholders who had the patience to wait.
At the time of publication the author held no positions in any of the stocks mentioned.
This article is commentary by an independent contributor, separate from TheStreet's regular news coverage.
At the time of publication, Heller was long XXXX.
Jonathan Heller, CFA, is president of KEJ Financial Advisors, his fee-only financial planning company. Jon spent 17 years at Bloomberg Financial Markets in various roles, from 1989 until 2005. He ran Bloomberg's Equity Fundamental Research Department from 1994 until 1998, when he assumed responsibility for Bloomberg's Equity Data Research Department. In 2001, he joined Bloomberg's Publishing group as senior markets editor and writer for Bloomberg Personal Finance Magazine, and an associate editor and contributor for Bloomberg Markets Magazine. In 2005, he joined SEI Investments as director of investment communications within SEI's Investment Management Unit.
Jon is also the founder of the
, a site dedicated to deep-value investing. He has an undergraduate degree from Grove City College and an MBA from Rider University, where he has also served on the adjunct faculty; he is also a CFA charter holder.