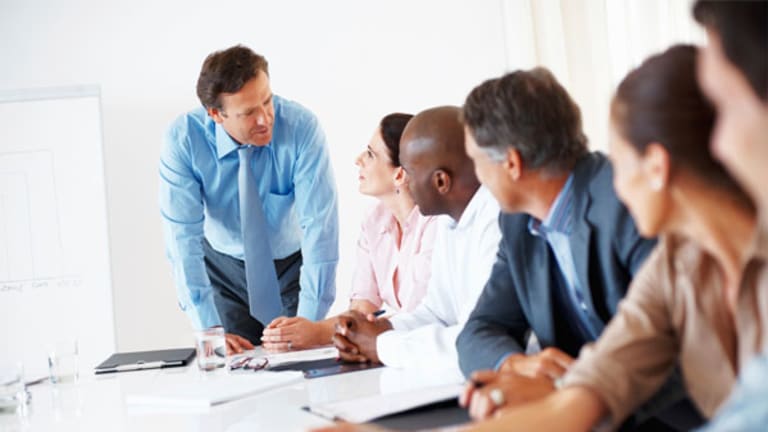 Motorola Patents a Google Ally vs Apple
Motorola's patent muscle is a good bet in helping Google's Android fight a developing battle with Apple.
NEW YORK (
) -- With 17,000 patents,
Motorola Mobility
(MMI) - Get Free Report
is the best mobile partner
Google's
(GOOG) - Get Free Report
Android could ever wish for as industry hostilities heat up.
The
breakout success of Google's Android operating system
has sparked an
intense arms race in technology patents
particularly related to mobile.
"We believe this is the singular most important issue for the smartphone industry at the moment," JPMorgan analyst Rod Hall wrote in a research note Monday.
Unsure of who has claims to intellectual property rights, industry giants are girding for battle by acquiring patent portfolios. Meanwhile, those with patents -- like Motorola -- are being urged by investors like Carl Icahn to carve out the assets for sale. And Motorola, happy to boast about the size of its patent portfolio, replied with the message that its patents are core to a successful strategy.
Asked about patents on an earnings conference call Thursday, Motorola CEO Sanjay Jha said it was an area of strength for the company. "As I look at these patent portfolios, I feel very good that we will be able to go forward and find ways to create and enhance shareholder value for all of our shareholders."
Google has complained that the
current patent system is broken
and does not encourage innovation. But that doesn't mean Google isn't interested in acquiring more. The company said it's adding a collection of 1,000 patents from
IBM
(IBM) - Get Free Report
that it acquired in a deal struck last month.
The battle lines in the patent war were drawn earlier in July, in the surprise aftermath of the
.
Apple's
(AAPL) - Get Free Report
formation of Rockstar Bidco, a super consortium including
Research In Motion
(RIMM)
,
Microsoft
(MSFT) - Get Free Report
,
Ericsson
(ERIC) - Get Free Report
,
Sony
undefined
and
EMC
(EMC)
-- the group that won the $4.5 billion auction -- is the best example yet of how the powers are aligning.
The consortium illustrates the establishment of
: Google and its partners against the rest of the field.
As relative newcomers to the mobile industry, Google and Apple have very little legal ground to stand on when it comes to connected devices and wireless patents. Apple helped boost its position a bit with the Rockstar Nortel patents acquisition, a move that the
Wall Street Journal
says is being reviewed by the Justice department.
But Google is a software company whose fortunes in mobile are riding on the success of smartphone partners like
Samsung
, Motorola,
HTC
and
LG
.
Android-shop Samsung is in a legal battle with its former ally Apple. In April, Apple filed a lawsuit against Samsung for copying its iPhone and iPad. In June, Samsung sued Apple for patent violations.
Motorola, however, is far better positioned to defend the Android camp. Not only does Motorola have far more patents than its nearest competitors, it appears to have more of the key patents that may help the Android camp in a battle against Apple.
"It is interesting to note that Motorola asserted 18 patents against Apple, and sued Apple first, whereas Apple has asserted just six patents against Motorola," Morgan Stanley analyst Ehud Gelblum wrote in a research note last month.
So while Apple might have a Rockstar consortium, Google has a friend with deep patent portfolio.
--Written by Scott Moritz in New York.To contact this writer, click here: Scott Moritz, or email: scott.moritz@thestreet.com.Follow Scott on Twitter at MoritzDispatch