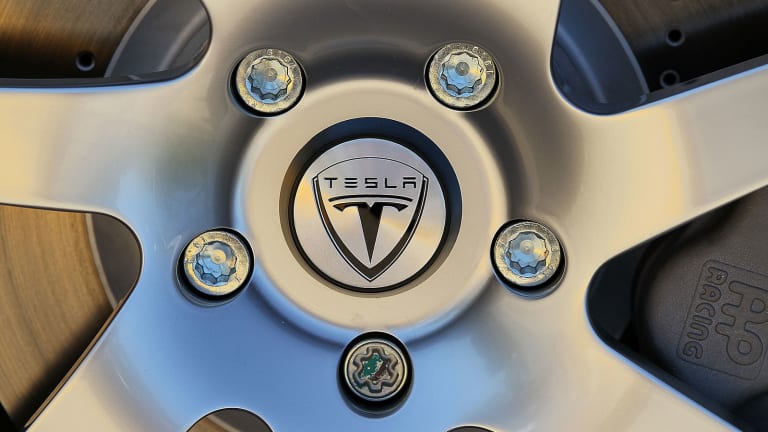 Morgan Stanley's Tesla Research Is Fantasy
There's only a very small chance of Tesla reaching the goals set out in a recent Morgan Stanley note.
NEW YORK (TheStreet) -- I must have read thousands of sell-side research reports, but Morgan Stanley's (MS) recent analysis on Tesla (TSLA) is one of a kind.
On Monday, the investment firm raised its target price on the electronic car manufacturer to $465 from $280 a share.
This 39-page research report was one of the biggest news stories of the day. After all, it's not often you see a well-respected research firm raise its target on a large-cap stock to almost 100% higher than the current price.
The bigger story is how Morgan Stanley came up with its $465 price target. When you take a closer look under the hood, its analysis on Tesla looks to be based on fantasy.
Let me explain.
Morgan Stanley upgraded Tesla to its Top Pick in the U.S auto sector on Monday. Morgan said it believes Tesla has huge upside based on concept called Tesla Mobility.
In short, Tesla Mobility will be an app-based on-demand taxi service. Tesla cars will be empowered using smart technology (sensors) that will speed up the development of self-driving cars.
Morgan Stanley said it believes Tesla Mobility will add to the company's existing model of selling human-driven cars to private owners. Morgan predicts this model could more than triple Tesla's sales by 2029.
That's right. Morgan Stanley is using a 15-year discounted cash flow (DCF) model to come up with their $465 per share target on Tesla.
Most analysts (including me) have enough trouble forecasting longer than 12 months out. Yet Morgan Stanley is attempting to predict what a specific company will generate in sales and earnings 15 years from now -- from a division that doesn't even exist.
To be clear, Tesla Mobility is not some crazy prediction made by CEO Elon Musk or Tesla.
Morgan Stanley discloses:
"The hypothetical analysis, modeling and valuation of a potential Tesla Mobility is based entirely on the expectations of the Morgan Stanley Global Auto Team. Neither Elon Musk nor other representatives of Tesla articulated a similar vision."
This statement alone should be enough for investors to completely dismiss this crazy forecast.
After all, investors in Tesla are most likely huge fans of Musk or believers in the future growth of electronic vehicles.
And Morgan Stanley states that Tesla Mobility is not a vision of Musk.
But let's take a closer look at Morgan Stanley's numbers anyway. I'm sure you will find these forecasts entertaining.
The investment bank predicts a Tesla Mobility app will be announced over the next 12 to 18 months. And based on their DCF model, this division (which doesn't exist yet) could be worth $65 to $615 a share by 2029.
So, Morgan Stanley believes this new division could be worth anywhere from $8.5 billion to $80 billion (multiplying Tesla's shares outstanding by the stock price).
This may be the biggest valuation gap of any research report I read in the past 20-plus years. This massive gap is based on how much market share Tesla Mobility can capture and potential margins the company can generate 15 years from now.
Morgan Stanley's model assumes that Tesla will build 5,000 cars for its app-based service by 2018. These cars would be rented to human drivers to perform taxi-like services. This is a similar business model used by Uber and Lyft.
By 2025, the Morgan predicts Tesla's fleet of cars will grow to 586,000!
This fleet size is similar to rent-a-car giants Avis-Budget and Hertz. Except Tesla's cars will be driven by robots, according to Morgan Stanley. These robot-operated cars will act as taxis (like an on-demand mobility service) driving people anywhere they want to go.
This sounds like a great plan until you look at the numbers.
For example, Tesla manufactured only 11,500 cars last quarter. And the company burned through $325 million in part to make these cars.
Let's forget the fact Tesla loses money on every car is sells. And this includes government subsidies that may no longer be available 10-15 years from now.
But at $325 million, this puts the cost of each car at roughly $28,000 ($325 million/11,500). At $28,000, it would cost Tesla more than $16 billion to build its fleet of 586,000 cars.
That's a lot of money considering Tesla only has $1.6 billion in cash on its balance sheet. This includes the company's $450 million credit revolver, but excludes the company's $2.8 billion in debt.
Some may argue the $28,000-per-car estimate is not an apples-to-apples comparison. After all, this $325 million in cash could have been used as a one-time expense to upgrade facilities and equipment.
But Tesla burned through $558 million in cash last quarter and the company is likely to burn through at least $700 million in cash in the next two quarters based on management's estimates.
Plus, Morgan Stanley is also forecasting for Tesla to spend at least $14 billion from 2015 to 2020 just to roll out Tesla's two model families (Model S/X and Model 3). This includes only one assembly factory and one large battery facility.
Where is Tesla going to get the $30 billion in cash (which is roughly the company's current market cap) to roll out its two model families and build a fleet of 586,000 self-driving cars?
This will have to take place through capital raises in both the equity and fixed-income markets. It's not surprising that Morgan Stanley has been the co-lead underwriter for the past four capital raises (equity and fixed income) by Tesla dating back to May 2013.
Another major headwind to Morgan Stanley's thesis is competition.
Tech giants Google (GOOGL) and Apple (AAPL) are also investing tons of money into self-driving cars. Uber is also a major investor in this technology. These companies have a huge head start on Tesla and actually have massive amounts of cash on their balance sheets to invest in this trend. Plus, this makes the competitive landscape for hiring the best talent in this industry that much tougher.
I have nothing personal against Morgan Stanley. They are a highly-rated investment firm and provide top-notch research. It probably took months for its global auto team to build this Tesla Mobility model, which includes forecasts going out 15 years.
But I give the probability of Tesla Mobility growing into a fleet of 586,000 by 2029 about a 1% chance of happening. For individual investors, this takes the $465 price target -- which seems to be more about generating media attention -- completely off the table. 
This article is commentary by an independent contributor. At the time of publication, the author held no positions in the stocks mentioned.