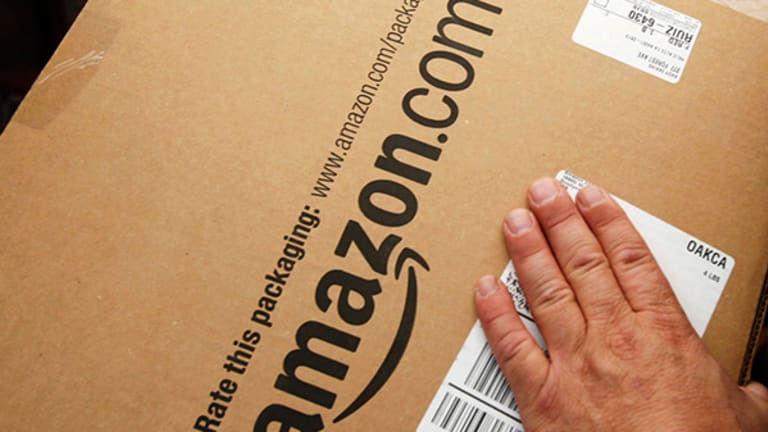 Morgan Stanley: Amazon Will Dominate Apparel Sales by 2020
A new analyst reports shows just how big... and how fast... the e-commerce giant is growing in the apparel market.
Last week, depressing earnings results from the retail sector had investors fleeing department store stocks. Old favorites such as Macy's and Nordstrom took nosedives as their companies reported worse-than-expected revenues for the quarter.
Consumers are still somewhat cash-strapped on the back of the most recent recession. Discount retail chains, led by Walmart, have been taking shoppers' dollars in the hunt for apparel bargains.
However, the fastest-growing outlet for apparel is through online retailers. The daddy of them all is Amazon (AMZN) , and the company has become a solid play for investors. But a new report from analysts at Morgan Stanley is pointing out just how big and fast this titan is growing when it comes to the apparel sector. The outlook for department stores looks dire, but Amazon continues to be an increasingly appealing play.
Amazon has been building its portfolio of fashion offerings in recent months. Famous and beloved apparel brands can set up their own "boutiques" within the website. And in addition, the e-commerce company has launched seven of its own private-label brands. These labels offer clothing priced mostly under $100, and currently there are nearly 2,000 different items for sale.
And online customers are lining up. Amazon is now the country's No. 2 purveyor of clothing, behind only Walmart. There's big money to be made here.
Apparel has been a difficult market for e-commerce sites to break into. Until recently, consumers were largely unwilling to shop online, preferring brick-and-mortar shops where clothing can be tried on. To counter this, Amazon offers generous Prime return policies (although these do open the company up for losses).
The success of Amazon's foray into fashion is growing, with the company poised to grab more of the market share within a few years. The new study from Morgan Stanley predicts that by 2020, Amazon will control one-fifth of the market. That's quite an increase in four short years -- today Amazon has about 7%.
The Morgan Stanley analysts also revealed that about 20% of American consumers claim to "frequently" shop for clothing on Amazon's website, while 40% consider the site "a great source of fashion inspiration."
Since 2005, the study found, the traditional department store chains have lost $29.6 billion in sales. And, clearly, much of that money has gone to online sites, which have boasted apparel sale gains of $27.8 billion in the same period.
According to the analysts, department store revenue will decline by more than 8% on average each year through 2020. And by that year, the brick-and-mortar stores will control only a 7% share of the market. That's particularly dire when you consider that only 10 years ago, they accounted for about 25% of all apparel sales.
Fashion is notorious for being fickle and fast. But although Amazon does face risks by building its holdings in this industry (especially refund rates), the company is shrewd enough to stay on top of its game. The e-commerce powerhouse began as an online discount book warehouse, but is quickly becoming the way Americans purchase practically everything -- including pizza delivery. Growing into the apparel industry is simply a no-brainer for Amazon. Although it's priced near its 52-week high, currently hovering around $710 per share, this investment should continue to spin off profits.
---
"I've Enjoyed 1,586 Days of Free Money...." If big, triple-digit winners get your adrenaline pumping, then stop reading right now. Because this isn't for you... Only traders who calmly enjoy raking in an extra $67,548 with no surprises or hiccups will appreciate this strategy. In fact, for the past 1,586 days, I've been leisurely collecting giant payouts with this boring approach. I win 8 out of every 10 trades - GUARANTEED. Click here to join me.
This article is commentary by an independent contributor. At the time of publication, the author held no positions in the stocks mentioned.