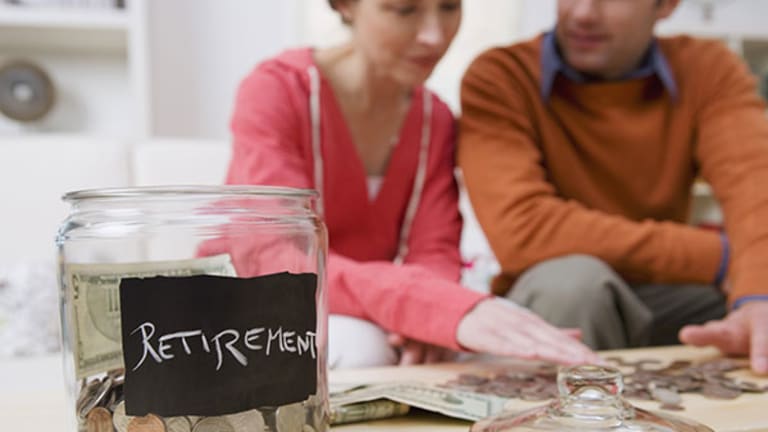 More Workers Take Advantage of Automatic Enrollment in 401ks
Automatic 401k plan tools allow participants to more easily increase and grow their savings on the job.
Automatic 401k plan tools allow participants to more easily increase and grow their savings on the job.
NEW YORK (TheStreet) — Gary Miller is happy that his company automatically deducts money from his paycheck for his retirement account.
"I don't have to manually transfer any money to my 401(k) plan," said the Riverdale, New York-based, network engineer. "My contribution automatically comes out of my paycheck before taxes. I don't have to think about it."
The 37-year-old is among the rising number of workers who are taking advantage of automated features offered by their employers' 401(k) plans, which include automatically being enrolled unless actively choosing to opt out.
"The trend of automating savings reduces the decision making burden on the employee," said Kevin Crain, managing director with Bank of America Merrill Lynch retirement and benefit plan solutions.
That may explain why so many employers are offering automated features to their workers' 401(k) plans and more employers are expected to jump on the band wagon in the future. According to a Bankrate study, the number of companies offering automatic enrollment is holding steady at about 30% but it's expected to increase to 50% based on market conditions.
"People lead busy lives and although we understand the importance, long-term financial planning isn't always top of mind each and every day," said Crain, in an interview with TheStreet.
And, according to T. Rowe Price's Retirement Saving & Spending Study, some 13% of Gen Xers are automatically enrolled in their 401(k)s, while 14% of baby boomers and 20% of millennials receive the automatic enrollment. 
"Because millennials are the largest generation ever within the U.S. and are entering the workforce in large numbers, plan sponsors and advisers need to begin incorporating millennials' preferences and practices into their workplace retirement plan designs," said Aimee DeCamillo, head of T. Rowe Price Retirement Plan Services.
Bank of America Merrill Lynch's 401(k) Wellness Scorecard found that 64% of 401(k) plans combined auto enrollment and auto increase and reported 32% higher participation rates for plans offering auto enrollment and 46% more employees scheduling automatic increases.
"Baby boomers have largely shaped the defined contribution system but it's clear that millennials think differently and are more comfortable being auto-enrolled at higher levels," said DeCamillo.
"Millennials are benefiting from retirement plan auto-services and want more of them."
Auto-enrollment allows employers to enroll workers in their workplace retirement plan unless the worker opts not to participate while auto-increase or auto escalation allows the employer to automatically increase their workers' retirement saving contributions unless the worker opts out.
The average default contribution rate for millennials who were auto-enrolled is 3%, according to the T. Rowe Price study. However, millennials say they would not opt out until the average default contribution is 6%.
In fact, 27% say they would not opt out until the default contribution was 10% or higher.
"Both of these retirement plan features can help workers increase their retirement savings and retirement readiness," said Cathy Weatherford, president and CEO with the Insured Retirement Institute (IRI).