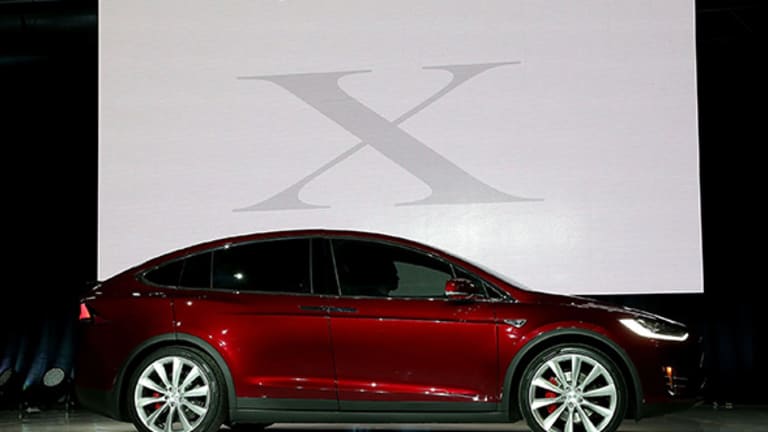 More Reasons Tesla Is the Worst Stock in the World
Here are yet more reasons Tesla is the Worst Stock in the World. This post is part of TheStreet's ongoing search to find the Worst Stock in the World.
In what could be the most important election of 2016, TheStreet is looking for the Worst Stock in the World and we need your help. In these times of market turbulence, it's our job to watch out for the worst investments that can sink your portfolio. Our search is not merely limited to the worst stock in the Dow or S&P. We are going global and accepting nominations from our readers for the absolute worst stock in the world. This article is part of an ongoing series talking about these stocks and why they're the worst. If you have an idea as to what the worst stock in the world is, email us at worststock@thestreet.com.
When thinking of the Worst Stock in the World for 2016, my mind instantly jumped to one of the worst for 2015: Twitter. What the market finally realized about Twitter in 2015 was that user growth had stalled to basically zero. So, Twitter's valuation at $50 per share was utterly and completely misguided based on fundamentals.
Tesla Motors (TSLA) - Get Report has started to undergo a similar fundamental revaluation, in my opinion, in the midst of the stock's 20%-plus plunge thus far in 2016.
data by
The bulls' valuation for Tesla seems to always hinge on one number: CEO Elon Musk's prediction of annual sales of 500,000 cars in the year 2020. Tesla delivered 50,580 cars in 2015, so to believe in tenfold growth in five years, the longs are betting on a car industry transformation. Tesla's Gigafactory and its Powerwall and Powerpack stationary storage technologies have received a ton of ink, but they really seem most useful to optimize products from SolarCity, another Musk company.
For now, Tesla is a car company, and the problem is that Tesla already has an extremely high market share. I spent 11 years as a sell-side auto analyst and automaker stocks perform best when market share is being gained or the market itself is bottoming. Neither of these are relevant to Tesla.
In 2015, Tesla's roughly 26,000 deliveries (the company does not break out deliveries by geography) in the U.S represented about 22% of the market for plug-in vehicles (hybrids and pure electrics.). That share needs to be further amplified by considering that the Model S starts at $70,000 (excluding delivery charge) and regardless of the impact of a $7,500 federal tax credit and possible additional benefits, it is unmistakably a luxury car.
So, really, you have to look at Tesla's share of its addressable market as percentage of electric-only luxury cars sold. On that basis, Tesla's share in the U.S. was 100% last year, and that figure is indefensible in the long term.
The only true competitor for Tesla's Model S is...Tesla's Model X. Model X deliveries have just begun (208 were delivered in the fourth quarter of 2015) but priced at just $5,000 more than the Model S, it's a competitor where none previously existed. Cannibalization is a real threat.
Musk would say that competition is good because it proves the concept. As more entrants join the electric-only field, consumer awareness and acceptance will increase. But more entrants aren't joining the field in any meaningful way and electric car sales are declining in the U.S. According to insideevs.com, U.S. sales of all plug-in models fell 5.2% to 116,597 units in 2015. So much for a growing market; as I'm sure you are aware, gas prices are low these days.
Tesla is reaching a very high-end, tech-savvy early-adopter group, and saturation is another risk. The majority of Tesla's "sales" are subject to its Resale Value Guarantee; that includes retail sales and leases that are held by Tesla's banking partners. So they are accounted for as operating leases -- meaning that Tesla bears significant liabilities on a balance sheet that is far from a fortress.
It's the worst of both worlds. Apple manufactures almost none of its own product and bears no responsibility for used product values. Tesla makes everything it sells -- it has even insourced key parts like castings and seats -- and is sitting on a tremendous potential liability if used model S's fall in value.
Apple has fallen out of favor with institutional investors but its virtual business model and cash-laden balance sheet offer support. With Tesla there is no such support, and valuing it like a car company -- even the most high-end one -- is tricky.
Recently IPO'd Ferrari is trading at an enterprise value/sales multiple of 2.95-times on projected 2016 figures. If we put that multiple on Tesla's 2016 consensus estimate of $8.5 billion in revenues (adding the resale value guarantees to its net debt) we'd get a valuation for Tesla of about $175 per share, close to its current price. But Ferrari is insanely profitable for a car company, with a 16.6% EBIT margin in 2015, and Tesla has never turned an operating profit.
And there's the rub. Valuing an unprofitable start-up like a cash-flow generative established company is fraught with risk. And that risk has to be accounted for with a larger discount to projected earnings for future periods, like those in 2020, for instance.
The bulls miscalculated that risk in a big way with Twitter in 2015, and I believe a fundamental devaluation, especially if there is any weakness in the company's Feb. 10 earnings report, faces Tesla in 2016. Watch out.
(Tesla was also selected by Real Money Pro's Ed Ponsi as the Worst Stock in the World. For his take please click here.)