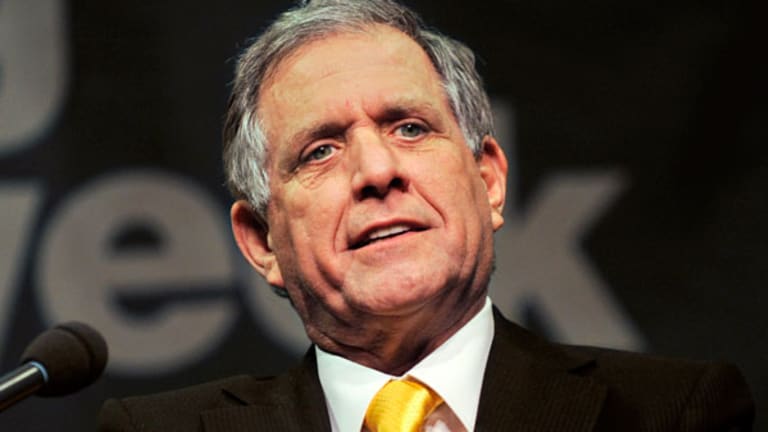 Moonves Calls Out Trump, Defends CBS News From Accusations of 'Fake News'
The CBS CEO struck back at President Trump on Wednesday, charging that his news division is producing anything but 'fake news.'
CBS (CBS) - Get CBS Corporation Class B Report CEO Leslie Moonves has had enough of President Trump branding his network's news coverage as "fake news."
Speaking before a packed audience of ad buyers and media industry executives on Wednesday, Moonves defended the work of CBS News in a thinly-veiled jab at the president. 
"Out of all our divisions, it's safe to say that no one has been busier than my colleagues at CBS News," Moonves said at the company's upfront presentation to advertisers held at New York's Carnegie Hall. "There has never been more news, nor more of a need for real news than there is right now. At a time of unfair criticism of the veracity of mainstream news, the extraordinary team at CBS News has never been more essential." 
Moonves' comments come as the Trump administration has had to defend itself from a report by The New York Times that the president asked former FBI Director James Comey to put aside an investigation into possible ties between former national security adviser Michael Flynn and Russian operatives. Trump officials in recent days have lashed out at that report -- followed by similar stories from other outlets -- as "fake news," echoing a term the one-time reality-TV star has used repeatedly to label reporters and media outlets that challenged his statements or questioned the actions of his campaign or presidency.
Recently, Trump took a stab at CBS's Face the Nation, during an interview with its moderator, John Dickerson, calling the program "Deface the Nation." That prompted a biting bit of satire from Late Show host Stephen Colbert, who began, "When you insult one member of the CBS family, you insult us all."
Earlier this month, the Trump administration attempted to run an advertisement in support of the president that features the faces of NBC's Andrea Mitchell, CNN's Wolf Blitzer, MSNBC's Rachel Maddow, ABC's George Stephanopoulos and CBS's Scott Pelley onscreen behind words in bold letters that read "fake news." CNN, a Time Warner (TWX) network, rejected that advertisement after the administration refused its request to remove the "false graphic."
Moonves' defense of CBS News comes a year after he took some flak for comments that appeared to play down Trump's incendiary comments about Latinos, women and immigrants, which drove higher ratings for his network.
"It may not be good for America, but it's damn good for CBS," Moonves said of Trump's unexpected rise in the polls in February 2016.
On Wednesday, Moonves appeared to reverse that sentiment, putting a free and independent media above partisan politics.