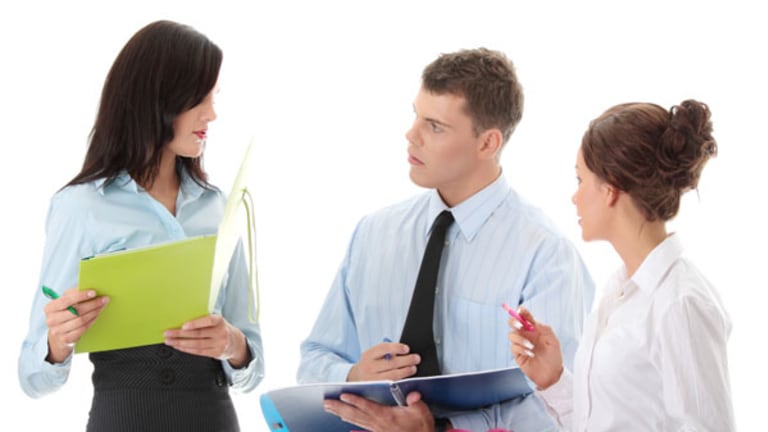 Moody's: We Got it Right on Bank of America!
Moody's observes an actual market impact in its bank downgrades.
NEW YORK (
) -- Investors often have very little interest in what credit ratings agencies have to say. Witness the massive rally in U.S. Treasury bonds after Standard & Poor's historic downgrade of the United States in August.
So it is curious to see a report from one division of
Moody's Corp.
(MCO) - Get Free Report
describing the fact that the market appears to have actually responded to another division's
of
Bank of America
(BAC) - Get Free Report
,
Citigroup
(C) - Get Free Report
and
Wells Fargo
(WFC) - Get Free Report
.
The report, published Wednesday, came from Moody's Analytics, a different division of Moody's Corp. from credit rating provider Moody's Investors Service. Boilerplate language in the Moody's Analytics report takes pains to note that Moody's Analytics "is legally and organizationally separated from Moody's Investors Service and operates on an arm's length basis from the ratings business."
Still, the main finding of the report is that, following the Sept. 21 downgrades, credit default swap (CDS) spreads widened on the debt of Bank of America, Citigroup and Wells.
Translation: the market priced in a greater risk of default by those banks. Further, Bank of America, the lowest rated of the trio and the only one that saw a two-notch downgrade (as opposed to just one), got the most negative reaction from CDS investors.
"I'd argue that these rating actions were truly a market-moving event," said Allerton (Tony) Smith, author of the Moody's report, "and by definition if you create a market-moving event you've given a new input that wasn't formerly discounted into the prices."
Smith argues the ratings agencies downgrades moved the market because they called investors' attention to the fact that, as a result of the Dodd Frank law passed last year, the U.S. megabanks are less likely to get bailed out.
I asked Smith if, despite the "arm's length" relationship between Moody's Investors Service and Moody's Analytics, he would feel comfortable coming to a different conclusion--for example that Moody's Investors Service blew the call.
Moody's spokeswoman Jessica Schaefer jumped in at that point and said "that's not something we'd want to comment on."
I doubt Smith or Moody's Analytics were intentionally trying to boost the market credibility of the company's ratings division. Rather, I think the "Market Analytics" division is just an attempt to extract more revenues from Moody's position in the credit ratings duopoly it enjoys with S&P, a division of
McGraw Hill Cos.
(MHP)
that will be split into a different company at the end of next year.
But, like so many other things associated with the credit ratings business, the attempt to provide analysis smacks of lameness. How can one division of a company possibly claim to provide objective analysis of the impact of ratings decisions made by another division? And yet, as always, Moody's and S&P continue to thrive as businesses.
Moody's and S&P make money because boards of directors want to avoid responsibility for making investment decisions. As a result, rather than allow their invesment managers to make independent decisions about what to invest in, they give them directives like "don't invest in anything with a rating double-A from Moody's and S&P." That way, when the investment blows up, as so many did in 2007 and 2008, the board can blame the ratings agencies.
The ratings agencies have been so wrong so often that they ought not to have any value as a scapegoat anymore. A board that throws away an organization's money on shoddy investments shouldn't be able to blame the ratings agencies, since Moody's and S&P have proven themselves useless again and again.
Providing mediocre credit analysis to allow boards of directors to avoid responsibility is bad enough, but how about providing analysis of that analysis--which seems to be to raison d'etre of Moody's Analytics? I'm tempted to call it a joke, but the consequences are real.
--
Written by Dan Freed in New York
.
Disclosure: TheStreet's editorial policy prohibits staff editors, reporters and analysts from holding positions in any individual stocks.